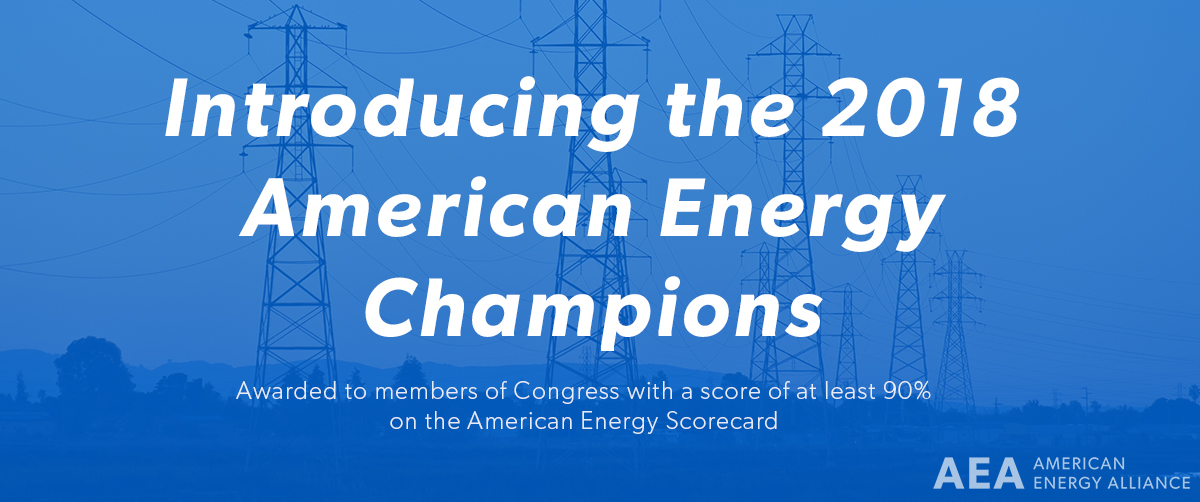 The 2017-2018 legislative session provided us another opportunity to hold Congress accountable for their votes on energy issues. The following members were awarded the title "American Energy Champions" for their votes aligning with the core principles of the American Energy Alliance.
"This award goes to the members of Congress who have demonstrated a commitment to pro-growth policies that will lead to more affordable energy for American families," AEA president Thomas J Pyle said. "The American Energy Scorecard is an essential tool for engaged citizens to determine how their representatives voted on the most important energy votes of the year. We're encouraged to see 198 House members and 48 Senate members remain committed to free-market principles and continue to fight for less government intrusion into Americans' energy choices."
On the House side, AEA scored 13 votes including legislation related to repealing the overreaching WOTUS definition, cutting spending authority for ATVM loan programs, and expressing the sense of Congress that a carbon tax would be detrimental to the U.S. economy.
On the Senate side, AEA scored five votes including legislation related to drilling in ANWR, the Stream Protection Rule CRA, and BLM Planning 2.0 CRA.
The full list of votes and legislator scores can be viewed here.
Our 2018 American Energy Champions are:
Senate
(100 percent scores in bold)

| | | | |
| --- | --- | --- | --- |
| Sen. John Kennedy (R-LA) | Sen. Ron Johnson (R-WI) | Sen. Todd Young (R-IN) | Sen. Pat Roberts (R-KS) |
| Sen. Ben Sasse (R-NE) | Sen. Johnny Isakson (R-GA) | Sen. Patrick Toomey (R-PA) | Sen. Jim Risch (R-ID) |
| Sen. Mike Rounds (R-SD) | Sen. John Hoeven (R-ND) | Sen. John Thune (R-SD) | Sen. Mitch McConnell (R-KY) |
| Sen. Thom Tillis (R-NC) | Sen. Charles Grassley (R-IA) | Sen. Richard Shelby (R-AL) | Sen. James Inhofe (R-OK) |
| Sen. Joni Ernst (R-IA) | Sen. Cory Gardner (R-CO) | Sen. Tim Scott (R-SC) | Sen. Lindsey Graham (R-SC) |
| Sen. David Perdue (R-GA) | Sen. Jeff Flake (R-AZ) | Sen. Marco Rubio (R-FL) | Sen. Michael Enzi (R-WY) |
| Sen. Dan Sullivan (R-AK) | Sen. Michael Crapo (R-ID) | Sen. Rob Portman (R-OH) | Sen. John Cornyn (R-TX) |
| Sen. Ted Cruz (R-TX) | Sen. Bill Cassidy (R-LA) | Sen. Rand Paul (R-KY) | Sen. Lamar Alexander (R-TN) |
| Sen. Deb Fischer (R-NE) | Sen. Shelley Capito (R-WV) | Sen. Lisa Murkowski (R-AK) | Sen. Roger Wicker (R-MS) |
| Sen. Steve Daines (R-MT) | Sen. Richard Burr (R-NC) | Sen. Jerry Moran (R-KS) | Sen. John Barrasso (R-WY) |
| Sen. Tom Cotton (R-AR) | Sen. John Boozman (R-AR) | Sen. Mike Lee (R-UT) | Sen. Orrin Hatch (R-UT) |
| Sen. Dean Heller (AR-NV) | Sen. Roy Blunt (R-MO) | Sen. James Lankford (R-OK) | Sen. Bob Corker (R-TN) |
House
(100 percent scores in bold)
Rep. Ann Wagner (R-MO)
Rep. Markwayne Mullin (R-OK)
Rep. Ted Poe (R-TX)
Rep. Darrell Issa (R-CA)
Rep. Marsha Blackburn (R-TN)
Rep. George Holding (R-NC)
Rep. Ted Budd (R-NC)
Rep. Duncan Hunter (R-CA)
Rep. Gus Bilirakis (R-FL)
Rep. Michael Cloud (R-TX)
Rep. John Curtis (R-UT)
Rep. Mark Meadows (R-NC)
Rep. Thomas Massie (R-KY)
Rep. Steve Chabot (R-OH)
Rep. Ron Estes (R-KS)
Rep. Vicky Hartzler (R-MO)
Rep. Steve Scalise (R-LA)
Rep. Michael Burgess (R-TX)
Rep. Greg Gianforte (R-MT)
Rep. Andy Harris (R-MD)
Rep. Phil Roe (R-TN)
Rep. Doug Collins (R-GA)
Rep. Jim Bridenstine (R-OK)
Rep. Barry Loudermilk (R-GA)
Rep. Bill Posey (R-FL)
Rep. Rob Bishop (R-UT)
Rep. Ralph Norman (R-SC)
Rep. Tom Graves (R-GA)
Rep. Jim Banks (R-IN)
Rep. Justin Amash (R-MI)
Rep. Patrick McHenry (R-NC)
Rep. Buddy Carter (R-GA)
Rep. Tom McClintock (R-CA)
Rep. Rob Woodall (R-GA)
Rep. Debbie Lesko (R-AZ)
Rep. Ken Buck (R-CO)
Rep. Alex Mooney (R-WV)
Rep. Robert Wittman (R-VA)
Rep. Andy Biggs (R-AZ)
Rep. Mimi Walters (R-CA)
Rep. John Ratcliffe (R-TX)
Rep. Daniel Webster (R-FL)
Rep. James Comer (R-KY)
Rep. Louie Gohmert (R-TX)
Rep. Sam Johnson (R-TX)
Rep. Pete Sessions (R-TX)
Rep. Warren Davidson (R-OH)

Rep. Rodney Frelinghuysen (R-NJ)

Rep. Bill Huizenga (R-MI)
Rep. F. Sensenbrenner (R-WI)
Rep. Mark Walker (R-NC)
Rep. Martha McSally (R-AZ)
Rep. Jeb Hensarling (R-TX)
Rep. David Schweikert (R-AZ)
Rep. Doug Lamborn (R-CO)
Rep. Virginia Foxx (R-NC)
Rep. Jody Hice (R-GA)
Rep. Todd Rokita (R-IN)
Rep. Raúl Labrador (R-ID)
Rep. Gary Palmer (R-AL)
Rep. Paul Gosar (R-AZ)
Rep. Dana Rohrabacher (R-CA)
Rep. Glenn Grothman (R-WI)
Rep. Chuck Fleischmann (R-TN)
Rep. Jeffrey Duncan (R-SC)
Rep. Harold Rogers (R-KY)
Rep. Jim Jordan (R-OH)
Rep. David Brat (R-VA)
Rep. Roger Williams (R-TX)
Rep. Mike Gallagher (R-WI)
Rep. Steve Russell (R-OK)
Rep. John Duncan (R-TN)
Rep. John Culberson (R-TX)
Rep. Thomas Garrett (R-VA)
Rep. Lee Zeldin (R-NY)
Rep. Scott DesJarlais (R-TN)
Rep. Dennis Ross (R-FL)
Rep. Billy Long (R-MO)
Rep. Lynn Jenkins (R-KS)
Rep. Steven Palazzo (R-MS)
Rep. Kay Granger (R-TX)
Rep. Robert Latta (R-OH)
Rep. Brian Babin (R-TX)
Rep. Sam Graves (R-MO)
Rep. Richard Hudson (R-NC)
Rep. Evan Jenkins (R-WV)
Rep. David Rouzer (R-NC)
Rep. Chris Collins (R-NY)
Rep. Andy Barr (R-KY)
Rep. Scott Perry (R-PA)
Rep. Ralph Abraham (R-LA)
Rep. Robert Pittenger (R-NC)
Rep. Joe Barton (R-TX)
Rep. Dave Joyce (R-OH)
Rep. Brett Guthrie (R-KY)
Rep. John Carter (R-TX)
Rep. Tim Walberg (R-MI)
Rep. Darin LaHood (R-IL)
Rep. Morgan Griffith (R-VA)
Rep. Susan Brooks (R-IN)
Rep. Lamar Smith (R-TX)
Rep. Kristi Noem (R-SD)
Rep. Bob Gibbs (R-OH)
Rep. Ken Calvert (R-CA)
Rep. Jim Renacci (R-OH)
Rep. Kevin Brady (R-TX)
Rep. Randy Weber (R-TX)
Rep. Rodney Davis (R-IL)
Rep. David Kustoff (R-TN)
Rep. Edward Royce (R-CA)
Rep. Tom Cole (R-OK)
Rep. Larry Bucshon (R-IN)
Rep. Steve Pearce (R-NM)
Rep. Tom Reed (R-NY)
Rep. Kevin Cramer (R-ND)
Rep. Mo Brooks (R-AL)
Rep. Kenny Marchant (R-TX)
Rep. Devin Nunes (R-CA)
Rep. Diane Black (R-TN)
Rep. Ted Yoho (R-FL)
Rep. David Valadao (R-CA)
Rep. Glenn Thompson (R-PA)
Rep. Don Bacon (R-NE)
Rep. John Rutherford (R-FL)
Rep. Lou Barletta (R-PA)
Rep. Steve Stivers (R-OH)
Rep. Pete Olson (R-TX)
Rep. Tom Marino (R-PA)
Rep. Paul Cook (R-CA)
Rep. Adrian Smith (R-NE)
Rep. Jason Lewis (R-MN)
Rep. Neal Dunn (R-FL)
Rep. Robert Aderholt (R-AL)
Rep. Mike Simpson (R-ID)
Rep. Paul Mitchell (R-MI)
Rep. Blaine Luetkemeyer (R-MO)
Rep. Doug LaMalfa (R-CA)
Rep. Austin Scott (R-GA)
Rep. Mike Johnson (R-LA)
Rep. Frank Lucas (R-OK)
Rep. Don Young (R-AK)
Rep. Tom Rooney (R-FL)
Rep. Clay Higgins (R-LA)
Rep. Walter Jones (R-NC)
Rep. Steve Womack (R-AR)
Rep. Mike Rogers (R-AL)
Rep. Roger Marshall (R-KS)
Rep. Trent Kelly (R-MS)
Rep. Joe Wilson (R-SC)
Rep. Martha Roby (R-AL)
Rep. Cathy McMorris Rodgers (R-WA)
Rep. Daniel Donovan (R-NY)
Rep. Greg Walden (R-OR)
Rep. Jodey Arrington (R-TX)
Rep. A. Ferguson (R-GA)
Rep. Adam Kinzinger (R-IL)
Rep. Scott Tipton (R-CO)
Rep. Lloyd Smucker (R-PA)
Rep. Michael McCaul (R-TX)
Rep. Dan Newhouse (R-WA)
Rep. William Thornberry (R-TX)
Rep. Claudia Tenney (R-NY)
Rep. Kevin McCarthy (R-CA)
Rep. Steve King (R-IA)
Rep. Barbara Comstock (R-VA)
Rep. Rod Blum (R-IA)
Rep. Chris Stewart (R-UT)
Rep. David Young (R-IA)
Rep. Peter King (R-NY)
Rep. Rick Allen (R-GA)
Rep. Jeffrey Denham (R-CA)
Rep. Sean Duffy (R-WI)
Rep. Bill Johnson (R-OH)
Rep. Trey Gowdy (R-SC)
Rep. Keith Rothfus (R-PA)
Rep. Matt Gaetz (R-FL)
Rep. Randy Hultgren (R-IL)
Rep. Robert Goodlatte (R-VA)
Rep. Rick Crawford (R-AR)
Rep. Bill Shuster (R-PA)
Rep. Tom Emmer (R-MN)
Rep. Bruce Westerman (R-AR)
Rep. Brad Wenstrup (R-OH)
Rep. Scott Taylor (R-VA)
Rep. Mike Bishop (R-MI)
Rep. French Hill (R-AR)
Rep. K. Mike Conaway (R-TX)
Rep. Jason Smith (R-MO)
Rep. John Moolenaar (R-MI)
Rep. Jeff Fortenberry (R-NE)
Rep. Luke Messer (R-IN)
Rep. Mike Bost (R-IL)
Rep. Garret Graves (R-LA)
Rep. Bill Flores (R-TX)
Rep. John Shimkus (R-IL)
Rep. Liz Cheney (R-WY)
Rep. Gregg Harper (R-MS)
Rep. Bradley Byrne (R-AL)