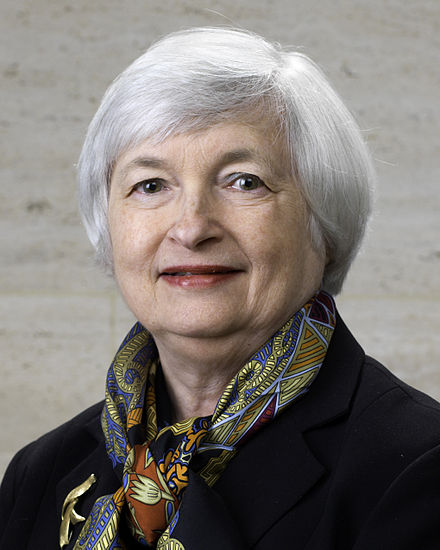 Position In Biden Administration:
Secretary of the Treasury
---
Confrimation Details:
Nomination Announced: December 1, 2020
Confirmation Status: Cofirmed
Past Work:
Chair of the Federal Reserve (2014-2018)
Vice-Chair of the Federal Reserve (2010-2014)
Chair of the Council of Economic Advisors (1997-1999)
In Her Own Words:
About Yellen:
Yellen was chair of the Federal Reserve from 2014-2018, and vice-chair from 2010-2014 and was president of the Federal Reserve bank of San Francisco before that from 2004-2010. In her role as Treasury Secretary, she has promised to "fight the climate crisis", and said that the Treasury "has a very broad mandate, it is to promote economic prosperity and stability" in her view this extends to things like working to address climate change.

Yellen has also been vocal in her support of carbon taxes, and has called them the "textbook solution" to climate change. She is also a founding member of the Climate Leadership Council.
Fun Facts:
Multinational corporation crony.
One of the highest-paid orators in America.
---
Learn more about the Biden administration's energy policies here.