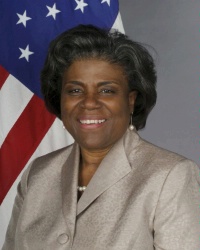 Position In Biden Administration:
Ambassador to the United Nations
---
Nomination Details:
Nomination Announced: November 24, 2020
Confirmation Status: Pending
Past Work:
Deputy Assistant Secretary, Bureau of Population, Refugees and Migration (2004-2006)
Ambassador to Liberia (2008–2012)
Director-General of the Foreign Service and Director of Human Resources (2012–2013)
Assistant Secretary of State for African Affairs (3014-2017)
In Her Own Words:
About Thomas-Greenfield:
Linda Thomas-Greenfield served as the Assistant Secretary of State for African Affairs in the United States Department of State's Bureau of African Affairs from 2013 to 2017. Following her work as a diplomat, Thomas-Greenfield became a senior vice president at Albright Stonebridge Group in Washington, D.C. President Biden has announced his intention to nominate her as the next ambassador to the United Nations.
During a speech in which she accepted her nomination to the position, Thomas Greenfield said, "On this day, I'm thinking about the American people, my fellow career diplomats and public servants around the world. I want to say to you, 'America is back, multilateralism is back. Diplomacy is back.' Mr. President-Elect, I've often heard you say how all politics is personal, and that's how you build relationships of trust and bridge disagreements and find common ground. And in my 35 years in the foreign service across four continents, I put a Cajun spin on it. I called that gumbo diplomacy. Wherever I was posted around the world, I'd invite people of different backgrounds and beliefs to help me make a roux and chop onions for the Holy Trinity and make homemade gumbo. It was my way of breaking down barriers, connecting with people, and starting to see each other on a human level. A bit of lagniappe is what we say in Louisiana. That's the charge in front of us today. The challenges we face, a global pandemic, a global economy, a global climate change crisis, mass migration and extreme poverty, social justice are unrelenting and interconnected, but they're not unresolvable if America is leading the way."
---
Learn more about the Biden administration's energy policies here.