Tom Friedman Confused by Germany's Green Energy Failure
New York Times columnist Thomas Friedman published an opinion piece this week titled, "Germany, the Green Superpower." In the piece, Friedman lauds the country's effort to transition from coal to renewable energy sources like wind and solar—known as Energiewende—as a success:
"…what the Germans have done in converting almost 30 percent of their electric grid to solar and wind energy from near zero in about 15 years has been a great contribution to the stability of our planet and its climate. The centerpiece of the German Energiewende, or energy transformation, was an extremely generous "feed-in tariff" that made it a no-brainer for Germans to install solar power (or wind) at home and receive a predictable high price for the energy generated off their own rooftops."
However, contrary to Friedman's praise, Energiewende has been an utter failure.
Germany's feed-in tariff was established in 1991 as part of the Electricity Feed-in Act. The law mandates that renewables "have priority on the grid and that investors in renewable must receive sufficient compensation to provide a return on their investment irrespective of electricity prices on the power exchange." This means utilities are forced to buy electricity from renewable sources at above market rates— regardless of whether or not it is needed. The feed-in tariff was extended for another 20 years in 2000.
Expanding on these subsidies, German Chancellor Angela Merkel officially established the Energiewende in 2010. The plan includes policies such as emission reduction targets, new energy taxes, and continuing the feed-in tariff system.
It's true that Germany has increased their use of renewables and now generates over 25 percent of its electricity from renewables, with wind and solar making up nearly 15 percent of total electricity production. But this transition has come at a huge cost to the German people. The Institute for Energy Research (IER) outlined some of these costs in a study, finding that:
Residential German electricity prices are nearly three times higher than electricity prices in the U.S.
As many as 800,000 Germans have had their power cut off because of an inability to pay for rising energy costs.
The cost to expand transmission networks to integrate renewables stands at $33.6 billion, which grid operators say accounts "for only a fraction of the cost of the energy transition."
If Germans aren't benefitting from Energiewende, then who is?
As the IER study points out, the feed-in tariff is a lucrative subsidy for renewable energy producers. For example, in 2009 the feed-in tariff price for photovoltaic solar was eight times more than the wholesale price of electricity.
Germans' bloated energy bills are also subsidizing industries in other countries. In his piece, Friedman quotes Ralf Fücks, the president of the German Green Party's political foundation, as saying, "In my view, the greatest success of the German energy transition was giving a boost to the Chinese solar panel industry."
At the outset of Merkel's Energiewende policy, nuclear energy was to play the role of a "bridge" between coal and renewables. However, after the 2011 Fukushima Daiichi nuclear meltdown in Japan, Chancellor Merkel immediately shut down eight of Germany's nuclear reactors. In the absence of nuclear power, the country has increasingly relied on coal power to back up intermittent and unreliable power from wind and solar. Ironically, this has led to an increase in carbon dioxide emissions since 2011, which contradicts the stated goal of Energiewende.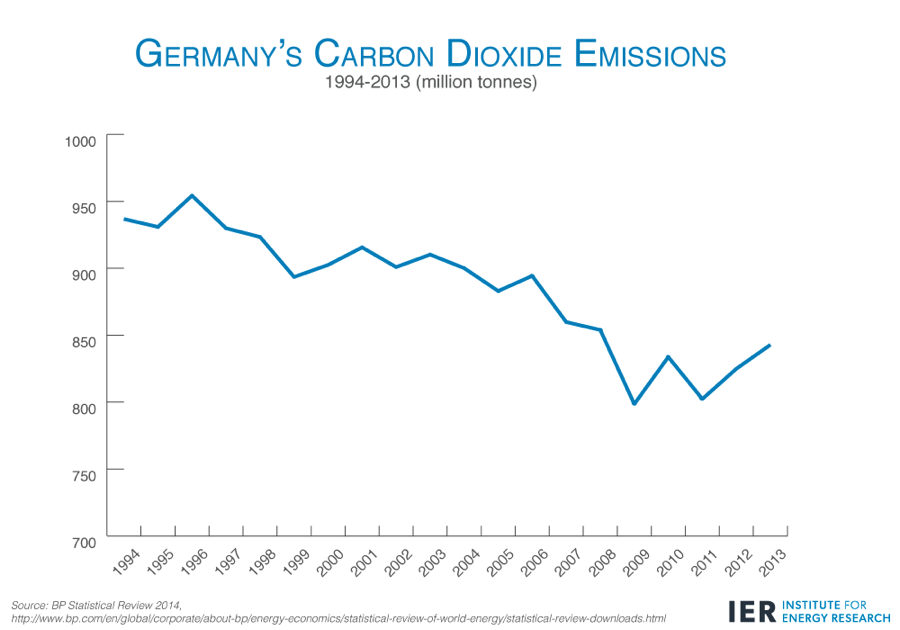 Although he fails to make the connection, Friedman implies that these policies have somehow strengthened Germany's economy. He says, "There is an impressive weight to Germany today — derived from the quality of its governing institution, its rule of law, and the sheer power of its economy built on midsize businesses — that is unique in Europe."
But Friedman's whimsical view on the German economy doesn't stand up to scrutiny. Not only are Germans paying more for electricity, but the country's manufacturing sector is also taking a hit. Some companies are already feeling the stress of higher energy costs. As IER points out:
"In 2012, Germany's largest steelmaker, ThyssenKrupp, was forced to sell one of its mills in the Rhineland to a Finnish competitor, which shut down the plant the next year, resulting in a loss of 400 jobs. The plant had been in operation for more than 110 years. Those affected by closure do not attribute it to 'low wage competition from the Far East or mismanagement at ThyssenKrupp's Essen headquarters, but rather on the misguided policies of the German government.'"
Energy-intensive manufacturing accounts for 25 percent of Germany's economy. As the cost of electricity increases, so does the cost of manufacturing. The Federation of German Industries has warned that their manufacturers could "lose a competitive edge against rivals in the United States, where the boom in the unconventional shale gas production has led to a sharp drop in industrial energy costs."
Unfortunately, many of the failed policies of Germany have already taken root in the United States.
In 2013 alone, U.S. taxpayers subsidized the wind industry to the tune of $5.9 billion, while the solar industry received $5.3 billion. Additionally, federal and state policies threaten to shut down 130 gigawatts of reliable power from natural gas, nuclear, and coal. That's enough power to meet the residential electricity needs of 105 million Americans. Of course, American families are watching their electricity bills increase as a result—although not quite to the same extent as Germany's.
Germany's Energiewende is not making it a "Green Superpower," as Thomas Friedman puts it. In fact, these policies are harming Germans by raising electricity rates and pushing jobs to lower-cost countries. Transitioning from affordable and reliable energy to expensive and unreliable energy is nonsensical. Simply put, the German model is one to be avoided—not emulated.