STOP WORK: States Should Cease All Efforts to Comply w/ Carbon Rule
WASHINGTON — In response to the Supreme Court's stay of the EPA's carbon rule, or "Clean Power Plan," AEA is mailing "Stop Work" orders to all Governors and other state officials urging them to immediately cease all efforts to comply with the rule.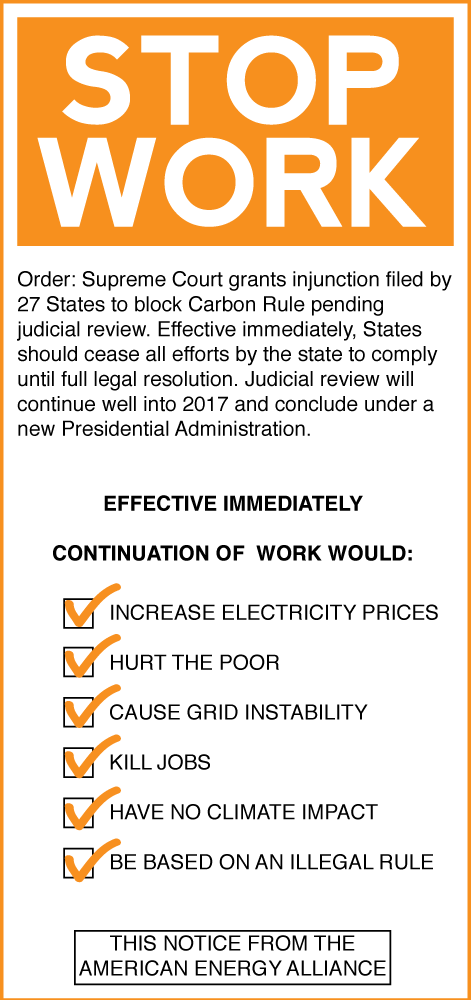 Any action to comply with the rule before full legal resolution would be imprudent and a disservice to ratepayers. Speaking to a Congressional committee, EPA Administrator Gina McCarthy said, "Nothing is going to be implemented while the stay is in place. It is clearly on hold until it resolves itself through the courts."
Thus, we're delivering these orders to Governors, State Environment Departments, Public Utility Commissions, and State lawmakers.
States cannot be punished for waiting, since under the stay the compliance timeline no longer applies. With the stay in place and the future of the rule in jeopardy, there is no reason for states to move forward until litigation concludes.
AEA President Thomas Pyle issued the following statement:
"The Supreme Court rightly put the brakes on President Obama's harmful climate agenda when it stayed EPA's carbon regulation. But the fight doesn't stop there. We are urging state leaders, including governors, public utility commissioners, legislators, and environmental agencies to put down their pencils and cease all efforts towards complying with the carbon regulation until the legal challenges have fully run their course.
"This 'Stop Work' approach is the best way for state leaders to protect their citizens from the higher energy costs and job losses that this unlawful regulation would undoubtedly cause. As a country, we should focus on ways to make electricity more affordable, not on implementing regulations that will raise energy costs, which hit the poor and middle class the hardest."
You can visit www.StopWorkNow.org to find out more. 
###