Podesta Emails Reveal Clinton Campaign's Close Ties to the Environmental Left
In October, WikiLeaks began publishing a series of emails from John Podesta's Gmail account. Podesta is the former White House Chief of Staff under President Bill Clinton and former Senior Advisor to President Obama, and current Chairman of Hillary Clinton's presidential campaign. These emails number in the thousands and provide a rare window into the world of Podesta's political dealings as well as the operations of the Clinton campaign. Unsurprisingly, given Podesta's longstanding relationships with progressive donors and leaders in the national environmental lobby, many of the exchanges involve the likes of Tom Steyer and Nat Simons. It also includes leaders of the national environmental lobby like Gene Karpinski of the League of Conservation Voters (LCV)
Podesta's emails reveal a collusive, quid-pro-quo relationship between the Clinton campaign and national environmental groups. They show a disturbing and unusual level of access to power for billionaire donors like Steyer and Simons, and that Bernie Sanders never really stood a chance at getting the endorsement of prominent environmental groups. The emails also reveal attempts to silence academics and discourage the production of oil and gas resources. Lastly, the emails show the political calculus behind forming the Clinton campaign's policy positions.
There is much more to learn from the Wikileaks email drop, but here are some noteworthy exchanges that we've discovered or that have been reported on in the media:
1. Clinton campaign coordinated on endorsements from NRDC and LCV, showing that Bernie Sanders never really stood a chance.
An email exchange from June 2015 shows that a member of the Clinton campaign met with NRDC and LCV to discuss the perks that would come along with public endorsements from those groups.
The Natural Resource Defense Council
According to the emails, NRDC's endorsement would come with two fundraisers raising potentially $1 million for the campaign. In return for their endorsement, NRDC requested that Clinton meet with their political committee.

Although NRDC didn't endorse until May 2016, it appears that they were prepared to endorse early or whenever the campaign preferred. The Clinton staffer wrote: "They would like to endorse early – June/July [2015] but willing to do a public endorsement at any point (want to be a benefit to the campaign)"

This shows that NRDC was already committed to Clinton even amidst a competitive primary with Bernie Sanders.
The League of Conservation Voters
In the same email, the Clinton staffer reported the following about LCV:

According to the email, LCV's endorsement—like NRDC's—was conditioned on a quid pro quo arrangement: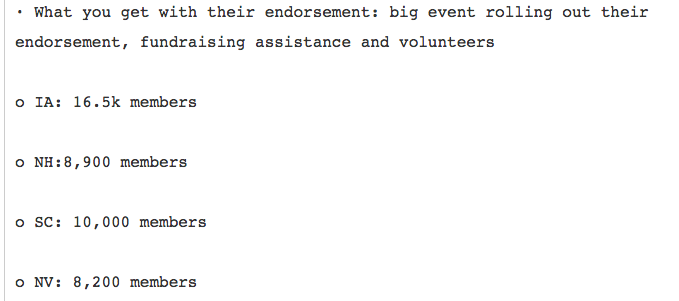 2. LCV helped with Clinton's answers to questionnaire
A second email exchange from July 2015 shows a back and forth between the Clinton campaign and LCV over Clinton's answers to their questionnaire. After receiving Clinton's responses, LCV's Tiernan Sittenfeld wrote in an email to John Podesta that "we very much hope that the attached questionnaire can be strengthened."
Included in this email were suggested edits to Clinton's responses. For example, Sittenfeld wrote, "It's good to see her moving in the right direction, and we know she has been clear that she is not going to comment while the process is still underway, but it's hard to imagine we can move forward until she makes clear she now opposes KXL."
It's clear that LCV wouldn't move forward with an endorsement until Clinton explicitly opposed the Keystone XL pipeline.
In a third email on September 9, 2015, an updated version of the Clinton's responses to the questionnaire was sent around with a "new KXL answer," which explicitly opposed the construction of Keystone XL.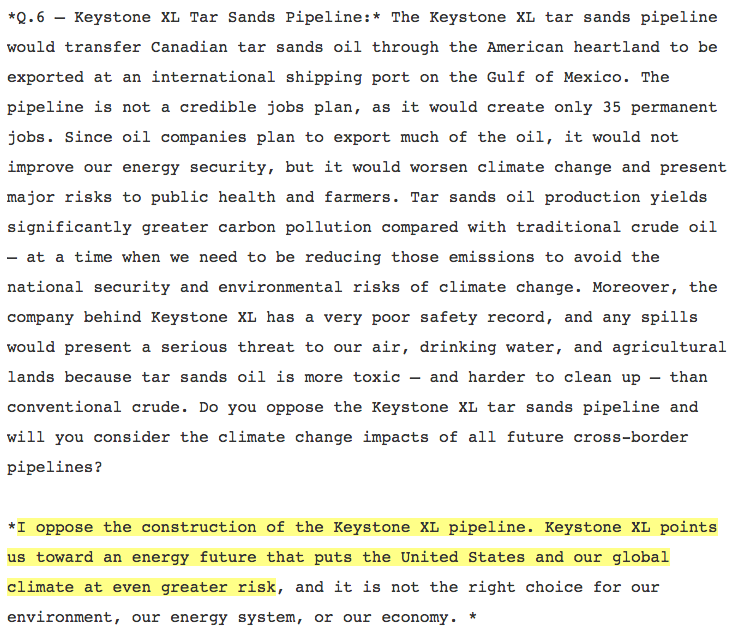 Later that month, Clinton publicly opposed the pipeline and, in November 2015, LCV endorsed Clinton over Bernie Sanders. It's worth noting that Sanders has a lifetime score of 95% on LCV's legislative scorecard, while Clinton has a score of 82%.
3. Emails expose Obama's Offshore Alaskan shell game.
An email from former Interior Department Deputy Secretary and current Stanford lecturer David Hayes suggests that the Obama administration did not want Shell to succeed in their oil exploration in the Chukchi Sea off the coast of Alaska. The Obama administration may have officially "approved" a permit to drill, but placed so many restrictions on the drilling that it became incredibly expensive. The Obama administration allowed Shell to drill a single exploratory well at the cost of $7 billion. Shell ultimately suspended their operations in the Chukchi. It's important to note that there are vast oil resources in the Arctic, but regulatory hurdles from the Obama administration severely limited Shell's ability to explore for those resources.
In September 2015, following Shell's withdrawal from the Chukchi, David Hayes emailed Podesta to celebrate the news. Hayes, who was Deputy Secretary at Interior during the negotiations, stated, "Shell's dry hole in the Chukchi obviously is huge and welcome news."
Hayes continued:
"Perhaps the best part of this is that the Bush-era leases in the Chukchi and Beaufort Seas that were purchased for $2+ billion in 2006 are now likely to expire before any new finds are confirmed. As a result, a future Administration should avoid the need to spend billions to buy out leasholders' [sic] interests in order to prevent future Arctic offshore drilling."

It is very telling that this former high-ranking official at the Interior Department (while the agency was considering Shell's permit) was so ecstatic when Shell pulled out of the Chukchi.
However, Hayes's reaction shouldn't be all that surprising if you examine the arduous process Shell endured to explore for oil in the in the Chukchi Sea.
In 2008, Shell spent $2.1 billion for its tracts in the Chukchi Sea. However, after the oil spill in the Gulf of Mexico in April 2010, President Obama placed a moratorium on all offshore production.
In August 2012, the Obama administration finally gave Shell permission to start "certain limited preparatory activities" in the Chukchi Sea. However, Shell's 2012 drilling plans were stymied by weather and sea ice, regulatory hurdles (including a government-ordered shortened drilling season), and lawsuits from environmental organizations.
Although the Obama administration approved Shell's permit, their actions suggested they were intent on making it as difficult as possible for Shell to produce oil in the Chukchi. The Institute for Energy Research wrote in 2012:
"The Obama Administration says that it is supportive of drilling in the Arctic, but its regulatory challenges from the Department of Interior, the Environmental Protection Agency, and the Coast Guard have slowed Shell's ability to explore for oil this summer, reducing the company's best efforts to producing top holes. It is difficult enough to explore for oil in the Arctic where weather and sea ice are major factors, but regulatory hoops make it just that much more difficult. These regulatory challenges have postponed plans of other oil companies to invest in Arctic oil exploration that has cost Shell $4.5 billion already without one well drilled."
[Click here for a more in-depth analysis]
Ultimately, after investing $7 billion and only being allowed to drill one well, Shell suspended their efforts in the Chukchi.
The fact that Hayes is so excited by Shell ending their activities in the Chukchi shows that Interior did not want Shell to succeed and did not want energy production on federal lands or waters. This indicates that the Obama administration's approval of Shell's drilling permit was likely nothing more than a shell game.
4. Podesta was the banker in Tom Steyer's "pay to play" relationship with Clinton
Several email exchanges between billionaire environmentalist donor Tom Steyer and Podesta show a very close relationship. In one email, Steyer asks Podesta about setting up a time for a call, to which Podesta replied "call anytime."

In a March 2014 exchange, ThinkProgress editor Judd Legum asked Podesta if it would be "too late to talk to Steyer about the new climate money in early May?"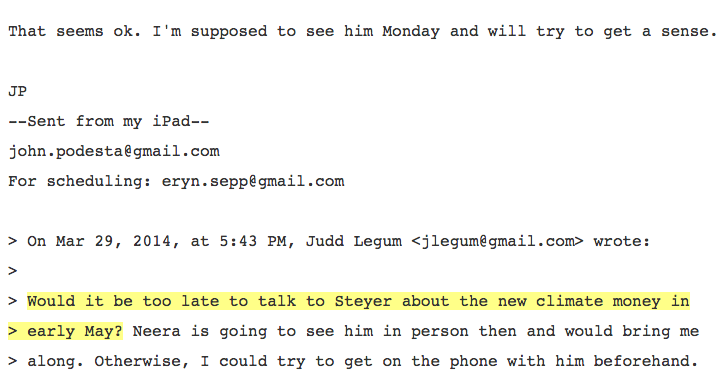 In February 2015, Podesta and Clinton campaign manager Robby Mook emailed about the prospect of giving Steyer a formal role within the campaign. While Mook cautioned against this action, Podesta pointed out that they could be leaving a lot of money on the table: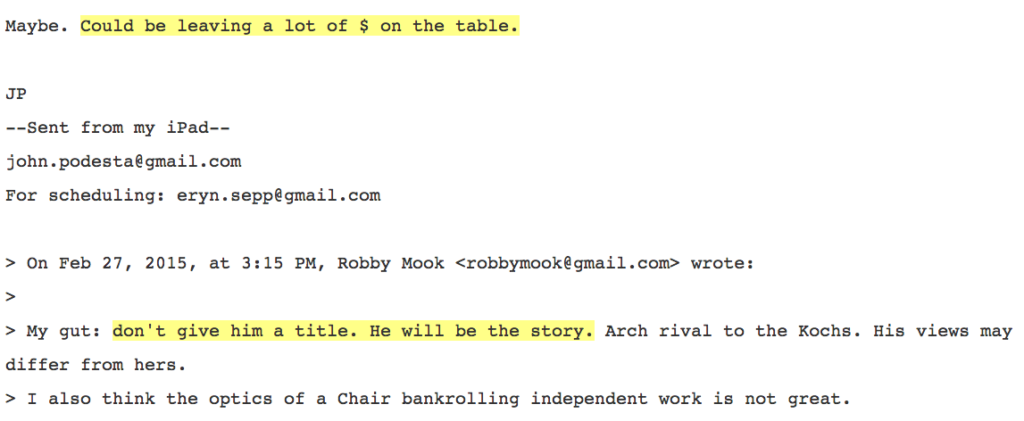 While Steyer wasn't given a formal position on the campaign, this exchange provides a glimpse into Podesta's pay for play mindset.
An email from a Clinton campaign staffer to Podesta outlines a plan for Steyer to host a fundraiser in San Francisco for Clinton.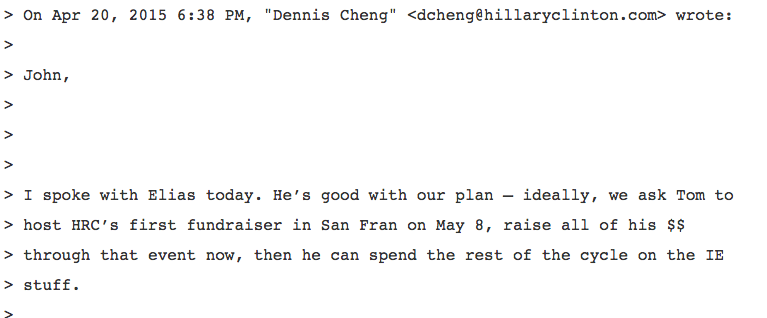 On the same email chain, it's revealed that Clinton campaign lawyer Marc Elias is also Tom Steyer's lawyer:

5. Podesta was also cozy with hedge fund billionaire Nat Simons
Another donor that Steyer often corresponded with is Nat Simons, a hedge fund billionaire and founder of the Sea Change Foundation—a secretive foundation that funnels hundreds of millions of dollars to climate groups and the Democratic Party. Sea Change has come under fire for taking millions from a Bermuda shell-company based out of a law firm with ties to Russian oil interests.
In one email, the two set up a time to discuss an upcoming climate funders dinner with Christiana Figueres, the Executive Secretary of the UN Framework Convention on Climate Change.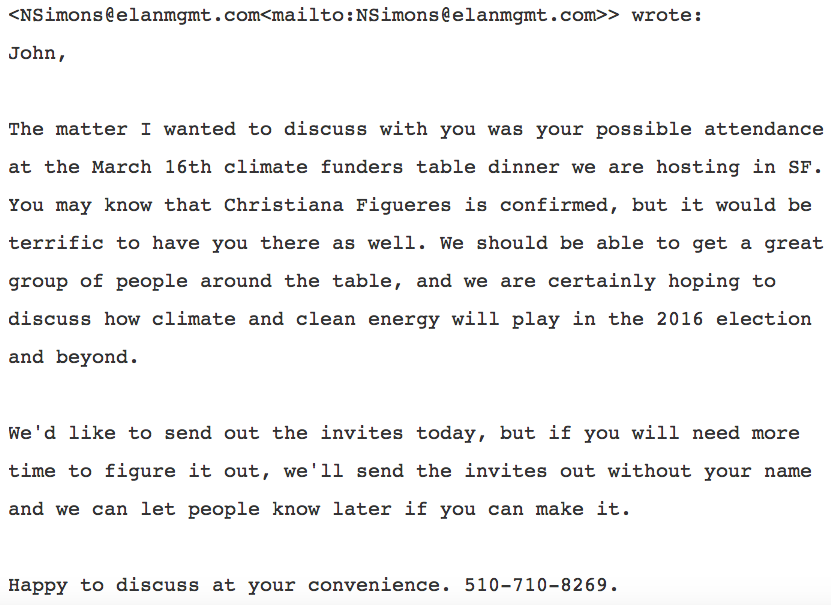 In a later email to Podesta and Figueres, Simons outlines the purpose of the dinner and states that this isn't a fundraising event, but admits that funding and politics "will almost certainly form part of the backdrop for your presentations and discussions."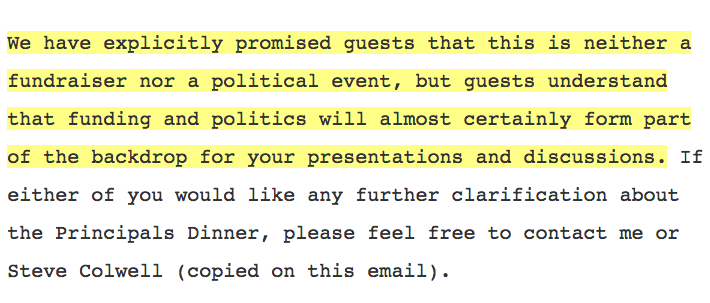 While these may seem like benign emails, they reveal an unusual level of access to power for billionaire environmentalist donors like Tom Steyer and Nat Simons.
6. The Center for American Progress sought to silence academics
One theme in the leaks is that neither the truth, nor the law matters. John Podesta founded the Center for American Progress and is currently on the board. The Center for American Progress and Podesta himself have been very active in climate politics, working to silence critics and academics, who disagree with them.
For example, in 2014 Judd Legum of the Center for American progress went into full attack mode because Nate Silver of fivethirtyeight.com hired Roger Pielke Jr. to write on climate change. What Pielke Jr. wrote for fivethirtyeight.com was factually correct and supported by the consensus science from the Intergovernmental Panel on Climate Change. Regardless, the Center for American Progress wanted to silence Pielke Jr.
In an email to Tom Steyer, Legum brags that the Center for American Progress is the reason that Pielke had been silenced: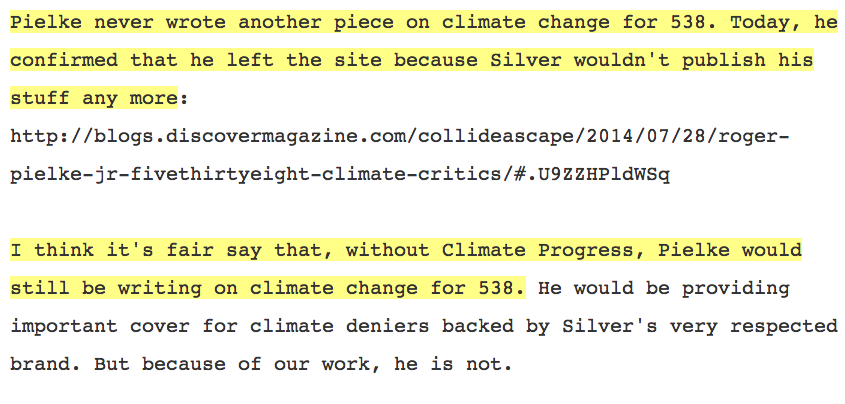 For more on this, see this article by Robert Bryce.
7. Podesta himself has worked to silence academics
Laurence Tribe, the famous liberal constitutional law professor and President Obama's former professor, represents Peabody Energy and wrote a legal brief opposing the Obama administration's regulation of carbon dioxide under the Clean Air Act. Podesta wanted to publicly attack Tribe for his opinions of what is legal under the Clean Air Act. In the below email, Podesta asks Tom Steyer to get activist Bill McKibben to attack Tribe.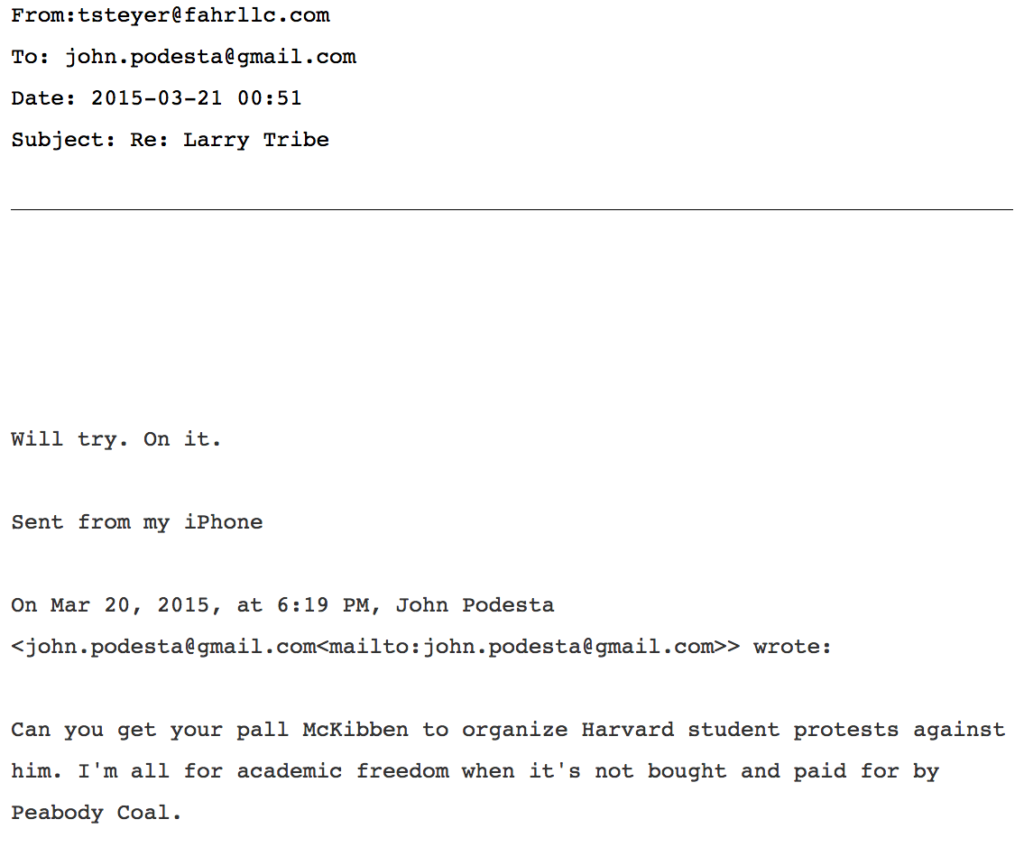 Steyer responded that he was "on it."
It is ironic that Podesta states he supports academic freedom in the same email where he gives marching orders to student organizers and uses a billionaire donor to coordinate the protest.
8. Clinton's public and private positions on energy
These emails also provide a glimpse into how Clinton often takes differing public and private positions on various policy issues. In fact, in a transcript of a paid speech contained in one of the leaked emails Clinton admits as much saying, "you need both a public and private position."

A number of emails show conflicting positions from Clinton on a number of energy related policy issues including a carbon tax, hydraulic fracturing, and pipeline infrastructure.
Carbon Tax
In one email exchange from June 2015, Clinton campaign manager Robby Mook stated that he'd "be a bit nervous about rushing to say we'd never support such a tax", but also stated, "To be clear: it's lethal in the general, so I don't want to support one. But don't want to give bernie [sic] contrast right now."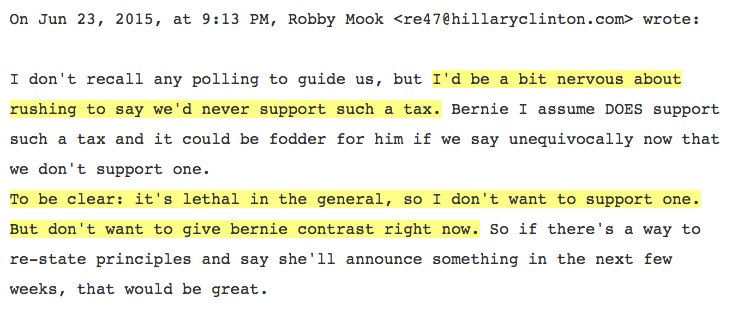 However, on January 20, 2015 some of Hillary Clinton's energy advisors wrote a memo to Clinton considering the possibilities of a carbon tax. In the memo Clinton's advisors admit that a carbon tax would disproportionately harm the poor. The advisors wrote:
"It is important to note that any policy that increases energy costs – including the recently announced EPA regulations on power plants and methane emissions — will disproportionately impact low-income households."
Pipelines
Clinton's track record shows a clear opposition to pipeline infrastructure. She publicly opposed the Keystone XL pipeline (after feeling pressure from LCV) and the Northeast Energy Direct pipeline. However, one of the leaked emails reveals the Clinton campaign is worried about losing favor with trade unions over her opposition to these pipelines.
An email chain from August 2015 shows members of the campaign had a back and forth over the release of an op-ed and fact sheet about the Keystone XL pipeline. In the exchange, one staffer expresses concern about potentially upsetting the building trades, stating, "Just want to make sure we don't catch anyone by surprise. We are so close to getting bldg trades and if we do this right, it will be ok even though they won't like it."

In another email from February 2016, a campaign staffer states that Clinton has "privately told the building trades that she does not oppose pipelines."

This exchange came after Clinton told a University of Virginia student that she opposed the Northeast Energy Direct pipeline.

Hydraulic Fracturing
Another issue where Clinton has taken different public and private positions is the use of hydraulic fracturing. When asked about her position on hydraulic fracturing during a primary debate, Clinton stated, "By the time we get through all of my conditions, I do not think there will be many places in America where fracking will continue to take place."
However, in a transcript from a paid speech to Goldman Sachs, Clinton calls America's energy revolution (made possible by hydraulic fracturing) a "gift".
One email shows Clinton staff discussing potential allies to "whack" Bernie Sanders for his position on banning hydraulic fracturing. The email exchange also warns against coming off as too pro-hydraulic fracturing.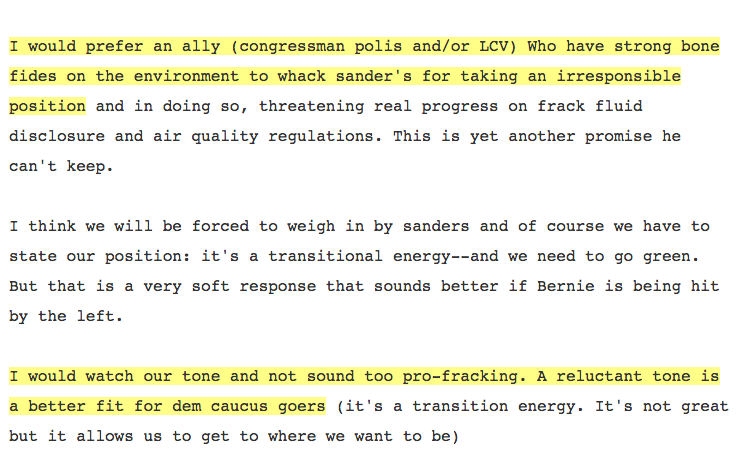 It's difficult to determine Clinton's exact position on some of these issues based on her public and private statements. However, as the saying goes, "you're known by the company you keep." The fact that John Podesta, who is Clinton's campaign chair and is deeply involved with the national environmental lobby, worked to kill Keystone XL, and is close to billionaire environmentalists like Tom Steyer, George Soros, and Nat Simons, tells you all you need to know about where a Clinton administration would come down on these issues. Her administration would be anti-pipeline, anti-hydraulic fracturing, and pro-carbon tax.
AEA will update this post as more information comes to light.