41 Free Market Groups Urge Senate to Stand Strong Against Powerful Wind Lobby
---
The U.S. Senate, the only stronghold in Congress, must resist temptation to pass unnecessary handouts to special interests before – and after – the election.
---

WASHINGTON DC (October 22, 2020) – The American Energy Alliance (AEA), the country's premier pro-consumer, pro-taxpayer, and free-market energy organization, issued a letter to Senate Leader Mitch McConnell and many of his Republican colleagues urging them to stand strong against the powerful wind lobby. AEA, along with forty co-signing organizations, are seeking a final end to the production tax credit (PTC) for intermittent electricity generated by windmills. Subsidized wind power increases electricity costs, harms taxpayers, and destabilizes the electric grid. It is most beneficial to wealthy wind developers – many of which are foreign owned – who are able to reduce their tax rate at the expense of the rest of the taxpayers and ratepayers.
The PTC has drained tens of billions of dollars while foisting unreliable energy onto the grid. It has now been extended a dozen times. Enough is enough. AEA fully supports legislative efforts like S. 4678 / H.R. 8359, the PTC Elimination Act, proposed by Senators Lankford (OK), Cramer (ND), Hoeven (ND), Capito (WV), and Representative Marchant (TX) to finally end this unnecessary tax credit. In a second letter, AEA informed Members of Congress it will score co-sponsorship of these important measures in its American Energy Scorecard.
Thomas Pyle, President of the American Energy Alliance, issued the following statement: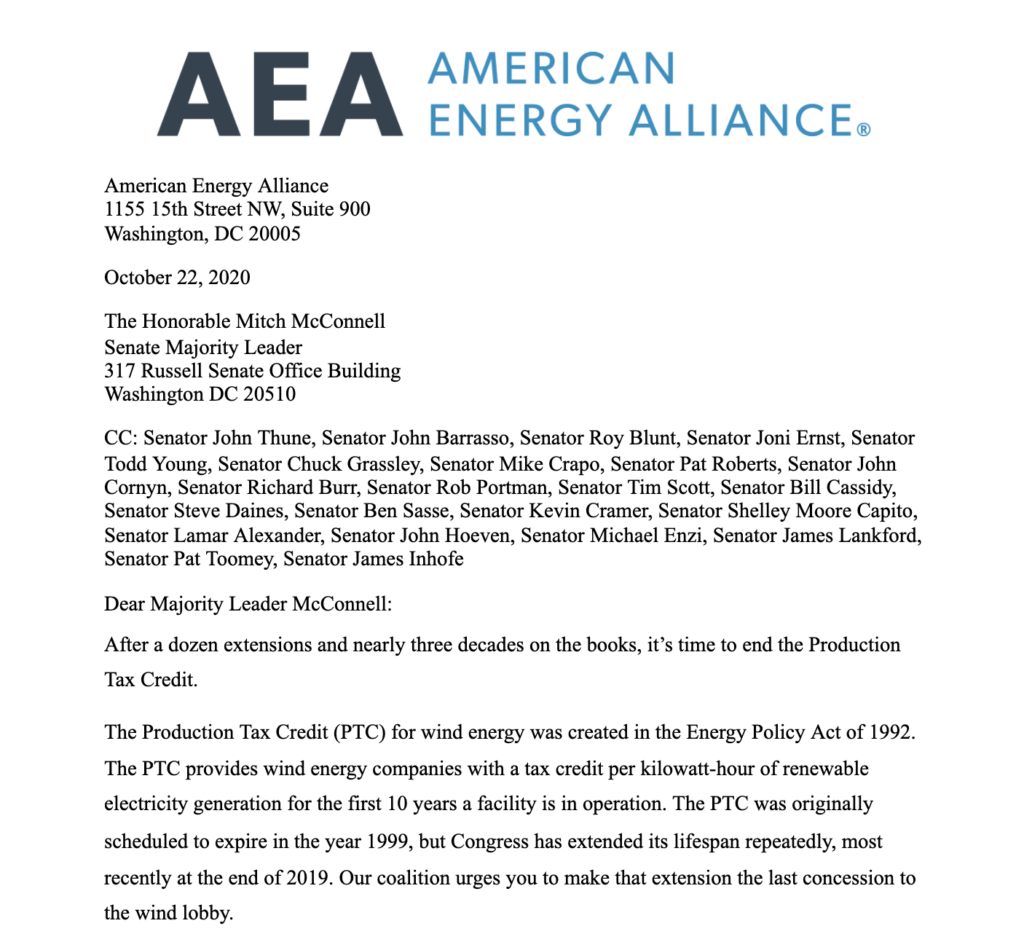 The full letter and list of signatories can be viewed here.
---
Additional Resources:
---
For media inquiries please contact:
[email protected]