Ukrainian Conflict Reveals Europe's Green New Deal Follies
Futures of Brent oil were up more than 4 percent at $97.70 per barrel early this week and West Texas Intermediate oil also increased nearly 4 percent to $94.67 per barrel, after Russian President Vladimir Putin ordered troops into the Donetsk and Luhansk separatist regions of Ukraine, indicating Russia would recognize their independence. In response to Putin's action, Germany suspended the approval process for the Nord Stream 2 natural gas pipeline from Russia and the United States and other nations are preparing to announce new sanctions against Russia. Germany's announcement on Nord Stream 2 is escalating natural gas prices in Europe and former Russian President and current Deputy Chair of the Security Council Dmitry Medvedev said they could reach €2,000 for 1,000 cubic meters of natural gas, about $63 per million Btu. European natural gas prices currently are at about $25 per million Btu, compared to U.S. prices of $4.57. Nevertheless, the European Union, United Kingdom and United States purchase 3.5 million barrels of Russian oil daily, with a current value of over $330 million.
Russia's Actions
After President Vladimir Putin had ordered his forces into the two self-proclaimed republics in eastern Ukraine, Russia's lower house of parliament, the State Duma, unanimously ratified the Kremlin's treaties recognizing the two republics. The upper chamber is also expected to vote in favor of the treaties. The ratified treaties open the door for Russian troops to enter the territories and allow Russia to build military bases in the breakaway zones. At present, separatists control about 30 percent of the Donetsk and Luhansk Oblasts (provinces).
Russia provides more than a third of Europe's natural gas, which heats homes, generates electricity and powers factories. Since November, the amount of natural gas shipped to Germany from Russia has dropped, escalating prices, draining reserves, and leaving Europe in an energy crunch. Last year, Russian gas accounted for almost 27 percent of the energy consumed in Germany—an increasing amount that was expected to continue after the country shutters its last three nuclear power plants, scheduled in December, and works to phase out coal-fired power plants by 2030. Germany received two-thirds of its natural gas from Russia last year.
Nord Stream 2, the $11 billion natural gas pipeline, was completed late last year and runs from Russia's coast to northern Germany under the Baltic Sea. President Trump had sanctioned the companies building the pipeline, but President Biden lifted those sanctions early in his administration. The pipeline, which is owned by a subsidiary of Gazprom, Russia's state-controlled energy company, is filled with natural gas but has not gone online, pending approval from a German regulator, which has now been halted by German Chancellor Olaf Scholz with the announcement of Putin's intentions in Ukraine.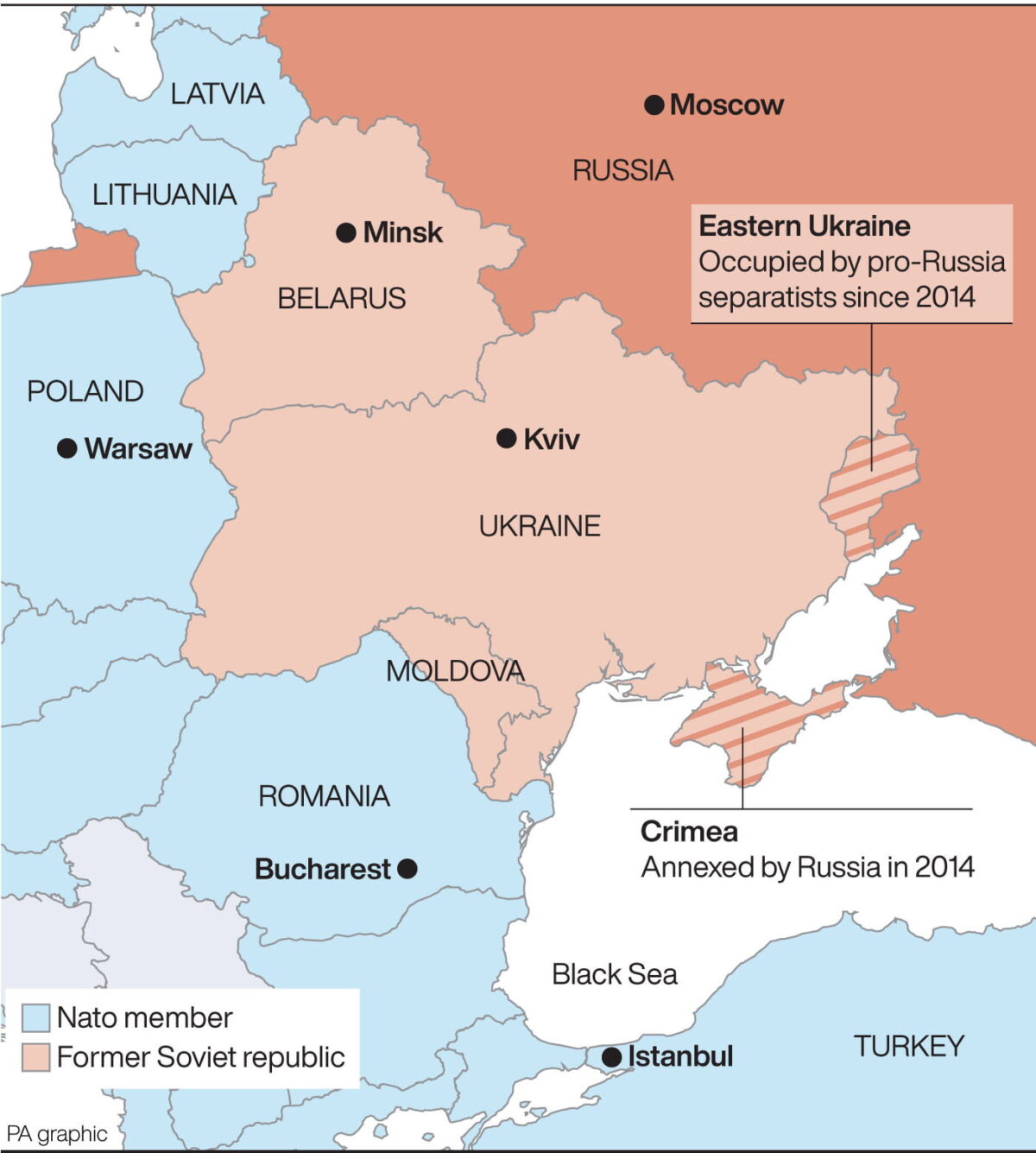 European Energy Crisis
Europeans have long paid some of the world's highest prices for energy, but this winter has been the worst even before Putin threatened the Ukraine. A series of factors have affected the continent, including pandemic-induced supply shortages and geopolitical tensions, which are now escalating and driving up energy prices. People are turning to burning wood or coal in wood-burning stoves. But, Europeans that do not have that option must rely instead on piling layers of clothing on or adding blankets to sleeping quarters. In Britain, the government's price cap on energy bills was recently raised 54 percent, increasing annual charges to 1,971 pounds ($2,678), which will affect 22 million households beginning in April, contributing to greater energy poverty.
Energy prices are also forcing shutdowns or slowing production at manufacturers across Europe, who are eager to fill a backlog of orders and resume levels of business from before the pandemic. The smelting industry has been especially hit hard. In normal times, Nyrstar, the world's second-largest zinc processor, produces nearly 500 tons of the metal each day at a factory in Auby in northern France—a complex that consumes as much energy as the French city of Lyon. When the company's electrical rates increased from €35 to €50 per megawatt-hour to €400 ($453) last December, the plant was shut down for three weeks. Nyrstar temporarily halved production at its other European plants in October when the energy crisis set in, prompting a spike in the global price of zinc.
Last fall, fertilizer plants in Britain were forced to close because of natural gas prices. And several German companies that produce glass, steel and fertilizer also scaled back production.
To ease the burden of the high prices, the German government reduced by half an energy surcharge on bills that fund the country's aggressive transition to renewable sources of power, and plans to phase it out by the end of next year. But that is not soon enough. Almost two-thirds of the 28,000 companies surveyed by the Association of German Chambers of Commerce and Industry rated energy prices as one of their biggest business risks. In the industrial sector, 85 percent rated it as a big business risk.
Even hospitals that have been financially stressed by the coronavirus are now having problems keeping their doors open due to high electricity bills. In Poland, a hospital's electricity prices had increased 100 percent. Hospital directors appealed to the government in Warsaw to intervene, saying the recent cuts to taxes on energy and gasoline were not enough.
In Germany, municipally owned utilities, who must accept customers, are having trouble because their relatively low-cost contracts were dropped by private energy companies that cannot pay the escalating energy rates. The municipal utilities are forced to increase the rates for new customers, often almost astronomically high, to cover the cost of buying extra energy on the spot market at record prices.
Conclusion
U.S. energy consumers need to look to Europe's energy crisis and geopolitical tensions to realize that the direction that the Europeans have taken wiping out coal and nuclear plants and transitioning to wind and solar power are creating hardships for businesses and homes. Rather than making electricity cheaper for consumers, their addition to the grid is rapidly escalating prices. Businesses have closed for weeks and homeowners have switched to burning wood and coal or adding on layers instead of using centrally provided energy. President Biden's energy policies are following the same path as the European energy policies and should be stopped or at least slowed or the United States will face the same circumstances as the Europeans with countries that are not our allies realizing the vulnerabilities and increasing political tensions.
---
*This article was adapted from content originally published by the Institute for Energy Research.