Will America Learn From Europe's Energy Failures?
Russian natural gas supply to Europe via the Nord Stream 1 pipeline capacity fell to 40 percent recently as Russia cut flows awaiting the return of equipment sent to Canada for repair and warns that more delays in repairs could lead to cutting all flows, putting additional strain on Europe's ability to refill its natural gas inventories and raising prices by 40 percent. Gazprom, the state-controlled gas company, indicated that Western sanctions made it impossible to secure the return of equipment from Canada for the pipeline's Portovaya compressor station. Built as the world's longest subsea pipeline during Barack Obama's presidency, Nord Stream 1 has the capacity to pump about 55 billion cubic meters annually to the European Union, which last year imported about 140 billion cubic meters of gas from Russia via pipelines. Germany's gas inventories, for example, are 52 percent full and need to be 80 percent full by October and 90 percent full by November.
Also affecting gas inventories in Europe is U.S. LNG production, which has provided Europe with LNG imports to help with their reductions from Russia. Europe accounted for 74 percent of U.S. LNG exports in the first four months of 2022. However, an explosion on June 8 hit the Freeport LNG facility in Texas, resulting in a fire that caused the plant to be taken offline until September when part of the facility will be operating again with full operation set to resume at the end of the year. The Freeport facility was a major supplier of LNG to Europe and accounts for about 20 percent of U.S. LNG exports. That timeline for the Freeport facility to come back online could be delayed because regulators must approve the facility's restart and two investigations are ongoing into the cause of the disruption at the plant. Additionally, the Federal Energy Regulatory Agency is investigating whether to require that LNG projects include estimates of climate impacts, which could also affect permitting and timing of repairs.
Germany's Dependence on Russian Energy
Germany for decades had bet that economic interdependence with Russia would keep peace in Europe and that Russia could be trusted as a supplier of energy. President Trump even warned Germany of its growing dependency, which led Germany and their friends in U.S. media to scoff at his prescient prediction. Russia's invasion of Ukraine changed that and vindicated Trump's view. Germany had relied on Russia for more than half of its gas imports, a third of its oil and half of its coal imports. Germany is now taking steps to make itself independent from Russian coal by the end of summer, and from Russian oil by the end of the year. The share of oil imports from Russia has fallen to 20 percent, and Russian coal imports have been halved.
But, reducing its dependence on Russian natural gas will be harder to achieve, possibly taking two years. Germany imports about 35 percent of its natural gas from Russia, down from 55 percent before the war, using most of it for heating and manufacturing. Last year, power generation using natural gas accounted for about 15 percent of the country's electricity. Germany plans to restart coal-fired power plants it has been closing because of its "Green Transition" and to offer incentives for companies to reduce natural gas consumption so households do not run out of gas this coming winter. The legislation affecting the use of coal is expected to be approved on July 8 in the Bundesrat, the upper house of parliament, and will expire on March 31, 2024. The German government is also expected to introduce an auction system that would motivate industry to reduce gas consumption, which will begin this summer. The steps are part of a broader strategy aimed to reduce gas consumption and divert gas deliveries to storage facilities to ensure that the country has enough reserves to get through the winter.
Other European Dependence on Russian Gas
Both the Czech Republic and Austria are among Europe's most vulnerable countries when it comes to Russian natural gas, relying on Russia for almost all their natural gas supplies. The Czech Republic's main gas provider, CEZ, reported that its supplies from Gazprom had been reduced to about 40 percent of its usual volume, and the country's reserves could last until the end of October. Austria's OMV energy company was also cut. Italy, which imports 95 percent of its gas, buys 40 percent of it from Russia. Gazprom's supply to Italy also fell due to the reduced flows through the Nord Stream 1 pipeline connecting Russia to Germany. But Italy, which benefits from milder winters than its northern neighbors, is in a better position to attract alternative supplies via pipeline and by ship. Italy was proposed to be a recipient of natural gas from Israel and Cyprus via the East Med pipeline, however, the Biden administration withdrew its support for the pipeline shortly before Russia invaded Ukraine.
In Holland, the government declared an "early warning" stage of a natural gas crisis, a move that will allow more electric power to be generated by burning coal. According to the Dutch government, there were as yet "no acute gas shortages" in the Netherlands but declining supplies "could have consequences."
Europe's Gas Storage Inventory
European member states together have 1,100 terawatt-hours—or around 100 billion cubic meters—of storage capacity spread across about 160 underground facilities in 18 countries. The stored fuel typically covers 25 percent to 30 percent of winter demand. More than 70 percent of that underground capacity is concentrated in Germany, Italy, Austria, the Netherlands and France. To ensure winter supplies, European officials agreed on requiring E.U. underground reservoirs to reach 80 percent by November. If they stay at current levels, Europe will struggle to reach 70 percent of storage capacity by then, and a cold winter could turn catastrophic for energy consumers.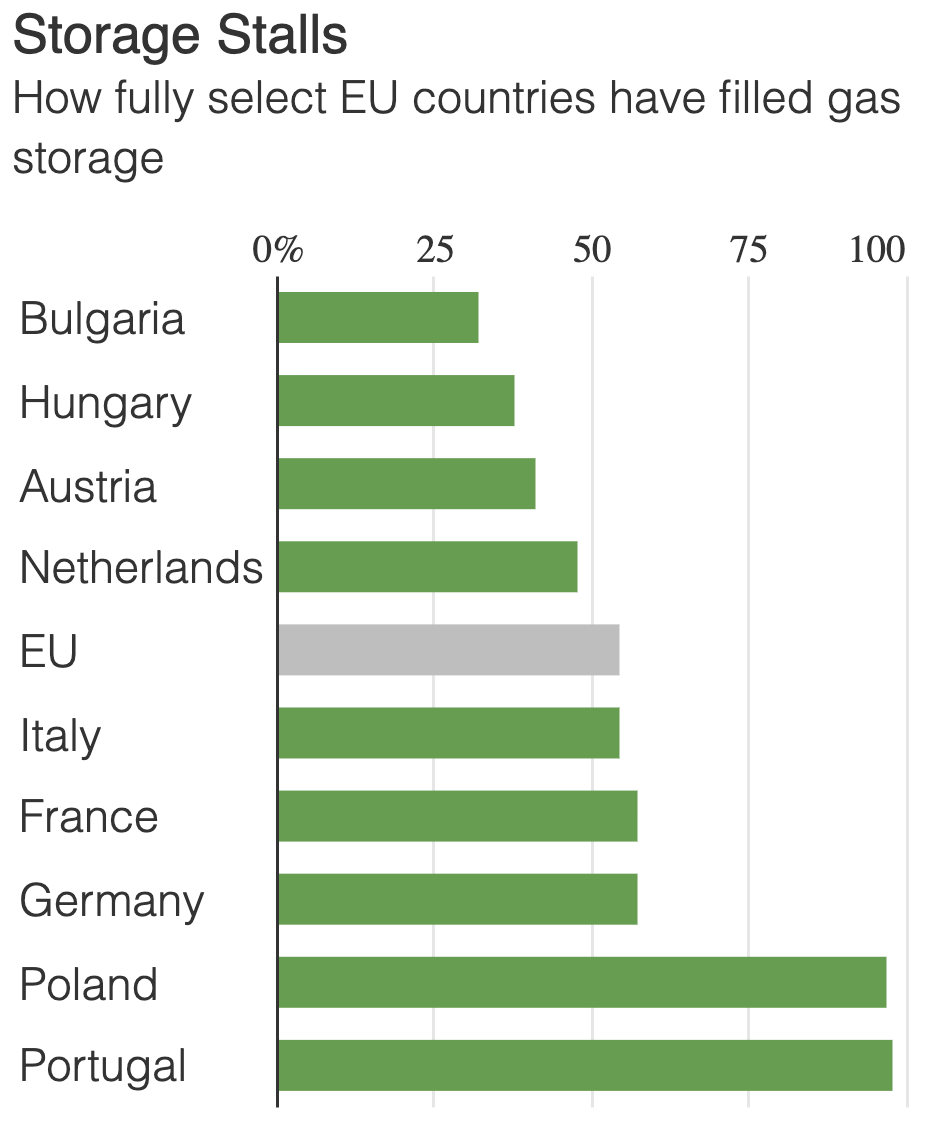 Conclusion
Europe is dependent on Russian energy, particularly natural gas. And due to Russia's invasion of Ukraine, Europeans are trying to reduce that dependence quickly. But, the goal is proving hard to achieve, particularly when the continent wants to transition from fossil fuels as part of its commitment to reduce carbon dioxide emissions. Politicians in Germany are keeping idled coal plants up and running and planning to auction natural gas to industry to try and reduce gas consumption. Europe's natural gas storage facilities are currently just over 50 percent fuel and they need to get that to 80 percent by November. But, Russia's reduction of gas flows to Europe via the Nord Stream I pipeline is making it difficult to fill those reservoirs to that level.
Energy is serious business for national security and economies, industrial production, jobs, and life itself.  Europe's commitment to intermittent and unreliable "part-time" green energy is exposing all of these realities and should be providing U.S. policymakers the proof of the pitfalls of this course of action.  Unfortunately, there are no signs the Biden administration is concerned about the destabilizing nature of unreliable energy.
---
*This article was adapted from content originally published by the Institute for Energy Research.