Biden's Bribe To End After Midterms
President Biden is depleting the U.S. Strategic Petroleum Reserve (SPR), which is currently at its lowest level in 37 years. On July 26, 2022, the U.S. Department of Energy announced an emergency sale from the reserve of up to 20 million barrels, which will go through the end of October, just prior to the mid-term election in November. And, along with that announcement, Goldman Sachs revised its forecast for gasoline prices upward to $5 a gallon by the end of the year. Previously, its price forecast was at $4.35 a gallon. That's because despite the Biden SPR releases, the market must still balance demand with tight supplies. According to Goldman Sachs, a sustained $5 price should eventually solve the market deficit. The $5 gas price is accompanied by a Brent futures price expectation of $130 a barrel.
Skyrocketing natural gas prices in Europe resulting mainly from Russia's supply cuts due to sanctions Europe placed on Russia for its invasion of Ukraine have prompted many industrial consumers, including refiners and power plants, to switch from natural gas to oil. Natural gas has been reaching prices of $60 per million Btu, equivalent to oil prices around $360 a barrel. Scorching temperatures have also increased demand for air conditioning, particularly in the Middle East, where a significant amount of oil is used during summer to generate electricity. The combination of relatively lower oil prices and the continued reopening of economies are also expected to increase oil consumption. As a result, the International Energy Agency has upped its world oil consumption increasing by 2.1 million barrels a day this year, or about 2 percent—up 380,000 barrels a day from its previous forecast.
Here in the United States, the lack of an inventory buffer for gasoline and diesel at a time when refiners are heading into their maintenance season is also expected to aggravate the supply outlook for these fuels.
Releases of Oil from the U.S. Emergency Reserve
On March 31, 2022, the Department of Energy announced an immediate release of one million barrels per day for six months from the Strategic Petroleum Reserve that was to be coordinated with international allies and partners. The six months was orginally expected to end in September, but the July DOE announcement mentioned above indicates the releases will go through the end of October, placing oil supply from the emergency reserve on the market right up until the mid-term election. So the reprieve of high price gasoline will be short-lived as the U.S. emergency reserve is being depleted, particularly of high-quality oil.
The SPR basically contains two kinds of crude: medium-sour, and light-sweet. The medium or light designation refers to the oil's density, the sour and sweet designation refers to its sulfur content. Typically, U.S. refiners prefer medium-sour crude, which is a variety they can easily process into gasoline and other products due to their highly sophisticated plants. Medium-sour is the quality of oil pumped by Russia, most Middle Eastern countries and Venezuela. Over the last year, 85 percent of the oil the SPR has sold has been medium-sour, according to government data. In early May, there were more sweet barrels of oil left inside the SPR than sour: 235 million barrels vs. 234.9 million barrels. (See graph below.) By the end of October, the SPR is estimated to have only 179 million barrels of medium-sour quality oil. During the period June 2021 to October 2022, the United States is expected to sell about 180 to 190 million barrels of medium-sour oil from the reserve.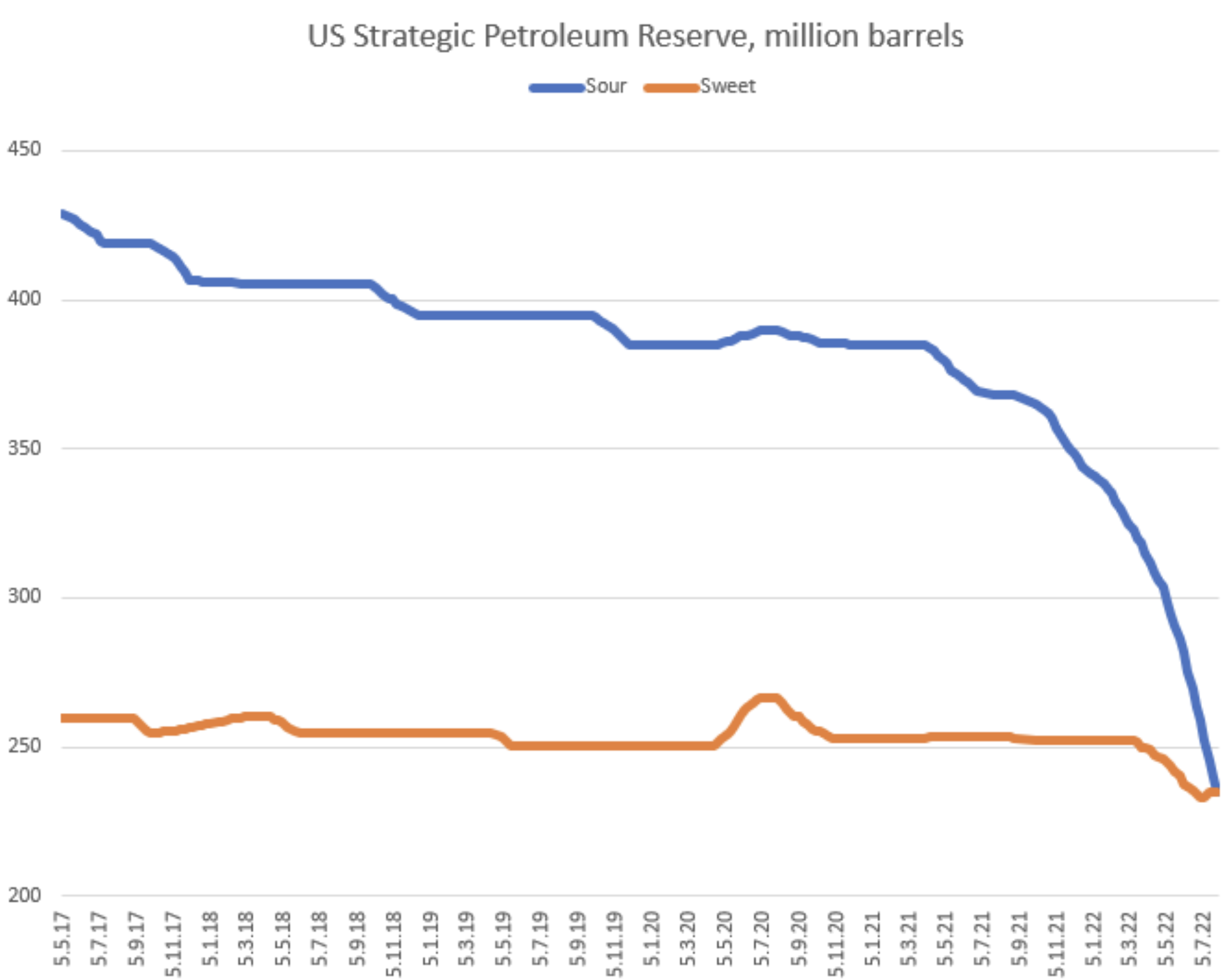 The Biden administration described the most recent SPR sale as a bridge to get supply and demand in balance as domestic producers increase output. "We want to make sure that bridge is as long as it can be and as flexible as it can be so that we can deal with further challenges as we have them," such as hurricanes, Deputy U.S. Energy Secretary David Turk said. The withdrawals as of early August pushed SPR's supply down to 464.6 million barrels, the lowest level since 1985 when U.S. demand was significantly lower than today. According to Turk, DOE will use money from the current sales to buy oil back at lower prices. When that will happen has not been determined.
At the current rate, the United States is selling more barrels from its emergency reserve than the production of most medium-sized OPEC countries, such as Algeria or Angola, or twice as much as the U.S. derives from Alaska. This is expected to shrink the reserve to a 40-year low of 358 million barrels by the end of October, when the releases are due to stop. A year ago, the SPR, located in four caverns in Texas and Louisiana, contained 621 million barrels. When those releases end just before Election Day, gasoline prices will start increasing and if the Goldman Sachs forecast is correct, they will be back at $5 a gallon by the end of the year.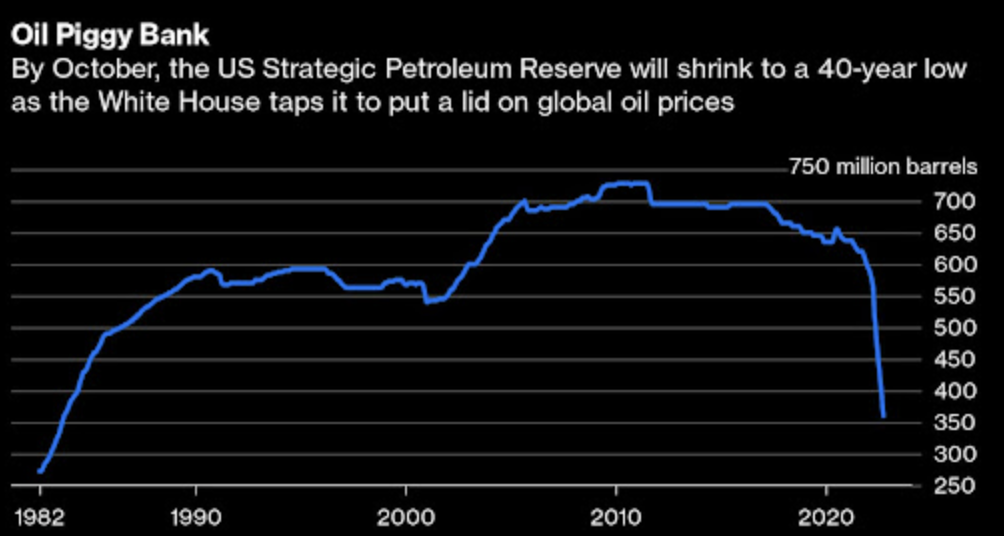 Conclusion
If Biden's latest SPR sales are successful in reducing the reserve by 180 million barrels, the SPR will be at 50 percent of its capacity and have only 179 million barrels of medium sour oil available for further sales to cover legitimate emergencies, such as hurricanes. That leaves little room for Biden to deal with escalating gasoline prices that Goldman Sachs is forecasting by the end of the year. The Biden administration has very cleverly added supply to the market to reduce gasoline prices by using the SPR and continuing the sales just until Election Day. The answer to Biden's high gas price problem, however, is not SPR releases, but favorable oil policies that allow U.S. oil producers to have greater access and less regulation. Unfortunately, his so-called Inflation Reduction Act did not provide much favorable policies. Rather, it increased royalty rates and fees on federal lands and added a hefty methane fee on producers, while his administration continues to block oil and gas lease sales on federal lands and waters.
---
*This article was adapted from content originally published by the Institute for Energy Research.