Is North Carolina's Energy Mandate on Its Way Out?
Last month, four members of the North Carolina House of Representatives (Millis, Hager, Collins, and Warren) introduced legislation to curb the state's renewable energy mandate. Their bill, H 681 (NC Energy Ratepayers Protection Act), freezes the state's "renewable energy and energy efficiency portfolio standard," which mandates a minimum contribution from renewable energy sources like wind and solar. Several energy sources—including solar power and energy from swine and poultry waste—benefit from specific mandates for each source.
Bill H 681 stops the mandate at the halfway point—the amended law would require 6 percent of total electricity production to be renewable for the years 2015 through 2018, rather than continuing on to require 12.5 percent by 2021 as included in the original renewable energy mandate. This action from the North Carolina legislature represents a positive first step on the road toward fully repealing the state's misguided energy mandate. Freezing the mandate in place will help North Carolinians avoid unnecessary increases in their electricity bills.
Energy Mandates Impose High Costs in Exchange for…What?
As states across the country implement renewable energy mandates, some policymakers are questioning whether the costs associated with a forced transition to renewables (particularly wind and solar) are worth the alleged benefits. When we look at states that have managed to keep electricity rates low, we see that they get the largest share of their electricity from coal, nuclear, or hydroelectric power. In contrast, renewables like wind and solar are far more expensive than conventional energy sources and cannot supply the same reliable power as conventional sources.
A recent IER study found that wind energy costs $109 per megawatt-hour, which is a whopping three times more expensive than electricity from existing power plants running on coal, natural gas, nuclear, and hydro (cost estimates for existing generators come from a forthcoming IER study)..When the full costs of wind power are taken into account—including the cost of backing down reliable units, building new transmission lines, and paying for heavy subsidies with taxpayer dollars—wind power is even less affordable. The higher costs of unreliable energy fall on everyday North Carolinians in the form of higher utility bills and higher taxes.
As shown below, coal is the number one electricity source in seven out of the top 10 states with lowest electricity rates.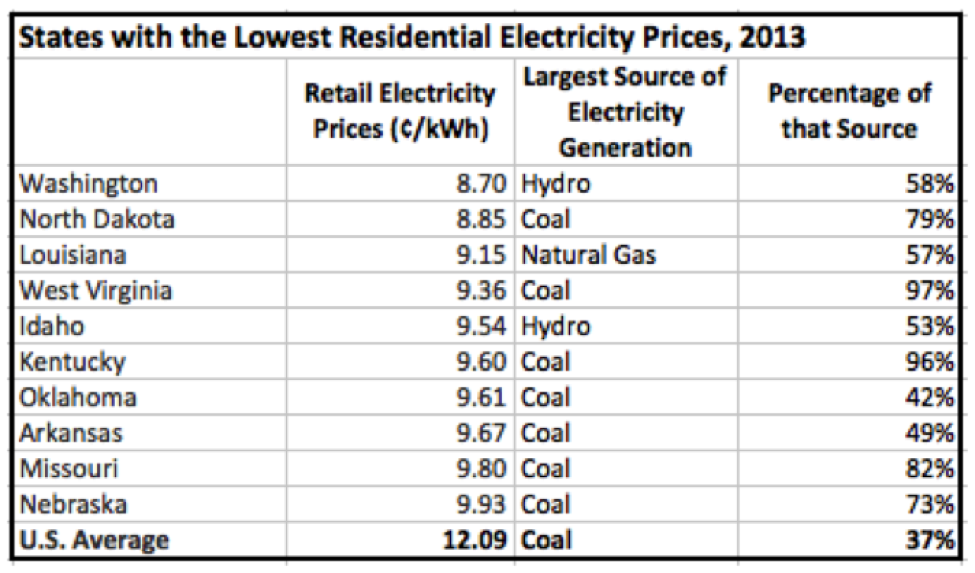 Some states are taking note. In Ohio, for example, the state legislature wisely froze its renewable energy mandate for two years in order to reevaluate the costs and benefits of the policy. In the deliberations on Ohio's mandate, Institute for Energy Research staff provided testimony to the Ohio Senate Public Utilities Committee and highlighted the steep costs and scant benefits of the mandate. State energy mandates drive up electric rates, destroy more jobs than they create, and are an inefficient method of reducing carbon dioxide emissions. Earlier this year, West Virginia also passed a law scrapping its alternative energy standard, which would have required utilities to get 25 percent of their power from alternative sources by 2025.
A new report from Strata—a research group affiliated with Utah State University—further highlights the high cost of renewable energy mandates. The report finds that, if fully implemented, North Carolina's energy mandate will reduce industrial activity by more than 13 percent and slash real personal income by almost 4 percent. Strata concludes that the mandate poses a "potential threat to the competitiveness of North Carolina's commercial business base. These results portend dire consequences for the state." These findings underscore the urgent need for reform.
Embrace Energy Abundance, Eliminate Energy Mandates
In many of the laws establishing renewable energy mandates—the bulk of which were enacted in the mid-2000s—policymakers expressed concern that energy resources would be more scarce in the future, and hence a policy of conservation would be prudent. In the intervening years, however, we have witnessed an energy renaissance that turned the reasoning for these mandates on its head.
In the case of North Carolina, for example, the renewable energy mandate was established in 2007. From 2007 to 2014, U.S. natural gas marketed production has increased 35 percent, providing a free-market answer to energy scarcity as opposed to a mandated transition to unreliable and expensive sources of electricity like wind and solar. From 2007 to 2013, U.S. shale gas production grew an amazing 783 percent, thanks to technological innovations such as the combination of horizontal drilling and hydraulic fracturing. The policy implication is that North Carolina should keep developing and producing energy from sources that survive the market test and flourish without the help of mandates and subsidies. Mandating sources that fail the market test is a recipe for higher prices.
Some policymakers may still want to support renewables, and in fact, many other policy supports for renewables already exist. North Carolina's renewable energy mandate is just one of 117 programs that all support renewable energy in the state of North Carolina, as identified by the Database of State Incentives for Renewable Energy. In short, reforming the renewable energy mandate does not remove all support for renewables in North Carolina—it simply lightens the burden on ratepayers.
Conclusion
With the introduction of H 681, members of the North Carolina House of Representatives are offering a common-sense solution to the real energy problem, which is not scarcity but political meddling. Also, by freezing the mandate in place, policymakers will help North Carolinians avoid unnecessary increases in their electricity bills.