China Strengthens Its Energy Security As Biden Weakens America's
It is not enough for China to be the dominant economy in the electric vehicle battery supply chain and the biggest processor of critical minerals, but it is now making inroads in the liquefied natural gas (LNG) tanker business with nearly 30 percent of this year's record orders. Local and foreign ship owners turn to China's shipbuilders because shipbuilders in South Korea are fully booked by orders to service Qatar's massive North Field expansion. Three Chinese shipyards, with only one of them having experience in building large LNG tankers, won almost 30 percent of this year's record orders for 163 new LNG carriers, making gains in a sector where South Korea usually captures most of the business. LNG tanker orders for Chinese yards tripled as China's gas traders and fleet operators sought to secure shipping after freight rates soared to records following Russia's invasion of Ukraine. Chinese yards also attracted more foreign bookings, including the first overseas orders for some ship makers only recently certified to build membrane-type LNG carriers.
This year, Chinese shipyards won 45 LNG tanker orders worth an estimated $9.8 billion–about five times their 2021 order values. By late November, Chinese yards had grown their LNG order books to 66 from 21, giving them 21 percent of global orders worth around $60 billion. In comparison, Chinese shipyards have only built 9 percent of the existing global LNG fleet.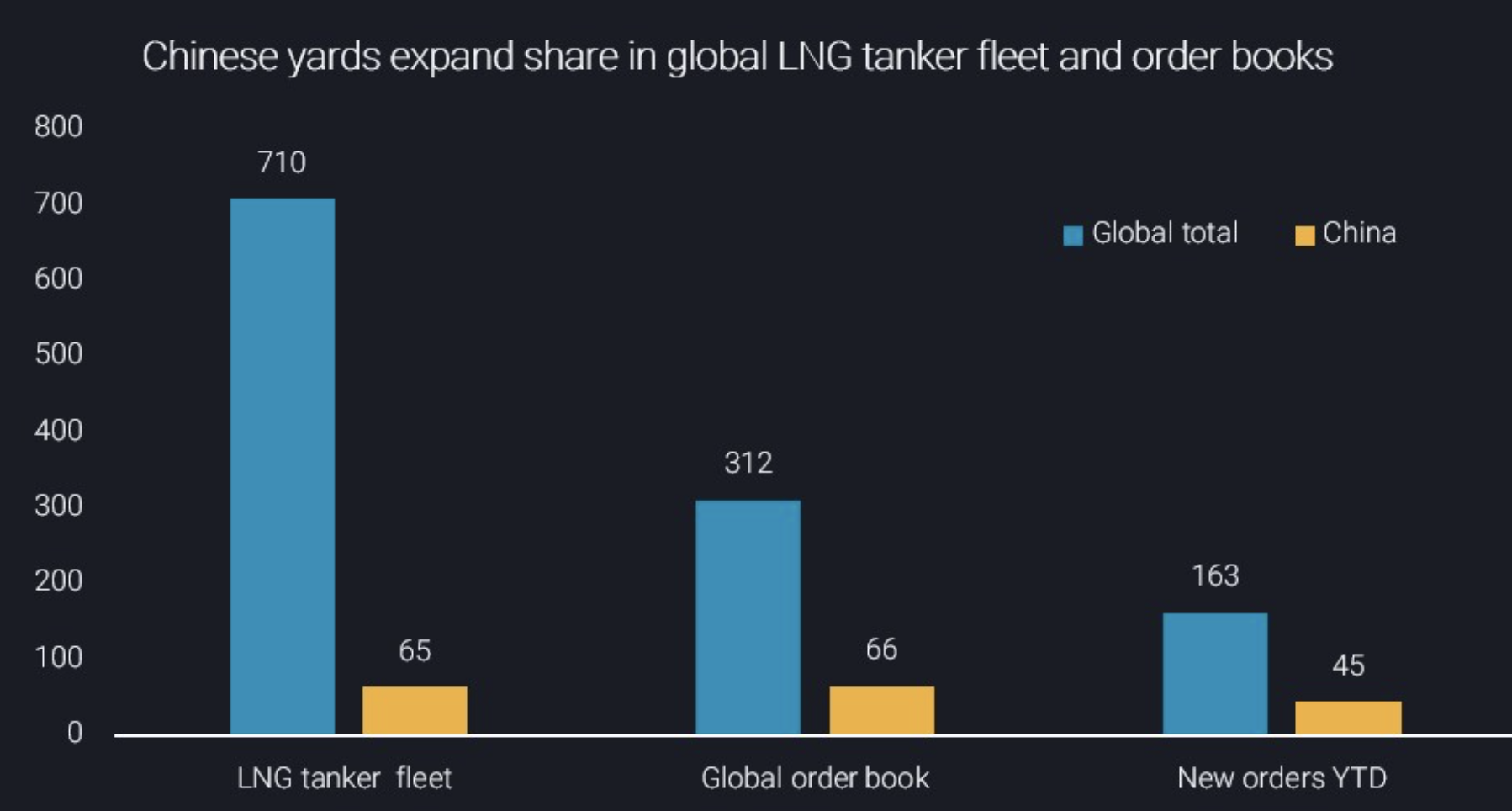 LNG tankers, like aircraft carriers, are among the most difficult ships to build, taking up to 30 months. LNG is natural gas that has been cooled to –260° F (–162° C), changing it from a gas into a liquid that is 1/600th of its original volume for shipping. For membrane-type containment tanks, 200 workers spend two months welding barrier walls made of paper-thin steel and 130 kilometers (81 miles) of connecting lines. Workers on these systems have to be certified by Gaztransport & Technigaz, a French engineering company that holds the patents and licenses its designs to shipbuilders.
Shanghai-based Hudong-Zhonghua Shipbuilding is the only Chinese yard with experience building large LNG carriers, having built dozens since 2008. This year, it received 75 percent of China's new orders, of which 26 orders were from local owners, compared to nine in the last two years. Two other shipyards–China Merchants Heavy Industry and Yangzijiang Shipbuilding–were certified to build large LNG carriers this year and received interest from both local and foreign shippers. Chinese shipyards received 19 foreign orders for LNG tankers this year and that number is likely to grow.
China needs about 80 vessels to ship 20 million metric tons a year of LNG from the United States, which will be part of the 33 percent increase in the global LNG fleet over the next five years. The tankers may also be used to trade cargo on other routes.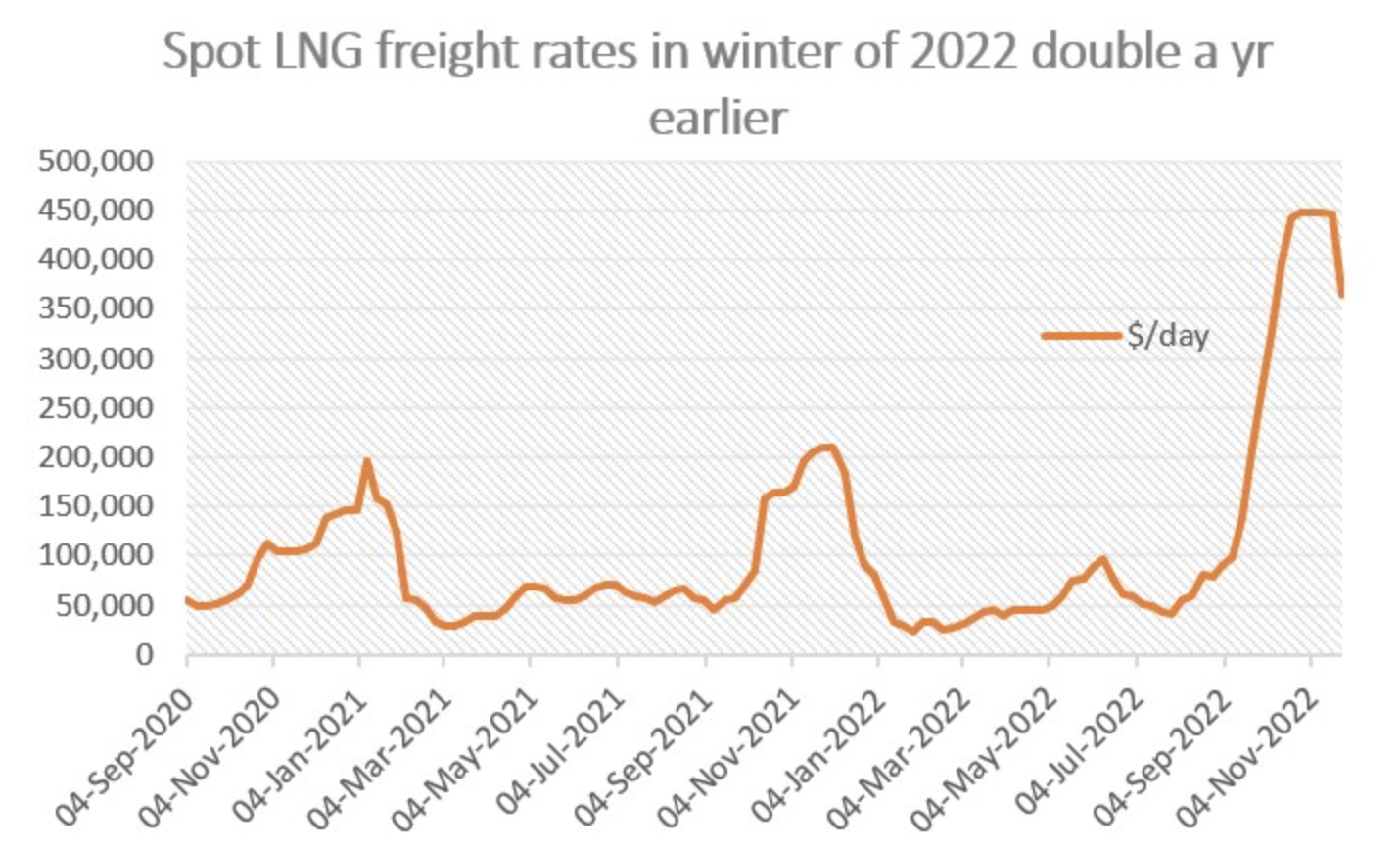 Qatar LNG
Qatar is already the world's top LNG exporter and its North Field expansion project will enlarge that position and help guarantee long-term supplies of LNG to Europe as the continent seeks alternatives to Russian natural gas. The North Field expansion of the world's largest liquefied natural gas project includes six LNG trains that will increase liquefaction capacity from 77 million metric tons per year to 126 million metric tons per year by 2027. Qatar signed deals for stakes in the first phase of the expansion project, North Field East, with TotalEnergies, Shell, Exxon, ConocoPhillips and Eni. For the second phase, North Field South, TotalEnergies is investing around $1.5 billion. The North Field South project will have three partners, part of the same group as North Field East, with signing ceremonies expected soon.
LNG prices rose from record lows below $2 per million British thermal units (mmBtu) in 2020 to highs of $57 in August. This increased spot LNG cargo prices to $175 to $200 million, from around $15 to $20 million two years ago, and has consolidated trading in the hands of a few major traders. QatarEnergy is expected to become the world's largest trader of liquefied natural gas over the next 5 to 10 years, a position that is currently held by Shell. Following Russia's invasion of Ukraine, Europe became a major market for LNG, where massive amounts are being purchased to replace Russian natural gas that used to make up almost 40 percent of the continent's imports. Europe is estimated to need to import around 200 million metric tons of LNG over the next decade to phase out Russian natural gas.
Shell and TotalEnergies are estimated to have a combined portfolio of 110 million metric tons of the current estimated market of 400 million metric tons. QatarEnergy's portfolio is estimated at 70 million metric tons, and BP's is estimated at around 30 million, with these four players accounting for more than half of the market. Traders estimate Qatar's nameplate LNG export capacity to be around 106 billion cubic meters with about 90 to 95 percent in long-term contracts and 5 to 10 percent in spot contracts.
Conclusion
China is ensuring that it will be able to ship LNG from the United States by building LNG tankers. Despite its new entrance as a major LNG shipbuilder, it is getting almost 30 percent of the new tanker orders, both domestic and foreign, due to South Korean shipbuilders being fully booked by Qatar's expansion in the North Field. China is clearly ensuring that it will be able to get energy of all kinds in the future, while it uses the demand for LNG to enhance its already-strong shipbuilding capability. China's energy policy is in sharp contrast to the climate and energy policy of the United States under the Biden administration, which is pursuing only intermittent renewable energy (wind and solar power) that is very expensive once the storage batteries to back-up the intermittency periods are taken into cost consideration.
---
*This article was adapted from content originally published by the Institute for Energy Research.