Year after year, air quality in the United States continues to improve. In fact, from 1970 to 2010, air pollution emissions have decreased 71 percent, even though automobile use has increased by 170 percent and energy consumption has increased by 44 percent. Despite these improvements, EPA is working to impose even stricter regulations with ever-diminishing benefits.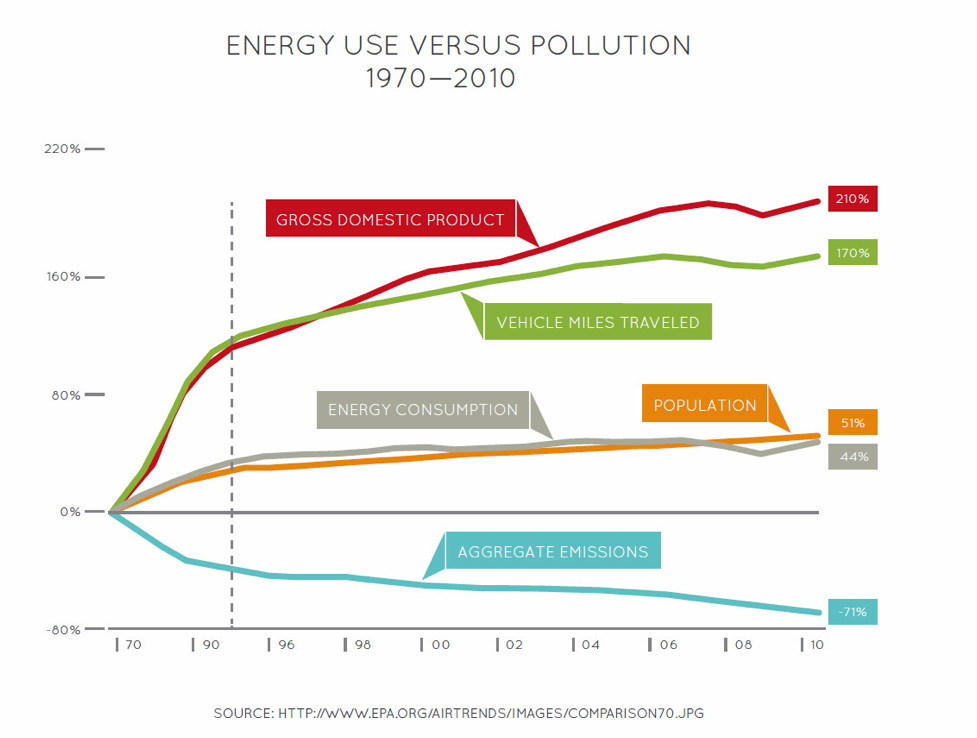 Ozone Regulations
A few months ago, EPA was working on new draconian ozone regulations. EPA signaled that it wanted to reduce the National Ambient Air Quality Standards program's currently mandated 75 parts per billion (ppb) ozone standard to a level between 60 ppb and 70 ppb. If EPA goes forward with this plan, the impact on the nation's economy will be nothing short of devastating.
Every state affected by this new regulation could lose tens of thousands of jobs, according to a bipartisan letter signed by a group of 34 U.S. Senators led by Mary Landrieu (D-La.) and Jeff Sessions (R-Ala.). According to some estimates, the new rule could mean the loss of 7.3 million jobs, or 4.3 percent of the workforce in 2020.
By its own admission, the EPA's turn of the screw would cost Americans dearly. Yet it could only identify known controls for 5 percent of the emission reductions required to come into compliance and had to guess, estimating costs at a paltry $90 billion annually by 2020. In two independent analyses, the Manufacturers Alliance and the American Petroleum Institute both place the price tag at $1 trillion on an annual basis from 2020 to 2030. In Pennsylvania alone, individuals and businesses could incur up to $3.2 billion in additional costs while gross regional production could decline more than $31 billion by 2020, according to the Pennsylvania Chamber of Business and Industry.
Cash-strapped states and municipalities would likewise face heavy burdens. As it is, "state and local air agencies … in the current budgetary climate, can hardly cope with existing obligations," according to the Sessions-Landrieu letter.  A Congressional Research Service report issued in February 2010 concludes that "virtually every county with a monitor [will] exceed the proposed standard." At great cost, they must then devise their own compliance plans. Companies located in a "non-attainment community" applying for state pollution emission permits can have their expansion plans denied.
The administration's fevered push appears even more bizarre considering the proposed standards may not even be attainable. There is evidence that increasing amounts of ozone in our air originate outside the United States and are blown into our country. Stranger still, high-ozone "background" levels at rural monitors in pristine areas such as Yellowstone National Parks could exceed the proposed standards, implying that locations across the nation will be unable to meet the more stringent standards, even with the most costly investments in emission controls. In some areas, the EPA has projected more reductions are required to comply than are even emitted locally.
The science behind the EPA plan has also been called into question. According to a NERA Consulting report issued in July 2011, 93 to 100 percent of the EPA's projected Ozone Health Benefits disappear if its "Policy-Relevant Background" ozone values are correlated to actual monitoring data instead of to the agency's flawed assumptions. Further, the causal relationship EPA assumes to exist between ozone and death is not supported by the agency's own science advisors. The EPA itself has noted that at exposure levels below 80 parts for billion there is "only a very limited amount of evidence" of ozone-related lung or respiratory problems.
Despite EPA proposing a regulation to ratchet down ozone, the White House pulled the regulation back when it became clear how economically damaging the plan was, especially when the benefits were between small and illusory. But this does not mean the proposed regulation will not return when EPA has more leeway.
The Ozone Regulation is One of Many Regulations in the Pipeline
Beside the ozone regulation, there are many other regulations in the regulatory pipeline. Here are some representative examples:
These are just some of the regulations that EPA has in process. If EPA were to impose these regulations on the U.S. economy, it would be even harder for the economy to recover. More and more jobs would leave the United States for parts of the world where it is still possible to manufacture things.
Affordable energy is essentially for the United States to compete in global markets because the United States has relatively expensive labor. But we need rational, common sense regulation to go along with affordable energy and keep America in business.  Otherwise, we will choke off our ability to manufacture products in the United States.
---