Hydraulic Fracturing is Bankrupting OPEC
The Energy Information Administration (EIA) is out with new numbers measuring the geopolitical impact of America's domestic energy boom. As the following chart shows, revenues from net oil exports for the Organization of Petroleum Exporting Countries (OPEC) are expected to decline by 14 percent in 2014 and 46 percent next year compared to 2013 levels.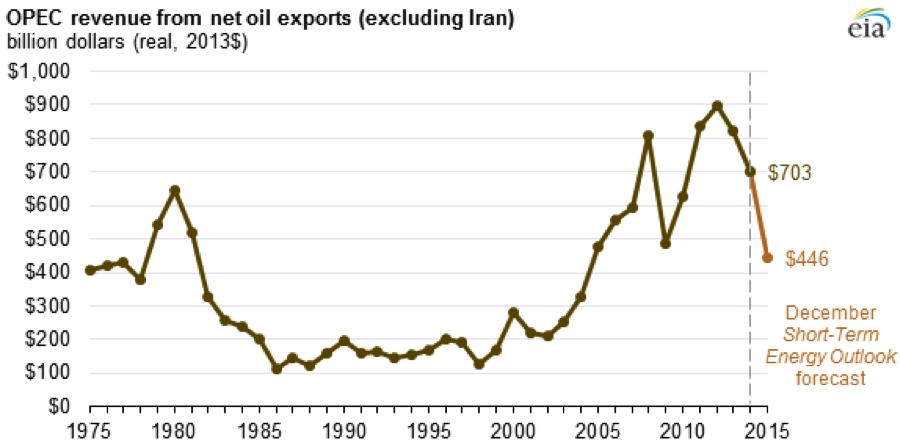 In 2015, OPEC countries (excluding Iran) will earn $375 billion less in net oil revenues than they did just two years ago, according to EIA. The dramatic change is due in large part to the plummeting price of crude oil. Brent crude, a key international benchmark, has fallen below $60 per gallon from more than $100 just a few months ago.
Oil prices are sliding largely as a result of booming production from U.S. shale plays. Domestic oil output eclipsed 9.1 million barrels per day this month—the most oil we've pumped in almost three decades and a 78 percent increase since January 2008. (The ability to extract oil and natural gas from dense shale rock formations is a recent phenomenon made possible by innovations in horizontal drilling and hydraulic fracturing occurring on state and private lands—energy production is actually down on federal lands).
America's energy renaissance is upending world energy markets and freeing us from the yoke of OPEC. Producing more energy domestically allows us to import less from volatile regimes. It also means OPEC, a once-feared cartel, no longer wields the power to dictate international oil prices. That strengthens our energy security abroad and benefits American families at home.