The War on Coal in One Map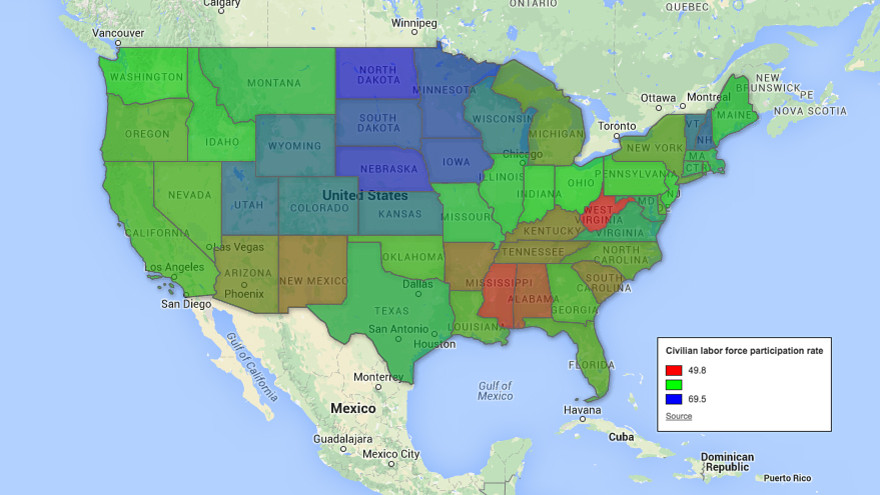 The Obama administration likes to deny there's any "War on Coal," but the numbers don't lie. West Virginia, the heart of coal country, now has the lowest labor participation rates among all 50 states — less than 50% of people 16 and up are employed. It is the only state in the country with a labor participation rate below 50 percent. Market Watch reports:
West Virginia quietly passed the ignominious milestone of having less than half of its adult, civilian population in the workforce in November.

State data compiled by the Labor Department shows that West Virginia's civilian labor participation rate has fallen to 49.8%, from 50% in October. The national rate in December was 62.7%.

The Mountain State is the only state in the history of the series, which goes back to 1976, to have fallen below 50%, though Mississippi at 50.8% isn't far behind.
The fact that West Virginia fell below 50 percent for the first time in the history of the Labor Department measuring labor participation isn't surprising. US coal companies let 7,700 employees go in 2012 then lost another 2,000 jobs before May 2013. None of these numbers include the pain suffered by communities supported by the coal industry.
These are the results of a coordinated from our government to end American coal, all from the same President Obama, who said "if somebody wants to build a coal powered plant it will bankrupt them" and Vice President Biden, who said "no coal plants here in America".
While increased production of inexpensive natural gas certainly plays a role in the demand for coal, so too have new regulations. Without approval from Congress, this administration created new regulations attacking existing coal-fired power plants and essentially banning new high-tech coal-fired power plants. Policies like this could increase electricity rates by as much as 80%, hitting those who can least afford it the hardest.
West Virginia is feeling the heat from Obama's anti-affordable energy policies; the rest of the country should take note of the canary in the coal mine.