Biden's War On Mining Weakens America
China's efforts to ramp up lithium extraction could see it accounting for nearly a third of the world's supply by the middle of the decade. Chinese-controlled lithium mines, including those in Africa, are expected to increase output to 705,000 tons by 2025, from 194,000 tons in 2022—almost quadrupling the amount of its global supply and lifting China's share of the critical mineral to 32 percent of the world's supply, up from 24 percent last year. Further, over the next two years, China's share of cobalt production is expected to reach half of global output, up from 44 percent currently. China's cobalt refining reached 140,000 metric tons in 2022–77 percent share of the world's refining capacity.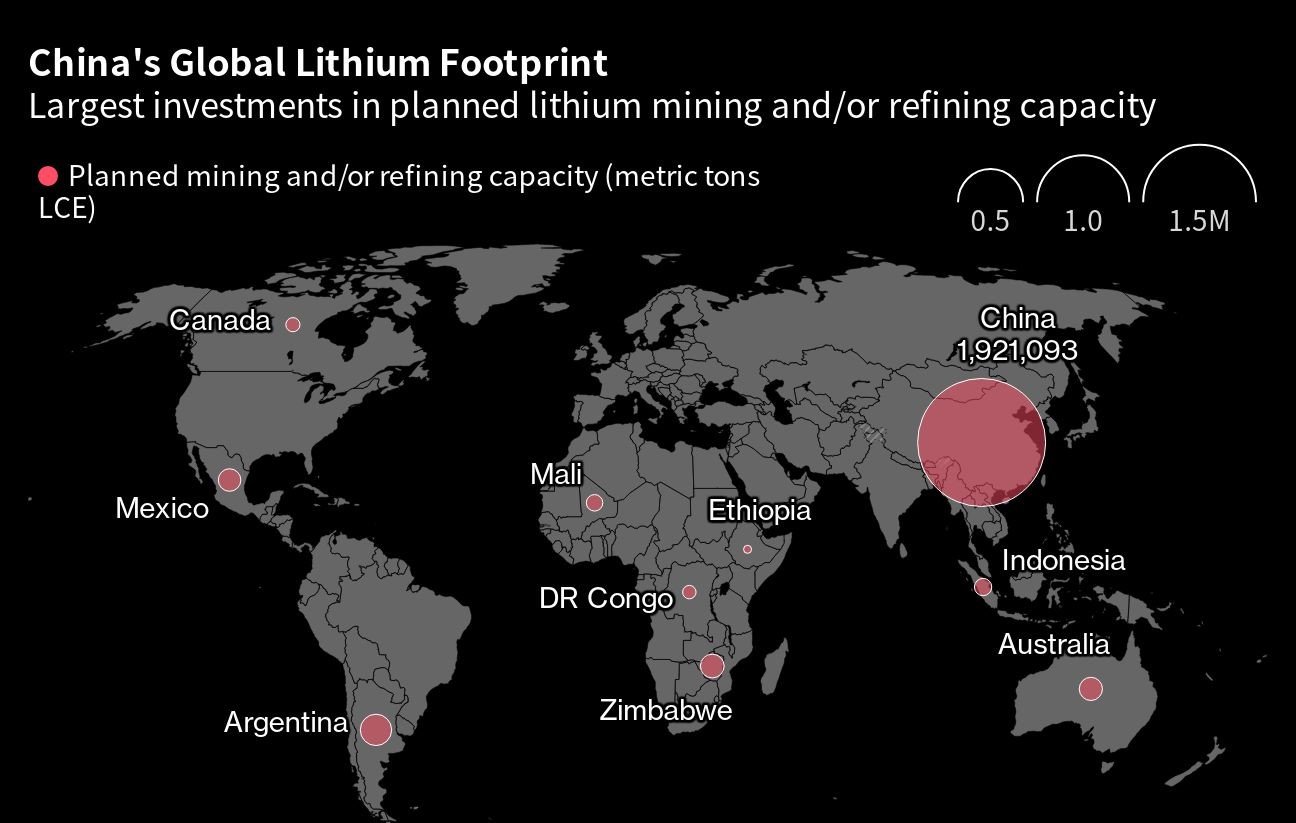 Lithium
Lithium is important to the manufacture of electric vehicle batteries and because China is the world's biggest market for new energy vehicles, lithium is particularly critical to its electric vehicle manufacturing industry. Chinese lithium mining is increasing its use of lithium derived from lepidolite–a lithium-bearing rock often considered poor quality and environmentally unsound because of its low yield and high energy costs. For every ton of lithium carbonate equivalent processed from lepidolite, 200 tons of waste are produced that needs treating and disposal. Because of China's cheap coal generation and huge coal generation capacity, however, it has ample energy to process the material. Lepidolite is expected to help increase China's lithium yield to 280,000 tons in 2025—13 percent of global supply–up from 88,000 tons last year.
China has over half of the world's lithium refining capacity but has to rely on imports for about two-thirds of the raw material. According to the U.S. Geological Survey, China accounts for 8 percent of the world's lithium reserves, which are mostly held in an igneous rock called spodumene. Saltwater lakes are another key source.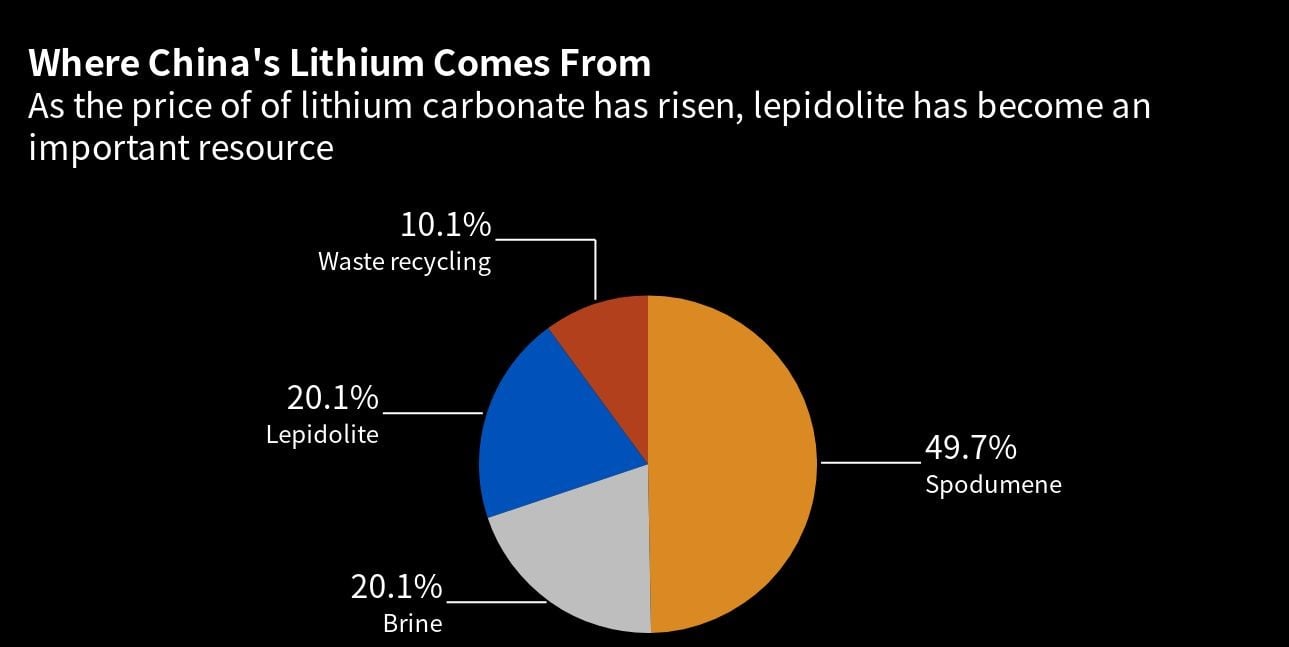 Lithium prices hit an all-time high in 2022 as demand for electric vehicles outstripped production. However, the price dropped about 50 percent from its November peak, from over $80,000 per metric ton to around $44,000 per metric ton because of more global supply coming online this year, and signs that the breakneck growth of China's electric vehicle sector may be starting to moderate. Despite the drop, lithium carbonate, a refined version of the metal, is still around eight times more expensive in China than it was in 2020. Even after lithium prices have fallen that much, they remain so high that mining and processing the metal is a very profitable business. The metal, which is suited for batteries because of its ability to store energy, costs about $5,000 to $8,000 per metric ton to produce and can sell for as much as 10 times that amount.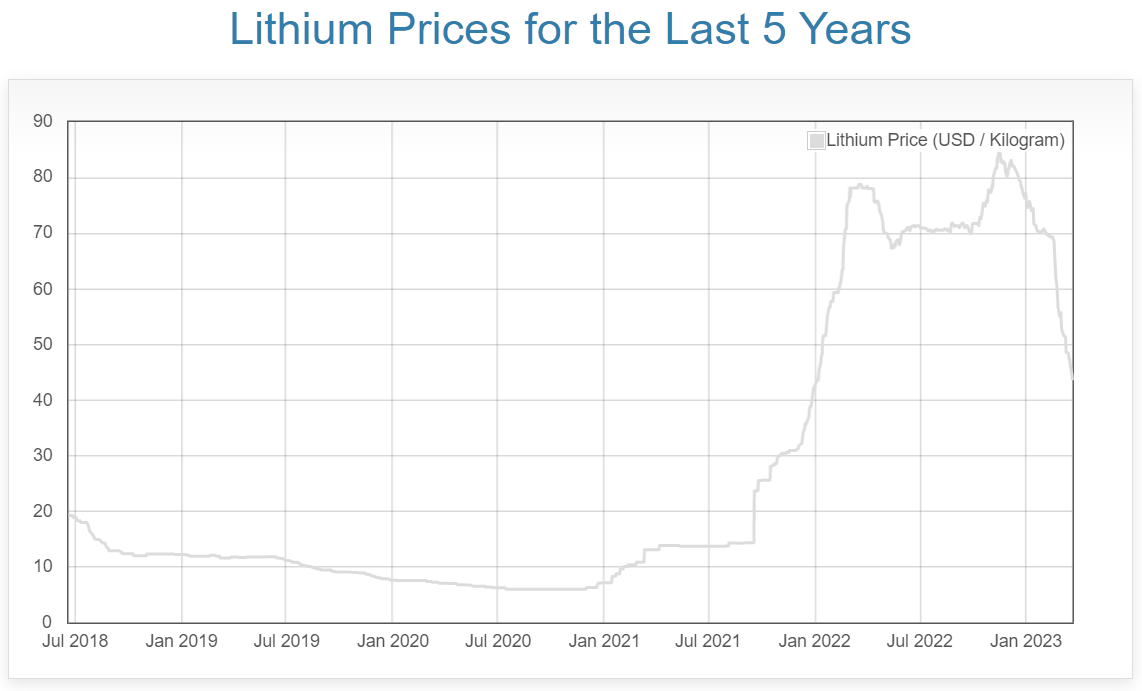 Cobalt
Global cobalt mine production increased 42 percent between 2020 and 2022 as covid-19 related supply chain constraints eased, existing operations ramped up due to expected demand increases and several new mines were commissioned. Global supplies are expected to surge to around 210,000 metric tons this year, up 24 percent from 2022, while demand is forecast to increase 8 percent to 205,000 metric tons.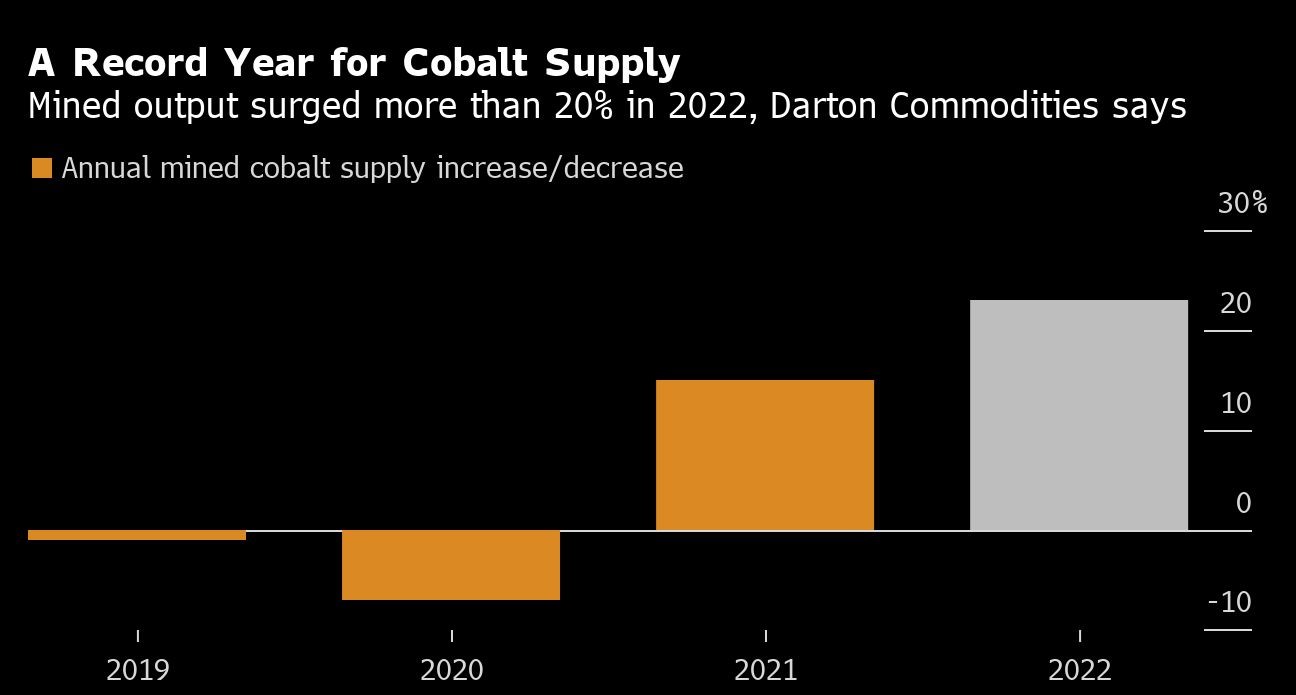 Due in part to the surge in production, the price of cobalt hit a 32-month low this month. Also affecting lower cobalt prices is the relaxation of logistics issues, weak consumer electronic sales and the increasing popularity of batteries made without cobalt from lithium, iron and phosphate, a combination known as L.F.P.
Cobalt prices are expected to average $54,840 a metric ton this year and $50,320 in 2024, compared with $63,739 last year—a decrease of 14 percent between 2022 and 2023. Cobalt prices could fall further if the world's second-largest cobalt mine, Tenke Fungurume owned by CMOC (formerly Chinese Molybdenum Company, Ltd), is allowed to resume exports from the Democratic Republic of the Congo (DOC) where a tax dispute led to an export ban in July 2022. The company has kept producing despite the ban, stockpiling 10,000 to 12,000 metric tons of cobalt. Most of the world's cobalt comes from the DRC, where mining operations are known for child labor and abysmal working conditions and where China owns half of the large cobalt mines. The Congo has almost half of the world's cobalt reserves.
Conclusion
China is ensuring that it is ahead in the mineral race for electric vehicle batteries and other "green technologies" that the Western world is pushing in its fight to eliminate fossil fuels. While President Biden indicates that he wants to mine and process critical minerals in the United States, he is doing little to achieve it. Instead, he is catering to environmental groups, and even closing prospective mining areas in the United States.  His administration has revoked federal leases; used regulatory action to delay or revoke mining, air pollution and water quality permits; and labeled a flowering plant "endangered" as ways to delay or cancel metal mines in the United States. The United States is well on its way to becoming 4 times more dependent on China for its energy than it was ever dependent on the Middle East for oil. To become dependent on an autocratic country is not in the best interests of the United States, especially since the United States has enormous domestic energy resources.
---
*This article was adapted from content originally published by the Institute for Energy Research.