Black Leaders Fight Obama's Ozone Rule
The Environmental Protection Agency (EPA) is facing opposition from minority groups as it prepares to finalize costly new ozone regulations, according to a recent article in Politico. Black elected leaders at both state and local levels have come together to push back against the new ozone rule, stating it will disproportionately harm poor and minority communities and manufacturing centers.
The new regulation, which EPA will finalize by Oct. 1, seeks to cut ground-level ozone from the current level of 75 parts per billion (ppb) to between 65 ppb and 70 ppb. However, state and local officials have recently said they are still struggling to comply with the current 75 ppb standard and that the new rule will make compliance even more difficult. As explained below, this poses an especially big threat to poor and minority communities that are disproportionately affected by higher energy prices and economic downturns.
Minority Leaders Speak Out
Democratic Missouri State Sen. Jamilah Nasheed is among those leaders opposing the new ozone rule. In a recent article, she is quoted as stating that further lowering the ozone threshold would make things worse for a city like St. Louis that is "still feeling the pain of the 2007-2009 recession," and that it could "create new hardships for already struggling low-income urban families."
Mayor Karen Freeman-Wilson of Gary, Indiana understands these hardships more than most. Originally, Mayor Freeman-Wilson was in favor of tightening ozone restrictions, believing they would reap health benefits that could outweigh the high costs of implementation. However, the closure of a U.S. Steel Coke plant and the resultant layoff of 300 workers and lost tax revenue gave the mayor and Gary residents a first-hand glimpse of the harm this rule could cause to their community. In a recent op-ed for The Indianapolis Star, Mayor Freeman-Wilson said Obama's ozone regulation "would impair economic recovery in a city that has long trailed the rest of the country."
Black business owners agree that EPA's ozone rule would harm economic growth. Testifying before Congress earlier this year, National Black Chamber of Commerce (NBCC) President Harry Alford explained, "Lowering the ozone standard, particularly to the levels suggested by EPA, will almost certainly cause economic harm to the [NBCC] members and will shut off huge parts of the country from economic development and job growth…We should not be piling on yet another rushed and unreasonable regulation on the backs of American businesses."
Ozone Rule Harms Minorities
President Obama's ozone regulation is designed to improve public health by reducing air pollution that contributes to respiratory illnesses such as asthma. However, as we have documented before, asthma rates are rising even as ozone emissions are falling. This casts doubt on Obama's claim that further ozone restrictions will do anything to improve public health.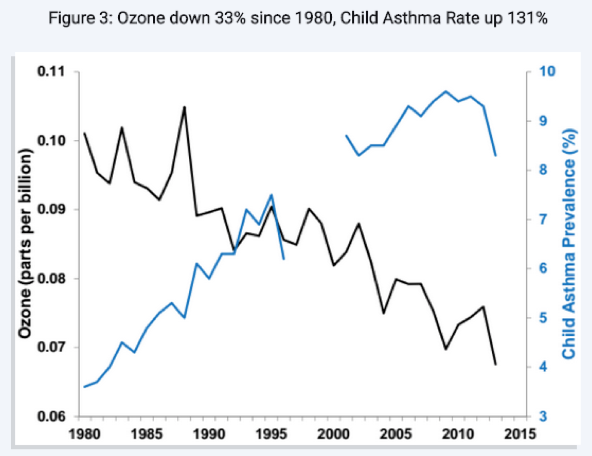 To make matters worse, in designing the rule, EPA ignored the link between health and wealth. In short, when you make people poorer, they tend to become sicker. Therefore, Obama's new ozone rule, which could be the costliest regulation ever, may actually harm public health—especially in poorer communities.
Under the new rule, counties that are not in compliance with the lower standard will be required to submit plans outlining how they intend to comply. This could trigger a variety of costly new measures, which EPA calls "unknown controls." These "additional costs" on "urban areas" could be "significant," according to EPA. A recent op-ed in The Detroit News by Anastasia Swearingen goes into more detail:
To comply with EPA's mandate, cities have considered a number of expensive new penalties on drivers, including taxes on parking spaces, tolls that get more expensive during peak congestion time, and higher insurance rates for car owners who travel more miles. If you have an older car, own multiple vehicles, or put a lot of miles on your car every year, you may pay higher vehicle registration fees.
If these new penalties become a reality, Obama's ozone regulation will amount to a regressive tax on the poor and minorities. The burden of complying with Obama's new rule will fall disproportionately on families that can least afford to pay more taxes and fees.
Conclusion
Obama's new ozone regulation will harm low-income and minority families, but fortunately local minority leaders are speaking up on behalf of their communities. The new regulation will harm economic growth, increasing unemployment and poverty across the country, but especially in vulnerable communities still struggling to recover from the Obama economy. Instead of further tightening ozone levels at high cost and for dubious benefits, EPA should keep the existing standard.