Biden Begs America's Enemies For Oil While Attacking Domestic Producers
At every turn, President Biden has instituted policies to hurt the North American oil and gas industry, resulting in decreasing U.S. energy independence earned during the Trump Administration and benefiting oil-producing countries. Russia, for example, has become the number two oil importer to the United States, second only to Canada. Biden has also canceled the Keystone XL pipeline while removing sanctions that the Trump Administration implemented so that Russia's Nord Stream 2 pipeline could supply Germany with natural gas later this year without going through Ukraine. Through Biden's actions, Russia will be able to increase its energy revenues and improve its economy.
Russian Heavy Oil Imports to U.S. Markets
U.S. imports of oil and refined petroleum products from Russia increased 23 percent in May to 844,000 barrels a day from the prior month, according to the Energy Information Administration. Mexico lost its number 2 ranking because its shipments to the United States increased by less than 3 percent. Russia has become a favored source for U.S. refiners largely because it produces semi-refined oils such as Mazut 100, which is a feedstock for American refineries that are accustomed to processing heavy crude from Venezuela and the Middle East—sources that have dried up due to sanctions on Venezuela and OPEC output limits.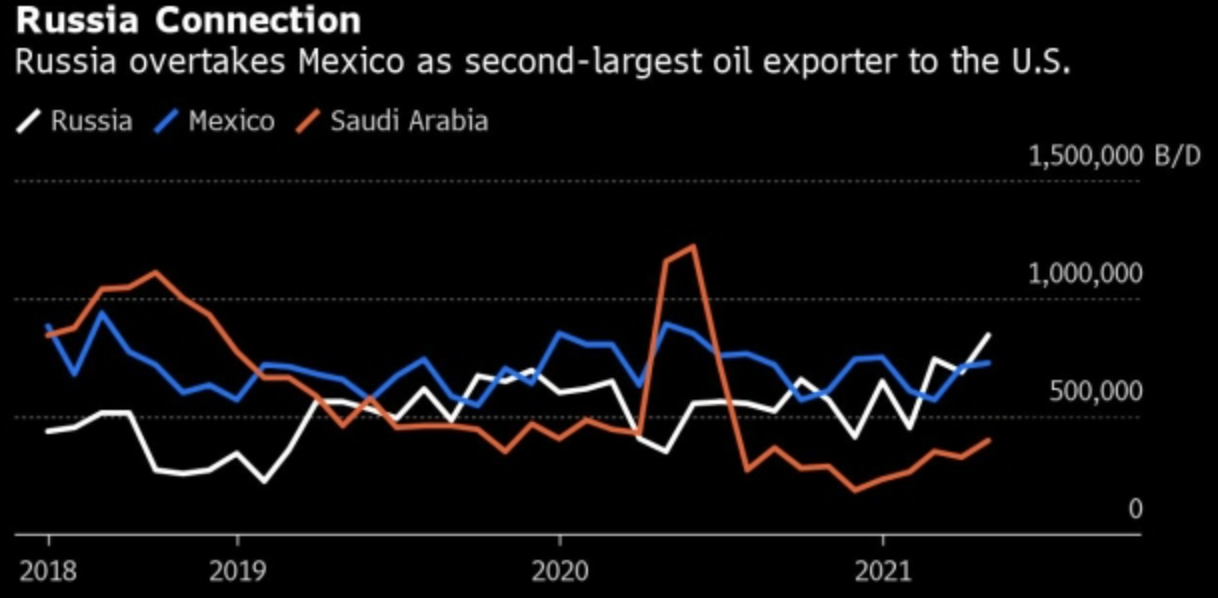 Federal Customs Service records show that the United States is the single largest buyer of Russia's heavy-oil products. U.S. refiners bought almost one-fifth of Russian heavy-oil exports during the first five months of this year. Most of the U.S.-bound Russian crude has docked along the West Coast to feed refineries like Phillips 66's plant 100 miles north of Seattle and California refineries owned by Chevron Corp. and Valero Energy Corp. Refiners in Texas and Louisiana also have been buying Russian oil products. Recently, 1.5 million barrels from the Black and Baltic seas landed in the Gulf region. The quantity was substantial enough to cut prices at the Houston Ship Channel by 3 percent.
Canada remains the largest foreign oil supplier to the United States, accounting for about half of U.S. imports.
Keystone XL vs. Nord Stream 2
On his first day in office, President Joe Biden canceled a presidential permit for the construction of the Keystone XL pipeline from Canada to the United States. Mineral fuels are Canada's largest export to the United States totaling over $89 billion in 2019 — two-thirds more important than auto vehicles and parts. Almost 3,000 direct jobs and another 14,000 indirect jobs were lost to Canada, as well as thousands of direct and indirect jobs in the United States, due to the cancellation of Keystone XL. Because of reduced pipeline capacity, Canadian heavy oil will sell at a discount, resulting in billions of dollars in lost GDP and federal and provincial tax revenues for Canada.
It is well-known that pipelines are the safest form of shipment for oil, which will still be produced in Canada and travel by rail—a less safe method, producing more emissions than pipelines. The cancelation of the Keystone XL also means that the United States will need to import more heavy oil from other countries, such as Russia. Instead of benefiting Russia, Keystone XL would have benefited the United States and our closest ally. Keystone XL would have not only supplied Gulf refineries with 830,000 barrels per day (730,000 Canada, 100,000 North Dakota Bakken) but also would have lifted prices paid to Canadian producers, encouraging new investments (and further pipelines) to tap Canada's second-largest in the world proven reserves.
President Biden is treating a European pipeline, the Nord Stream 2, very differently than the Keystone XL. Nord Stream 2 is a natural gas pipeline from Russia to Germany, on whose construction the United States had placed sanctions. Despite bipartisan support for the sanctions on Russia against Nord Stream 2, President Biden weakened those sanctions, which will secure the pipeline's completion. The Biden administration waived sanctions on the corporate entity (Nord Stream 2 AG) and its CEO (Putin friend and former East German intelligence officer Matthias Warnig) overseeing the construction of Russia's Nord Stream 2 pipeline into Germany.
Germans want the less expensive natural gas coming from the Nord Stream 2 rather than the more expensive LNG. Countries like Poland are willing to pay a premium for LNG to avoid Russian gas, even if they are significantly less wealthy than Germany. While Nord Stream 2 will provide cheaper energy, it will deepen European dependence on Russian gas, forcing buying countries to be beholden to Putin for gas that is currently piped via Ukraine. In the past, Russia has cut off natural gas supplies to Ukraine as retribution in disputes. Bypassing Ukraine with a direct pipeline to Germany helps Russia advance its goal of isolating its former client state, now a struggling democracy, from Western Europe. It also equates to enormous sums of revenue for Russia.
Biden's Other Anti-U.S. Oil and Gas Actions
President Biden released an executive order in January to halt drilling on non-tribal federal lands pending a review of the federal oil and gas leasing program. Biden also set a goal of protecting 30 percent of federal land and water from future drilling by 2030, which equates to 738 million acres of the total 2.46 billion acres owned by the public. He ordered federal agencies to eliminate fossil fuel subsidies "and identify new opportunities to spur innovation." Removing the tax deductions that fossil fuel companies receive, which are not subsidies, will purportedly help pay for Mr. Biden's climate change agenda.
Biden also put a moratorium on oil and gas leasing in Alaska's Arctic National Wildlife Refuge, reversing Congressional action taken in 2017 to begin leasing in the area. Biden signed an executive order placing a temporary moratorium on oil and gas activity in the refuge on January 20, 2021, one day after the Trump administration issued nine oil and gas leases in its coastal plain. ANWR is estimated to contain 10.4 billion barrels of oil, according to U.S. Geological Survey, and could help the state's revenues as oil production is the largest contributor to the state's economy. Alaska's oil production is now at its lowest level in 40 years, which threatens the operation of the Trans-Alaskan Pipeline System (TAPS) that transports crude oil from the North Slope of Alaska to Valdez on Alaska's southern coast. TAPS at one time delivered 2 million barrels per day to the West Coast and is now transporting about 20 percent of its capacity.
Conclusion
President Biden appears to have a more positive view of OPEC and Russian energy enterprises than of North American energy enterprises. On August 11, Biden's National Security Advisor Jake Sullivan wrote in an open statement, "Competitive energy markets will ensure reliable and stable energy supplies, and OPEC+ must do more to support the recovery."
Biden's treatment of Nord Stream 2 and his endorsement of OPEC+ production increases are very different from his treatment of the Keystone XL pipeline and of U.S. producers. Biden is treating a pipeline that increases Russian influence and revenues better than one that would enhance America's energy security, jobs and revenues and that of its northern neighbor.
Russia is also benefiting from supplying U.S. refiners with heavy oil, becoming the second-largest supplier of oil and petroleum products to the United States, behind Canada. Russian feedstock is functioning as a substitute for the heavy oil that was once supplied by Venezuela or the Middle East and could be supplied by Canada. The United States should promote North American energy sources rather than depend on less reliable foreign imports, and particularly those from Russia.
---
*This article was adapted from content originally published by the Institute for Energy Research.