Freedom Molecules To Save Europe From Itself
The United States became the largest exporter of liquefied natural gas (LNG) in December 2021, edging out Qatar and Australia, as projects ramped up production and deliveries surged to Europe to help alleviate the energy crisis there. Output from U.S. LNG facilities edged above Qatar in December due mainly to an increase in exports from the Sabine Pass and Freeport facilities. A shale gas revolution, coupled with tens of billions of dollars of investments in liquefaction facilities, transformed the United States from a net LNG importer to a top exporter in less than a decade. U.S. natural gas production surged by about 70 percent from 2010 after a combination of horizontal drilling and hydraulic fracturing unlocked supplies from shale formations across the country.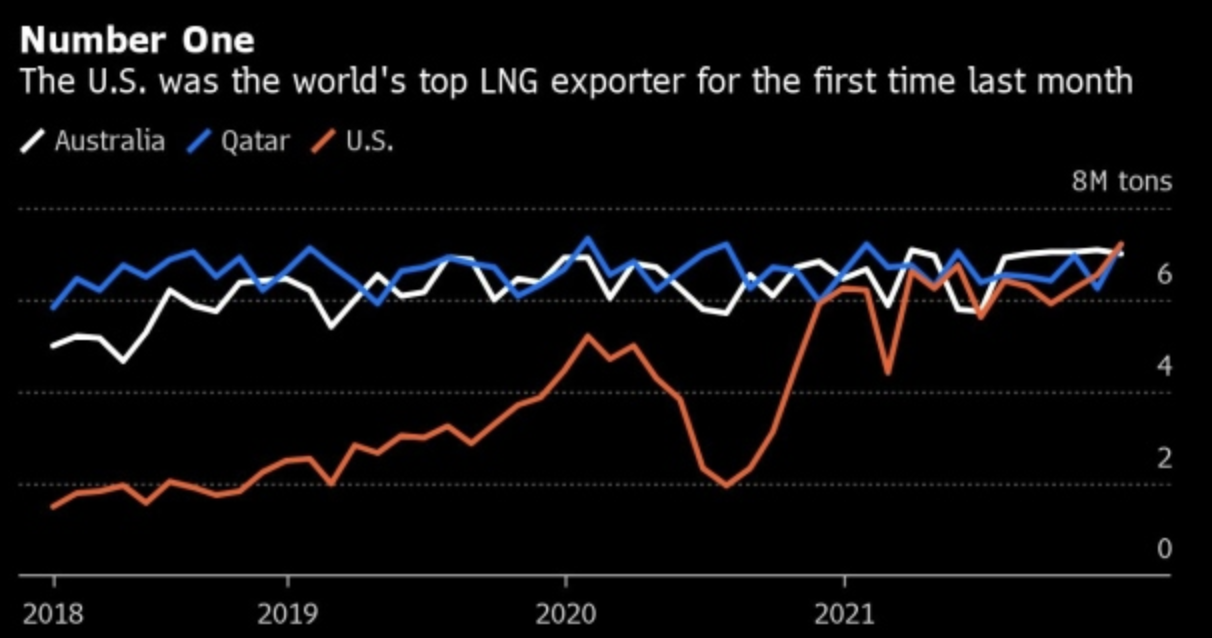 The United States shipped its first LNG cargo produced from shale gas in 2016. By the end of 2022, the United States is expected to have the world's largest export capacity. At that point, peak U.S. LNG production capacity would hit 13.9 billion cubic feet per day, far surpassing both Australia (11.4 billion cubic feet per day) and Qatar (10.3 billion cubic feet per day). But, because it will take time for new projects to ramp-up to full production, U.S. LNG exports could be lower than available capacity.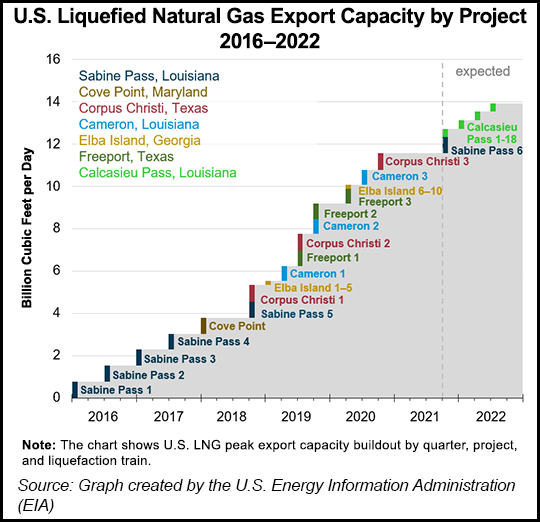 When Golden Pass LNG comes online in 2024, which is currently under construction in Sabine Pass, TX, peak U.S. LNG export capacity would hit 16.3 billion cubic feet per day, or nearly 20 percent of current U.S. natural gas supply. Federal regulators have approved another 10 LNG export projects and capacity expansions at existing terminals, including Cameron, Freeport and Corpus Christi, totaling 25 billion cubic feet of new capacity. Qatar, however, is planning a huge LNG export project that will come online in the late 2020s, which could cement the Middle Eastern nation again as the top supplier of the fuel.
U.S. Aids Europe's Energy Crisis
U.S. LNG exports to Europe will help ease a global supply crunch there this winter due to seasonally low natural gas inventories and a lack of wind resources. Overseas buyers purchased 13 percent of U.S. gas production in December, a seven-fold increase from five years earlier when most of the infrastructure required to ship the fuel did not exist.
In late December, natural gas in Northwest Europe was trading for about $57.54 per million British thermal units—up almost a third from a week earlier, which is about $24 higher than Asian prices and more than 14 times higher than natural gas being sold on U.S. benchmark Henry Hub.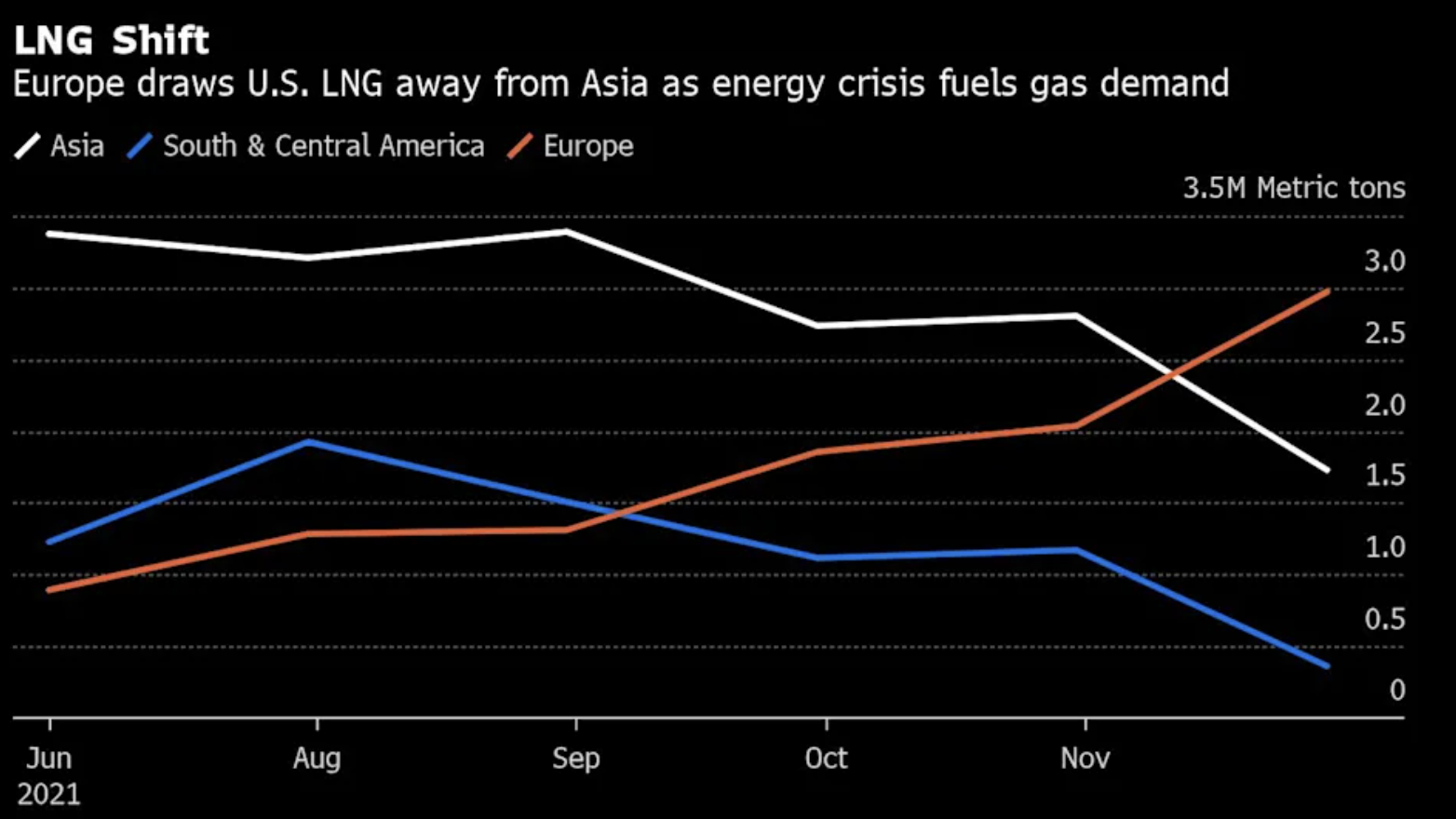 Out of 76 U.S. LNG cargoes in transit, 10 tankers carrying a combined 1.6 million cubic meters of LNG have declared destinations in Europe. Another 20 tankers carrying an estimated 3.3 million cubic meters are crossing the Atlantic Ocean and are on a path to the continent. Nearly one-third of the cargoes come from Cheniere Energy Inc.'s Sabine Pass LNG export terminal in Louisiana. The news of the flotilla sent the benchmark Dutch front-month gas declining by 18 percent to 141 euros ($159) in Amsterdam. French power contracts declined by 24 percent to 775 euros ($875) per megawatt-hour and German electricity fell 15 percent to 277 euros ($313) per megawatt-hour. While the spread has declined, European natural gas is equivalent to a $273 price for a barrel of oil.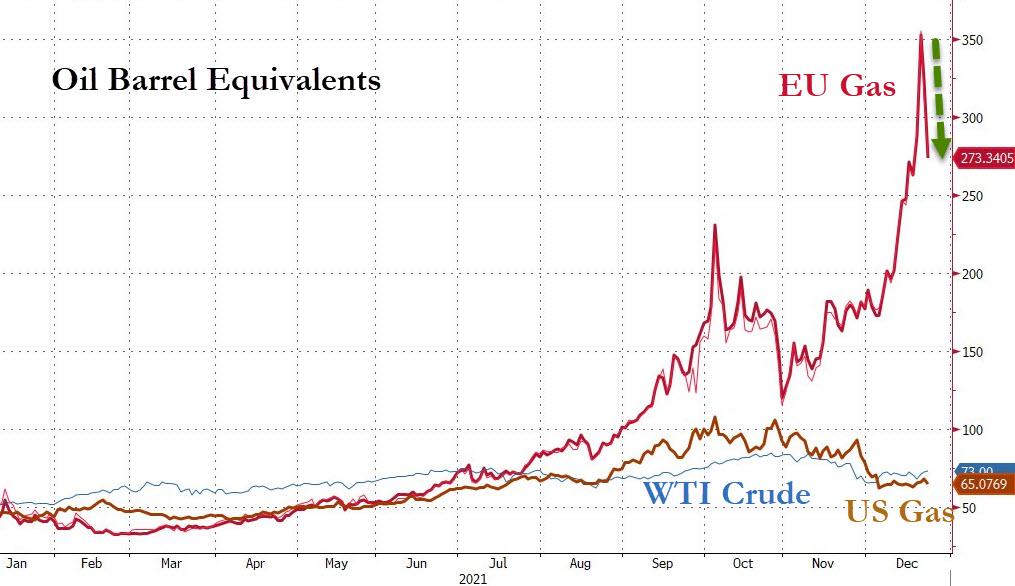 Conclusion
U.S. LNG export terminals are operating at or above capacity after reaching record flows and have taken over first ranking in LNG exports last month, edging out Qatar and Australia. While Asia is typically the top destination for U.S. LNG cargoes, Europe's energy crisis this winter caused by insufficient supplies of natural gas and low wind resources and its significant premium for natural gas has resulted in a flotilla of tankers with U.S. LNG headed for European facilities. While the U.S. has additional LNG capacity coming on line, Qatar is expected to also add new capacity by the end of the decade and may take back its number one standing. The success of shale gas in world markets is a testament to the enormous energy wealth and expertise of the people of the U.S. oil and gas industry operating in a free market. Its contributions to our economy here and our influence abroad is a national strength.
---
*This article was adapted from content originally published by the Institute for Energy Research.
---