Natural Gas Pipeline Capacity Additions Decrease in 2021
According to the U.S. Energy Information Administration's Natural Gas Pipeline Projects Tracker, in 2021, 7.44 billion cubic feet per day (Bcf/d) of interstate natural gas pipeline capacity was added in the United States. This was the lowest amount of added capacity since 2016. The vast majority of new interstate natural gas pipeline capacity was added to transport natural gas within Texas and around the Gulf Coast.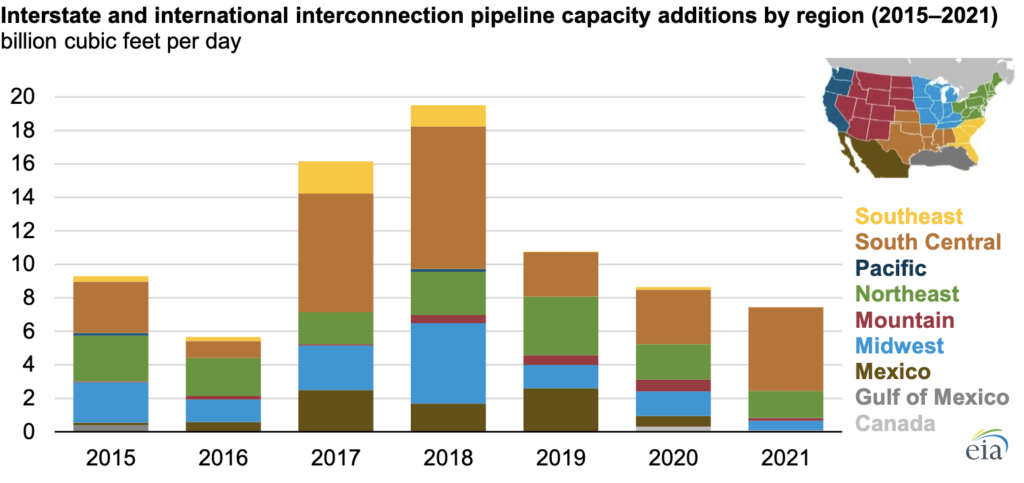 As the chart above shows, U.S. natural gas interstate pipeline additions peaked in 2018 during the Trump administration. The recent decline in additional capacity can be attributed to two primary factors: strained economic growth due to the Covid-19 pandemic as well as an increase in regulatory burdens on new pipeline construction across all levels of government.
The lack of new natural gas pipeline construction has been particularly costly in the Northeast, where environmental politics has prevented the construction of new natural gas pipelines in recent years. Both oil and natural gas pipeline capacity is being limited, resulting in bottlenecks that either raise prices when demand is high such as in the Northeast during cold winters or cause supply prices to be discounted.
New York's anti-natural gas policies are particularly noteworthy as their impact creates spillover effects to much of the Northeast. In 2014, Governor Cuomo banned hydraulic fracking in the state, which would have helped produce natural gas from the state's own deposits of shale gas. On top of this, his administration also denied permits for new pipelines, which, if they had been approved, would have brought inexpensive supplies of natural gas from neighboring Pennsylvania.
The combination of these anti-pipeline policies with other market-distorting policies such as the Jones Act have further implications beyond higher energy prices for consumers in the Northeast. As I noted several years ago, policies that block American energy development also have important foreign policy implications. 
Today, with the renewed interest in building a resilient energy supply chain, voters and politicians should seriously reconsider policies that block the development of pipelines as well as other policies that hinder the development of energy resources in the U.S. As current events in Europe have demonstrated, we can no longer afford an approach to energy policy that is defined by a monomaniacal obsession with carbon dioxide emissions. We should reject central planning as the core ethos of American energy policy as it will only lead to higher energy prices for consumers and greater instability. The U.S. needs to get serious about energy policy and recognize that tradeoffs abound when determining how to maintain access to affordable and reliable energy.