The Latest Stunt From The White House Won't Help Gas Prices
President Joe Biden plans to extend the availability of higher biofuels-blended gasoline during the summer to lower gasoline costs and to reduce reliance on foreign energy sources. The measure will allow Americans to buy E15, a gasoline blend that contains 15 percent ethanol from June 1 to September 15. E15 is cheaper on average than gasoline but it is less energy efficient, requiring drivers to buy more fuel. The shift could result in a modest effect on gasoline prices at the pump given that in areas where it is available, E15 sells at a 5- to 10-cents-per-gallon discount to regular E10 gasoline. According to Biden administration officials, however, this action would reduce gasoline prices at the pump by 10 cents per gallon. There are many factors that could affect that estimate. One of those factors is corn used in making ethanol whose prices may increase due to the Russian invasion of Ukraine—two countries that under normal circumstances export wheat, corn and barley—and as drought hit some U.S. growing regions. Corn futures recently touched their highest level since 2012.
The summertime ban on E15 was imposed because it is believed to contribute to smog in hot weather, at least more than E10—a blend of 10 percent ethanol with gasoline. About 2,300 of the nation's more than 150,000 stations now sell E15, and despite its availability in about 30 states, the fuel is most widely purchased in the Midwest where the ethanol is produced.
To make the change, the Environmental Protection Agency (EPA) is planning to issue a national emergency waiver, closer to June, regarding anti-pollution restrictions that effectively block warm-weather sales of E15 gasoline in areas where smog is a problem. According to the EPA, waivers can be used in limited instances, such as supply emergencies, but cannot be put in place to address price concerns.
The agency may also consider additional action to allow for the use of E15 year-round. In 2019, under former President Donald Trump, the EPA issued an order allowing permanent year-round sales of the biofuel blend, but the order was overturned last year by the US Court of Appeals for the DC Circuit. According to a senior administration official, this action "is distinct from" the Trump administration's efforts to expand ethanol sales in that it is "based on the current circumstance, which is a fuel supply emergency." The Biden administration plans to use a different "approach" and "authority" than the Trump administration did to avoid court action against it.
The EPA also plans to work with states so that that there would be no "significant" negative impact on summer air quality due to the extended sale of E15, and it is proposing a change that would allow canola-based biofuels to qualify for credits under a federal program that requires refiners to blend plant-based alternatives into gasoline and diesel. Notably missing from arguing against President Biden's plan to increase volatility of gasoline by increasing allowable ethanol are the national environmental groups who are typically vocal in their opposition to any possible reduction in air quality by regulators.
Oil refiners are required to blend some ethanol into gasoline under a pair of laws, passed in 2005 and 2007, known as the Renewable Fuels Program, intended to lower the use of oil and greenhouse gas emissions and reduce dependency on foreign oil by mandating increased levels of ethanol in the nation's fuel mix every year. However, since passage of the 2007 law, the mandate has been met with criticism that it has contributed to increased fuel prices and has done little to lower greenhouse gas emissions. Moreover, the combination of horizontal drilling and hydraulic fracturing turned the United States into the world's largest producer of oil and natural gas and led to net energy independence in 2019 under President Trump.
As one policy expert stated, "This is still very, very small compared with the strategic petroleum reserve release. This one is much more of a transparently political move." The strategic petroleum reserve release referred to is Biden's announcement at the end of last month to release one million barrels of oil a day from the U.S. Strategic Petroleum Reserve (SPR) over the next six months for a total of 180 million barrels.
Biden's Strategic Petroleum Reserve Releases
In November, Biden released 50 million barrels from the petroleum reserve and on March 1, Biden announced the release of a further 30 million barrels, in coordination with a release of an additional 30 million barrels from other countries around the world. The International Energy Agency (IEA) is coordinating the 60-million-barrel release of oil, announced on March 1, from about two dozen other countries. Earlier this month, the IEA announced it would supply the oil market with 60 million additional barrels of crude from its emergency stockpiles.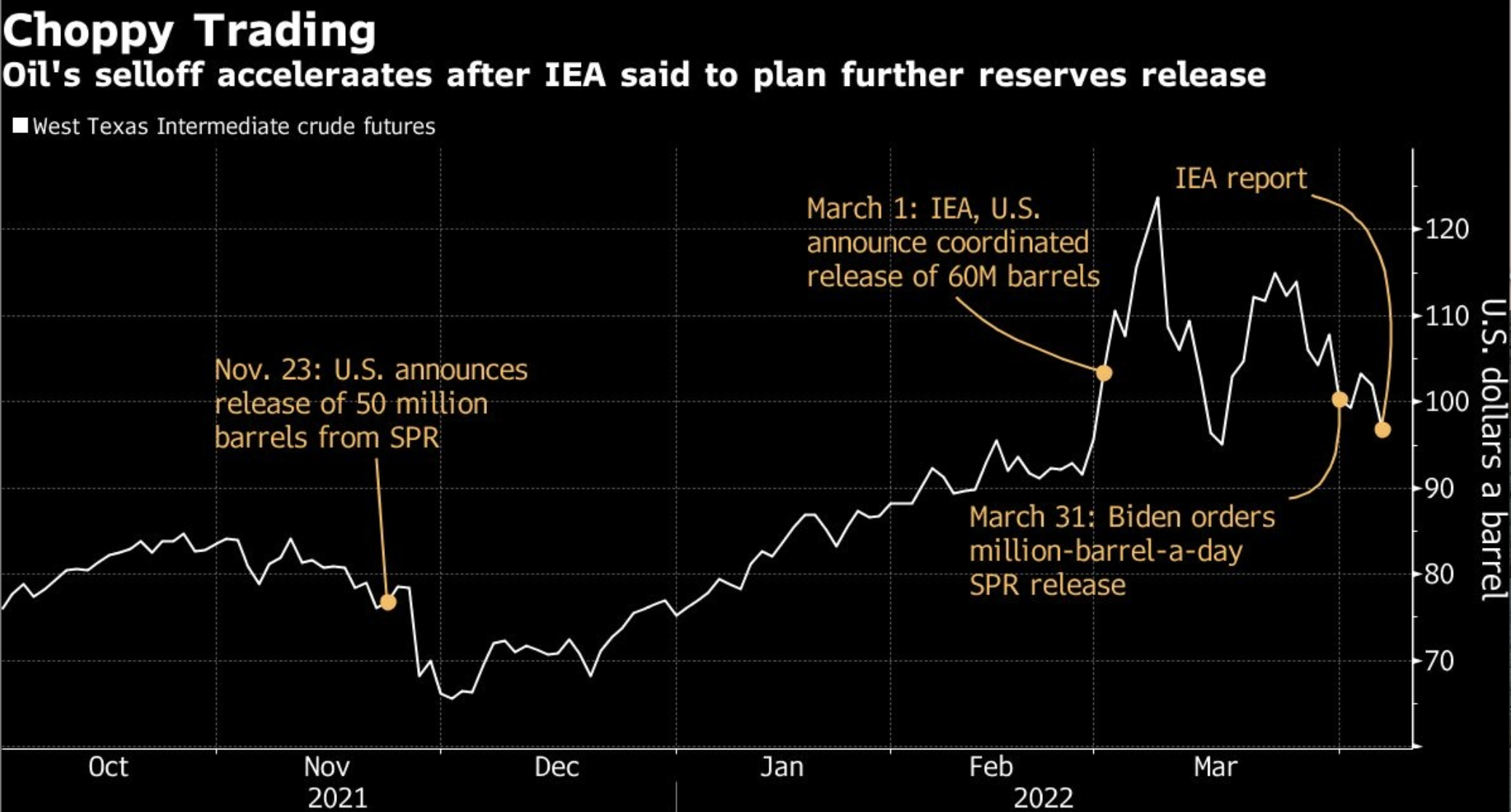 Mr. Biden's release of 50 million barrels in November barely dented oil prices on the global market as the world consumes 100 million barrels per day. The November release was well before the war in Ukraine, which began on February 24, 2022, but Biden was trying to offset the political damage of some of his anti-oil policies that had increased gasoline prices by $1 a gallon last year.
The latest Biden release is not big enough to offset the potential loss of Russian oil exports, which is about 3 million barrels per day. While the release will lower the oil prices a little in the short term, lower prices generally encourage more demand. Further, a large discharge from the reserve could cause "congestion" on the Gulf Coast, keeping new oil production from fields in West Texas out of pipelines and storage tanks. The move could also discourage Saudi Arabia and other global producers from increasing supply to reduce prices.
The U.S. strategic petroleum reserve (SPR) currently holds 568.3 million barrels—its lowest level since May 2002. (SPR has a total capacity of 714 million barrels.) The 180-million barrel release would increase supplies and help the market rebalance, but it does not resolve the structural supply deficit that is caused by Biden's anti-oil and gas policies that include cancellation of the Keystone XL pipeline, placing a moratorium on oil and gas leasing on federal lands, banning oil production in the Arctic National Wildlife Refuge and the National Petroleum Reserve—Alaska, slowing down approvals for drilling permits, and using a climate metric to increase the cost of hydrocarbons when making decisions, among other negative actions.
Conclusion
President Biden is grasping at straws to make Americans believe that he is doing all he can to lower oil and gasoline prices by releasing oil from the strategic petroleum reserve and by having EPA issue a waiver on higher ethanol blended gasoline for summer use. Americans should not be misled by these actions which will only lower prices a very little bit in the short term. These actions are all a ploy to hide the fact that the Biden administration is hurting the domestic oil and gas industry by its anti-oil and gas policies, just as he promised while running for office. U.S. oil companies will not invest in new oil fields or drilling if the long-term situation is to get rid of the industry, which Biden and his administration have been spouting.
---
*This article was adapted from content originally published by the Institute for Energy Research.