Gas Rationing To Return This Summer?
Petroleum product shortages may be ahead as motorists, truck drivers, farmers and airlines are grappling with increasing demand for gasoline, diesel and jet fuel. Despite refiners focusing on diesel in lieu of gasoline this spring, a global diesel shortage is looming. Refiners are planning to spend the summer increasing jet fuel and diesel production instead of gasoline because refining oil into diesel or jet fuel is currently more profitable than making gasoline despite those fuels historically being the least profitable parts of the barrel. Currently, the profit margin on distillates is nearly $60 a barrel, while the margin to make gasoline is $34. As a result, it is unclear what the availability or price of gasoline will be this summer as Americans increase gasoline demand by taking vacations as school lets out.
Diesel
A number of reasons caused diesel prices to increase to record levels including refinery shutdowns and refinery conversions to biofuels that have reduced capacity, a surge in natural gas prices (used in the production of diesel), a reduction in the sulfur content of maritime fuels which has put pressure on refining capacity and, of course, high oil prices. Seven refineries, which processed 806,000 barrels of oil per day, have shut down or are being converted to biofuels, leaving the United States with 124 operating refineries, down more than 10 percent since 2016. Total U.S. operating refinery capacity fell 4.5 percent between the COVID years of 2020 and 2021 to 17.7 million barrels per day–—its lowest level since 2013. With less refinery capacity, the volume of fuel refiners can produce has been reduced. With the United States exporting more diesel to Europe, the continent's primary motor fuel, due to Russia's invasion of Ukraine, the volume of diesel normally available domestically has been reduced further. In the past several weeks, distillate exports have returned to mid-2019 levels.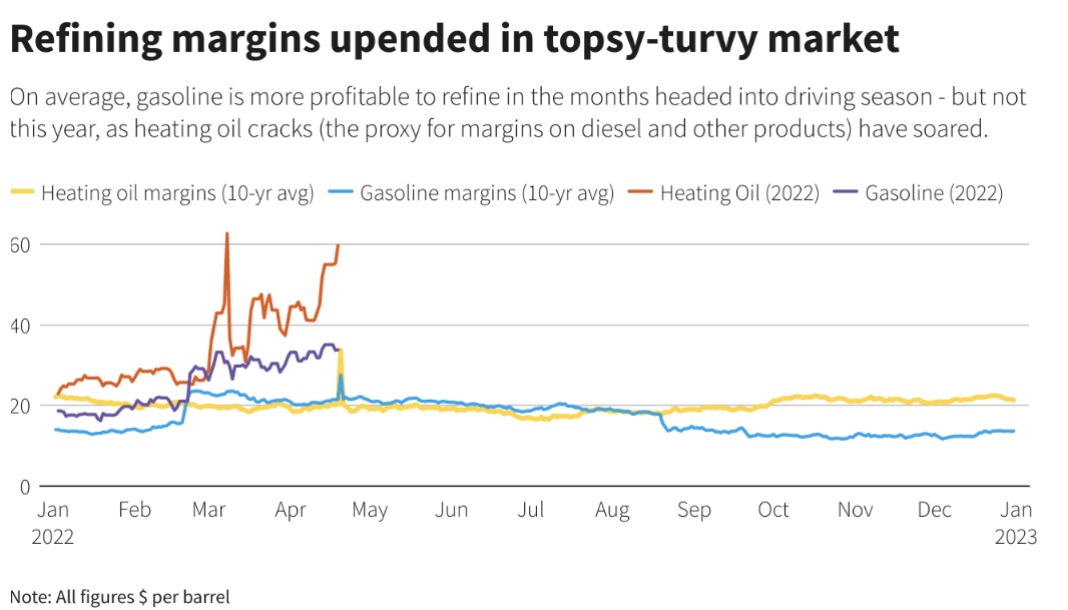 The U.S. stockpile of diesel fuel has hit a nearly two-decade low. The nationwide stockpile of distillate fuel oil declined to about 104 million barrels, the lowest level since April 2008. East Coast inventories declined to 21.3 million barrels of diesel–— about two weeks supply–— the lowest level since data was first recorded in 1990. The average cost of diesel fuel surpassed $5.56 a gallon –— the highest level ever recorded. Diesel is vital for the construction, mining and agriculture sectors, and is central to our transportation and logistics systems. In 2020, the transportation industry alone consumed 122 million gallons of diesel per day.
Gulf Coast refineries, which account for about 45 percent of the nation's refining capacity, are operating at 94 percent utilization, compared to 88 percent in the Midwest. In the Midwest, demand from local farmers has been weak due to unseasonably cold weather that has delayed planting season. Recently, planting was just 4 percent complete compared to the five-year average of 6 percent, according to the U.S. Department of Agriculture. Chicago ultra-low-sulfur diesel was trading 21.5 cents per gallon below diesel futures; at this time last year, it was 5 to 8 cents above that benchmark.
Jet Fuel
Refiners have also increased jet fuel production as air travel has rebounded from the COVID lockdowns. On the East Coast recently, jet fuel traded at more than $100 per barrel above Brent oil futures in early April as inventories touched 32-year lows. The East coast has some of the world's busiest airports.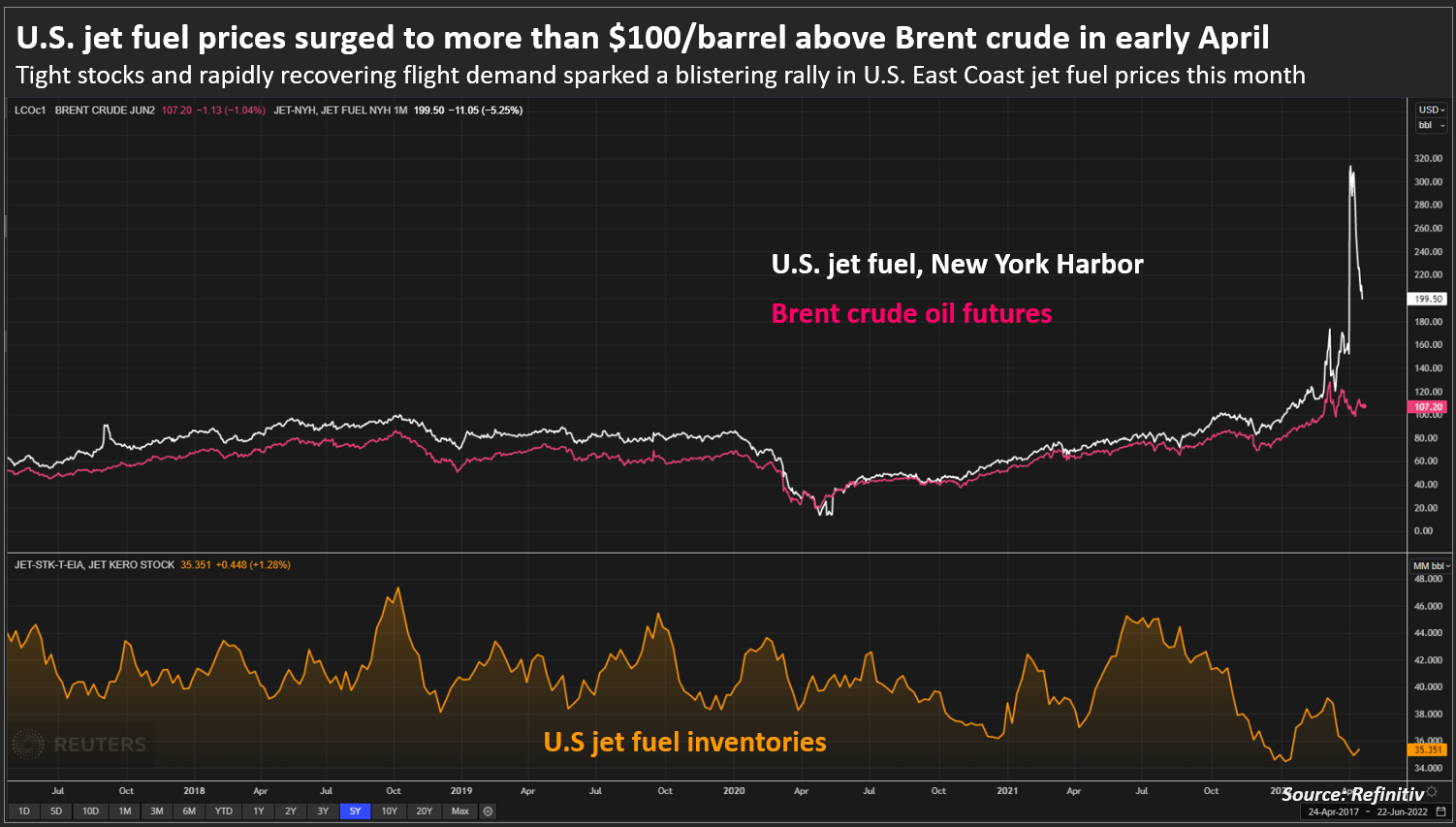 Conclusion
There is the possibility that there may be calls to ration diesel in parts of the country this summer, despite refiners currently prioritizing diesel instead of switching operations to gasoline ahead of the summer driving season. Refinery margins for diesel are at $60 per barrel—about twice that of gasoline. It will be interesting to see if the diesel situation spills over to jet fuel and gasoline, although the link is already apparent in jet fuel prices.
The major reason for escalating petroleum prices in this country is President Biden's anti-oil and gas policies. His administration recently canceled three offshore lease sales, after canceling the Keystone XL pipeline and placing a moratoria on oil and gas drilling on federal lands. Despite his assurances that he is "working like the devil" on the oil and gas problem, oil companies will not invest in new wells and fields under the current Biden administration because all its actions are designed to lower long-term production and increase prices as a means to achieve its "net zero" aspirations. President Joe Biden promised this when he said, "no ability for the oil industry to continue to drill, period, ends." Given that background and nothing but actions confirming that goal since taking office, the regulatory situation is too uncertain for positive action to be taken by oil companies. Americans are going to be hurt.
---
*This article was adapted from content originally published by the Institute for Energy Research.