Supply Chain Reality Crashes Biden's EV Agenda
Automakers are raising prices on their electric vehicles due to rising commodity costs, specifically for key materials needed for EV batteries. According to the International Energy Agency, while battery costs have been declining for a decade, EV battery costs are expected to increase 14 percent this year to $150 per kilowatt hour. Another firm expects the demand for battery minerals over the next four years to increase the price of EV battery cells by more than 20 percent on top of already-rising prices for battery-related raw materials. Korean battery makers are talking about a 30 to 40 percent rise in prices soon. Prices have been rising because of supply-chain disruptions related to the COVID lockdowns, Russia's invasion of Ukraine as Russia is a major nickel exporter, and not enough mineral supply to meet demand.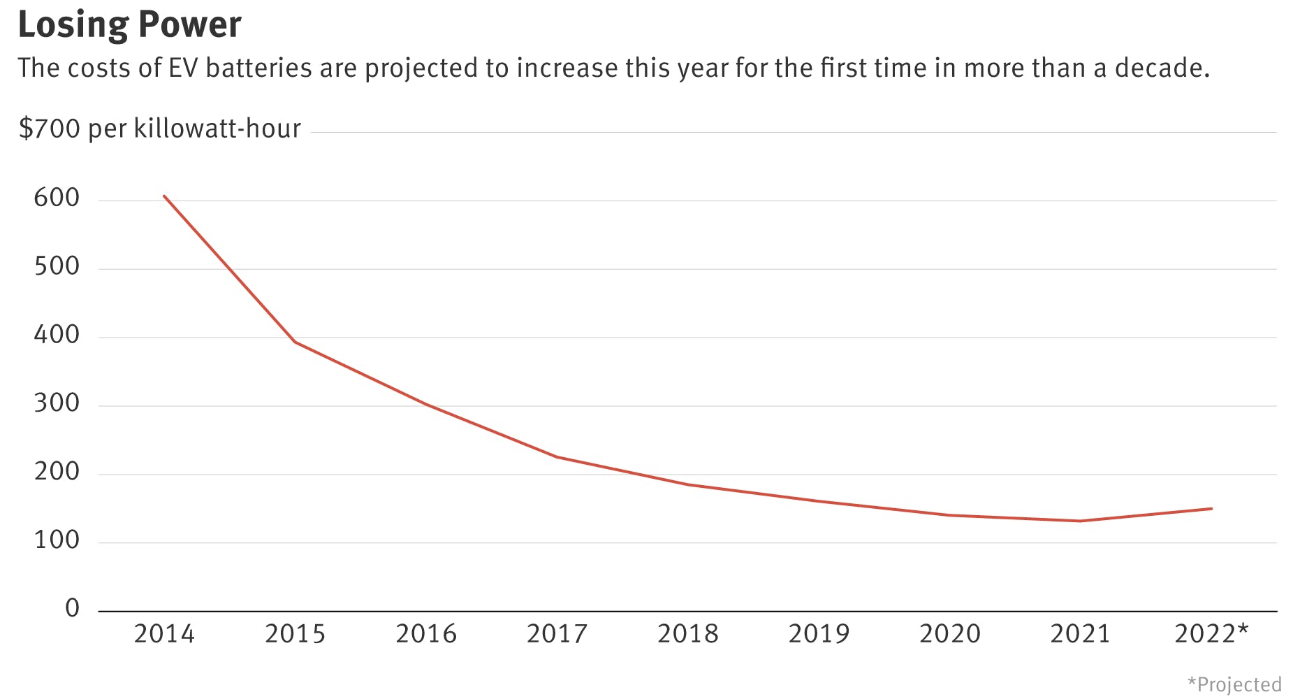 Tesla
Tesla had to raise its prices several times over the last year, including twice in March after Elon Musk warned that Tesla was "seeing significant recent inflation pressure" in raw materials prices and transportation costs. Most Tesla models are significantly more expensive than they were at the beginning of 2021. The cheapest "Standard Range" version of the Model 3, Tesla's most affordable vehicle, now starts at $46,990 in the United States, up 23 percent from $38,190 in February 2021.
Rivian
Rivian indicated on March 1 that both of its consumer models, the R1T pickup and R1S SUV, would get large price increases. The R1T would increase 18 percent to $79,500, and the R1S would increase 21 percent to $84,500. At the same time, the automaker announced new lower-cost versions of both models, with fewer standard features and two electric motors instead of four, priced at $67,500 and $72,500 respectively, close to the original prices of its four-motor vehicles.
Lucid
Lucid Group indicated that it will raise the prices of all but one version of its Air luxury sedan by about 10 percent to 12 percent for U.S. customers who place their reservations on or after June 1. Customers making reservations for a Lucid Air on June 1 or later will pay $154,000 for the Grand Touring version, up from $139,000; $107,400 for an Air in Touring trim, up from $95,000; or $87,400 for the least expensive version, called Air Pure, up from $77,400. The Air Grand Touring Performance, a new top-level trim announced in April with a 446-mile range, is unchanged at $179,000, but it is $10,000 more than the limited-run Air Dream Edition it replaced.
General Motors
GM increased the starting price of its Cadillac Lyriq crossover EV, raising new orders by $3,000 to $62,990. The increase excludes sales of an initial debut version. The price increase puts it closer to the price of the Tesla Model Y, which GM wants the Lyriq to compete against. The company is also including a $1,500 offer for owners to install at-home chargers. GM expects its overall commodity costs in 2022 to come in at $5 billion, double what the automaker previously forecast.
GM's 2022 Bolt EV starts at $31,500, up $500 from earlier in the model-year, but down about $5,000 compared with the previous model year and roughly $6,000 cheaper than when the vehicle was first introduced for the 2017 model-year.
Ford Motor
Ford plans to maintain the pricing on its new electric F-150 Lightning pickup, which recently started shipping to dealers, at $39,974. Ford expects $4 billion in raw materials this year, up from a previous forecast of $1.5 billion to $2 billion. If the Lightning does see a price increase, the 200,000 existing reservation holders would be exempt.
Nissan
Nissan indicated an updated version of its electric Leaf, which has been on sale in the United States since 2010, would maintain similar starting pricing for the vehicle's upcoming 2023 models. The current models start at $27,400 and $35,400. Nissan Americas plans to absorb as much of the external price increases as possible, including for future vehicles such as its upcoming Ariya EV. The 2023 Ariya will start at $45,950 when it arrives in the United States later this year.
The Electric Car Market
Gasoline prices have increased 93 percent since Joe Biden became President, with American families now having to spend $5,000 on gasoline—a huge increase from a year ago when it cost American families about $2800 for gasoline. While Secretaries of Transportation and Energy Buttigieg and Granholm expect those prices to make Americans purchase electric cars that are more expensive than gasoline cars, they may want to think twice given the price increases in most EVs mentioned above. The electric car sales in the United States have not put a dent in the demand for gasoline, which is still growing.
As noted above, all-electric manufacturers are raising prices more steeply than mixed-fleet manufacturers, because mixed-fleet manufacturers can shift costs to buyers of internal combustion engines. For example, GM was reportedly losing $9000 per Chevy Bolt in 2017, although battery costs have declined since then. Those losses are absorbed by purchasers of Chevy trucks and other vehicles with internal combustion engines. This helps make the cars most Americans buy increase in price while solely electric companies must raise prices across the board. It also means that Americans indirectly subsidize the cost of electric vehicles when they buy a car, truck, or SUV with an internal combustion engine.
Electric vehicles currently make up less than 1 percent of the U.S. car fleet, about 3 percent of new car sales. While EV sales in China and Europe are higher than those in the United States, it will still take decades to replace the ~1,300 million oil-based cars around the world since there are only ~13 million electric cars globally, particularly since most of the developing world isn't purchasing electric vehicles.
Conclusion
While President Biden wants EVs to garner 50 percent of the new car market by 2030, that doesn't look likely. With EV prices increasing due to a mineral shortage that is raising the cost of batteries, EVs are being priced out of the range of most American families. Further, Biden's energy price increases are not just with gasoline and oil, they extend to natural gas and coal, which generate 60 some percent of U.S. electricity. Since Biden became President, natural gas prices to electric utilities have almost doubled and residential electricity prices have increased by almost 10 percent, according to EIA data through February. Natural gas futures for June delivery rose to $9.30 per million British thermal units having tripled over the past year. Americans can expect to see further electricity price increases, which will impact the cost of operating EVs.
---
*This article was adapted from content originally published by the Institute for Energy Research.