Will Europe Learn From Its Most Recent Energy Crisis?
Did Vladimir Putin awaken the West from its dangerous and reckless sprint to renewable energy? Are they realizing that the world needs all forms of energy? Diversity of supply was once an important message for energy security, but diversity of supply no longer is mentioned. However, some overtures seem to be baby steps in the right direction:
U.S. LNG exports are gaining American interest,
Europe is talking about drilling in the North Sea,
California may keep its Diablo Canyon nuclear plant online,
Germany plans to put idled coal plants on standby in case Russian natural gas is cut, and
FERC is pulling back on its "social cost of carbon" estimates when considering gas pipeline approvals.
Survey on U.S. LNG Exports
Pew Research Center conducted a survey on climate and energy issues, surveying 10,282 U.S. adults from May 2 to 8, 2022. Those who took part in the survey are members of the Center's American Trends Panel—an online survey panel that is recruited through national, random sampling of residential addresses. The survey is weighted to be representative of the U.S. adult population by gender, race, ethnicity, partisan affiliation, education and other categories. About 61 percent of Americans indicated they would favor the United States expanding production to export large amounts of natural gas to European countries. That compares to a smaller share (37 percent) that would oppose it.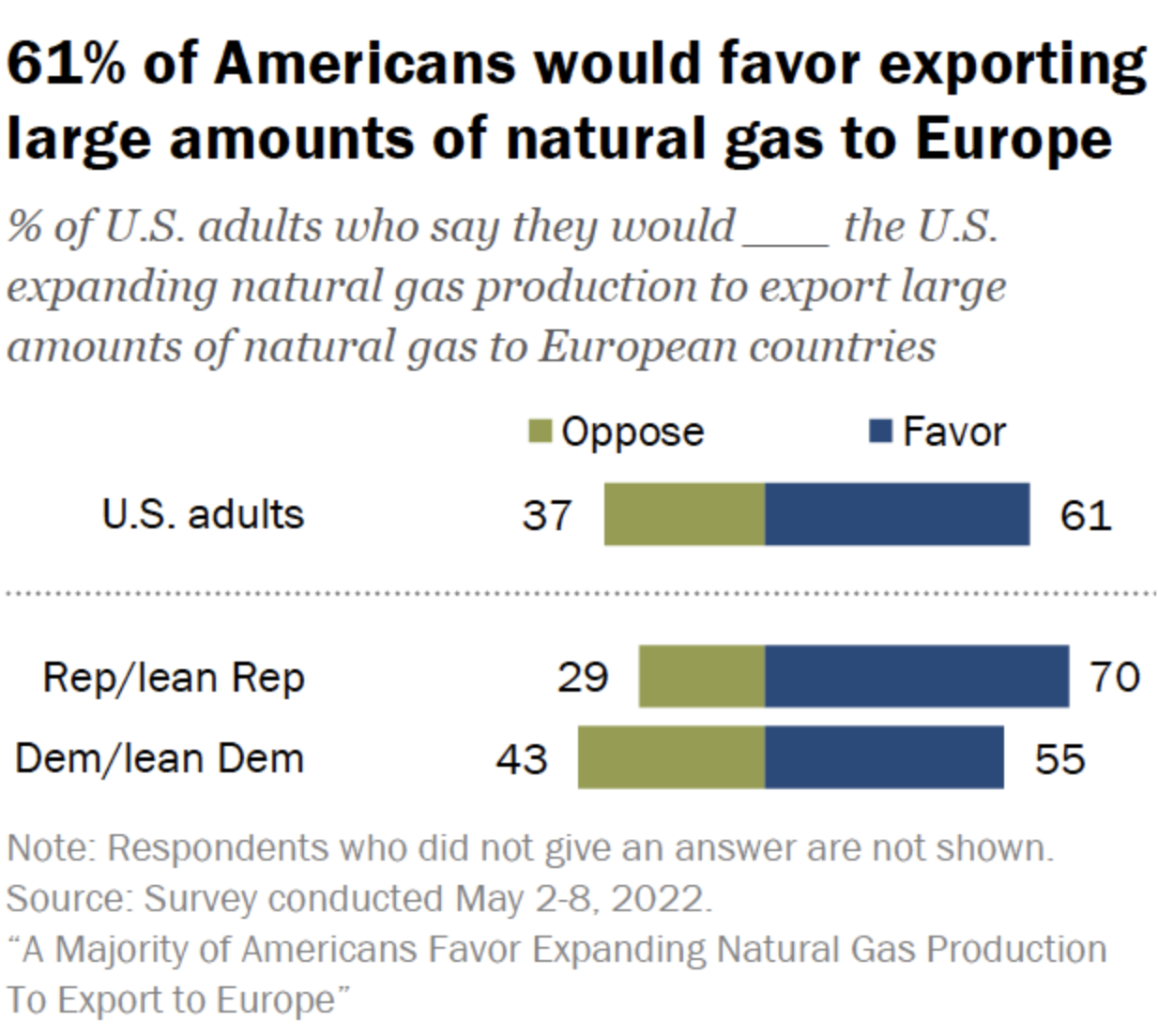 Europe May Drill in the North Sea.
Germany and the Netherlands are moving closer to drilling for natural gas in the North Sea as part of broader efforts to reduce Europe's reliance on Russian energy imports. The German state of Lower Saxony and Dutch energy company ONE-Dyas BV are looking to produce natural gas from undersea deposits 20 kilometers (12 miles) north of the islands of Borkum and Schiermonnikoog. A final investment decision is expected by summer, and drilling could start by the end of 2024.
Russia cut gas supplies to Poland and Bulgaria due to their refusal to pay in rubles and to Finland for wanting to join NATO. The urgency behind political efforts to reduce dependence on Russian energy could prompt authorities to set aside environmental concerns about new drilling. While the European Union plans to phase out oil and coal imports from Russia, natural gas is harder to offset because of the large volumes imported from Russia and because of pipelines and other infrastructure in-place.
California May Keep Its Last Nuclear Plant On-line
California Governor Newsom is reconsidering shuttering the Diablo Canyon nuclear plant—the last nuclear plant remaining in California and its largest source of electricity. Newsom indicated that the state would seek a share of $6 billion in federal funds meant to rescue nuclear reactors facing closure. Diablo Canyon owner Pacific Gas & Electric is preparing to shutter the plant—which generated 6 percent of the state's power last year—by 2025. While Newsom still wants to see the facility shut down long term, his willingness to consider a short-term reprieve reflects a shift in California politics of nuclear power. About six years ago, PG&E agreed to close the plant near San Luis Obispo, rather than invest in expensive earthquake-safety upgrades.
A UC Berkeley poll co-sponsored by The L.A. Times found that 44 percent of California voters support building more nuclear reactors in California, with 37 percent opposed and 19 percent undecided. The poll also found that 39 percent of voters oppose shutting down Diablo Canyon, with 33 percent supporting closure and 28 percent unsure.
Germany May Put Idled Coal Plants on Standby
Germany plans to order coal-fired power plants that were due to be shut down to be placed in reserve to help ensure the country can keep the lights on if supplies of natural gas from Russia are abruptly cut. The country wants to be able to fire up its remaining coal, lignite and small amount of oil plants (8.5 gigawatts of total capacity) on short notice. The measure if approved by the cabinet would remain in effect through March 31, 2024. Participation would be voluntary and operators would be compensated from public funds for holding feedstock ready and for providing the necessary technical assistance. Power prices should not increase because coal-fired generation is relatively cheaper than natural gas generation in Germany.
Natural gas, much of which is imported from Russia, accounted for 15 percent of Germany's electricity generation in 2021. Germany has imported abundant supplies of natural gas from Russia as a replacement for coal in order to meet its goal of reducing carbon dioxide emissions by 55 percent of 1990 levels by 2030. Last year, due to high natural gas prices, coal-generated power in Germany increased almost 5 percent, accounting for about 30 percent of Germany's electricity production.
FERC Delaying Its Move to Use Climate Change in Approving Gas Projects
Amid pushback from industry and lawmakers in both parties, in March, federal energy regulators scaled back plans to consider how natural gas projects affect climate change and environmental justice. According to the Federal Energy Regulatory Commission (FERC), its plan to consider climate effects will be considered a draft submitted for comment and will only apply to future projects, rather than taking effect immediately. Industry groups and lawmakers criticized the proposal approved in February by a 3 to 2 vote to tighten climate rules because it was poorly timed amid a need for increased natural gas exports, as Europe wants to wean off its dependence on Russian natural gas. Senate Energy Committee Chairman Joe Manchin said the agency's "reckless decision to add unnecessary roadblocks" to approval of natural gas projects "puts the security of our nation at risk."
FERC approved three natural gas projects that have been pending for months. Two of the projects will expand gas production in the U.S. Gulf Coast, while the third is located in New York State.
According to the Energy Information Administration (EIA):
"FERC approved two projects that connect to LNG terminals in Louisiana. The Evangeline Pass Expansion Project is a 1.1 billion cubic feet (Bcf/d) project owned by Tennessee Gas Pipeline Company. The project includes 13.1 miles of new pipeline and two new compressor stations that will deliver natural gas to the proposed Plaquemines LNG Project in Plaquemines Parish, Louisiana. The Alberta Xpress Project is a 0.17 Bcf/d project owned by TC Energy that will use existing capacity on the Great Lakes Gas Transmission (GLGT) system and the ANR pipeline and will add a new compressor station in Evangeline Parish, Louisiana. The project expands capacity from the GLGT receipt point at the Minnesota-Manitoba border to delivery points in the U.S. Midwest and U.S. Gulf Coast, increasing the available capacity for LNG export facilities in the region. This project also improves the domestic natural gas infrastructure in those areas."
EIA estimates that over 0.43 billion cubic feet per day of new natural gas pipeline capacity was completed in the first quarter of 2022. In 2021, EIA estimated that the United States added 7.44 billion cubic feet per day of new pipeline capacity—the lowest amount added to interstate transmission since 2016, when President Biden was then Vice President.
Conclusion
The tides may be slowly turning for the energy transition touted by Europe for decades and the push in the United States to follow along. Newsom is considering keeping California's last operating nuclear plant online instead of shuttering it by 2025, Europe may drill for natural gas in the North Sea, Germany may put idled coal plants on standby, FERC is holding off considering climate change effects in approving natural gas pipelines, and most Americans want to produce more natural gas to sell as LNG to Europe. Russia's invasion of Ukraine may have awakened politicians and lawmakers as they seek to reach net-zero carbon by 2050. The impossibility of the task may be becoming reality. Let's hope so, for diversity of supply is the only way to ensure national security.
---
*This article was adapted from content originally published by the Institute for Energy Research.