Inflation Fueled Recession Causes Drop In Gas Prices
Inflation and demand destruction have slashed gasoline demand to the point that gasoline prices have dropped radically from their $5.016 a gallon high. AAA reported that as of July 26, gasoline prices in the United States were averaging $4.327 per gallon, which is still 37 percent higher than a year ago and over 70 percent higher than when President Biden took office.  Driving those lower prices that President Biden wants to take credit for is primarily demand destruction, which refers to persistently high prices or tight supplies that eventually lead to a drop in demand. In the week through July 8, gasoline consumption dropped by 9.7 percent to 8.73 million barrels per day, according to data from the Energy Information Administration. Aside from 2020, when the pandemic sent the world into lockdown, it marks the lowest seasonal demand in 21 years and the steepest decline this year. People can no longer afford it. The spike in gasoline prices made Americans go on a buyers' strike. As a result, the West Texas Intermediate oil price dropped below $100 per barrel and is at its widest price gap with Brent oil.
While demand for gasoline has rebounded a bit, it remains below where it was two years ago as historically high prices keep more drivers off the road than COVID lockdowns did in the summer of 2020. The stagnating demand this summer suggests that the recent drop in gasoline prices has not been enough to entice drivers back on the road. It appears that more people are not taking road trips in the summer of 2022 as daily life has become costlier with high gasoline prices helping to push inflation to 9.1 percent in June. Gasoline demand tends to be more elastic during the summer months than the rest of the year. People simply forego trips and family visits when gasoline prices spike.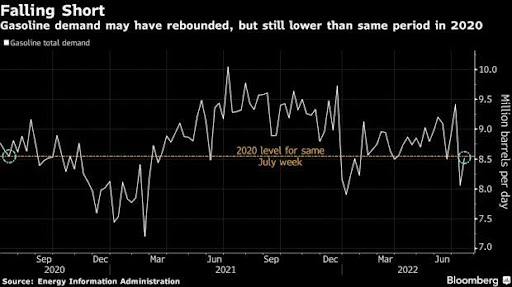 The lower U.S. gasoline demand has widened the gap between the West Texas Intermediate and Brent oil prices to levels not seen since 2019. The $8.50 per barrel premium of Brent oil to U.S. West Texas Intermediate is the widest since June 2019, excluding spikes related to contract-expiry dates. Brent prices are stronger due to tight supply resulting from the loss of Russian barrels after the country's invasion of Ukraine and persistent underproduction from OPEC+, the Organization of the Petroleum Exporting Countries and their allies such as Russia. Buyers are concerned that OPEC is close to running out of spare capacity, limiting its ability to raise output further.
Lower global gasoline prices in the past two weeks has reduced refiners' profits, pushing up inventories around the world while exports from China and India are also adding pressure on growing stockpiles. As a result, refiners will be forced to cut gasoline production to protect themselves against losses and switch to producing more profitable fuels.
Conclusion
Demand destruction has caused gasoline prices to drop this month in the United States. Gasoline accounts for half of total U.S. oil consumption so the demand drop has also impacted West Texas Intermediate oil prices, causing the largest increase in the gap with Brent oil of $8.50 a barrel since mid-2019. The reduced gasoline consumption is lowering margins for refineries, causing them to switch production to more profitable fuels.
Nonetheless, refinery constraints due to lost capacity from reduced demand during COVID lockdowns will likely keep refined product prices up compared with oil prices. Environmental concerns about fossil fuels' carbon dioxide emissions have discouraged new investment in refineries that take years to construct. Analysts do not expect new refineries to be built in the United States.
---
*This article was adapted from content originally published by the Institute for Energy Research.