Biden Administration Announces Intent To Ban Gas Stoves
A Commissioner of President Biden's Consumer Product Safety Commission (CSPC) wants a ban on indoor gas stoves. Richard Trumka Jr., a Biden commissioner on the CSPC, told Bloomberg the ban is justified because gas stoves increase respiratory problems such as asthma among children, which is a myth promoted by environmentalists whose real agenda is not to reduce asthma but to ban natural gas. The American Gas Association notes that neither the CSPC nor EPA has cited gas stoves as a significant contributor to adverse air quality or as a health hazard.   And, millions of Americans actually prefer gas stoves to electric ones for several reasons, including food tastes better when cooked on gas rather than electric and gas stoves are cheaper to install and operate. Gas stoves are used in about 35 percent of households nationwide, or about 40 million homes. The household figure is closer to 70 percent in some states, such as California and New Jersey. Other states where many residents use gas stoves include Nevada, Illinois and New York.
---
---
Opposition Was Plentiful
The American Gas Association pushed back against the natural gas ban saying it makes housing more costly because "electric homes require expensive retrofits."
Senator Joe Manchin joined in opposition saying, "The federal government has no business telling American families how to cook their dinner. I can tell you the last thing that would ever leave my house is the gas stove that we cook on."
Tucker Carlson, on his Fox News television show, featured a restaurateur who indicated that his costs would go up and productivity go down by using electric stoves. "This will destroy our industry," the restaurant owner, Stratis Morfogen, said. "Electric can work for fast casual. However, with fine dining, it's impossible to function with an electric kitchen," said Morfogen, director of operations for the Brooklyn Chop House and founder of the Brooklyn Dumpling Shop eateries. "Imagine a guest ordering a 2- to 3-pound whole fish. It usually takes 40 to 50 minutes to cook. Now it will take two hours.
Andrew Rigie, executive director of the NYC Hospitality Alliance, which represents more than 24,000 eating and drinking establishments, said "Putting aside if chefs prefer cooking with gas or not, the cost to open up a new restaurant would skyrocket if someone had to convert existing gas equipment into electric, which could be further complicated by whether or not the building had an adequate electrical load."
The ban would affect old-timers and millennials who are obsessed with cast-iron pans, which are tricky to use on electric stoves. "This is plain stupid," said a 70-year-old resident of Sea Gate, Brooklyn. "We lost electricity before, during Hurricane Sandy. The only thing we had to heat up our food was gas. What if that happens again?"
According to the Association of Home Appliance Manufacturers, cooking food produces emissions and harmful byproducts no matter what type of stove is used. "Ventilation is really where this discussion should be, rather than banning one particular type of technology. Banning one type of a cooking appliance is not going to address the concerns about overall indoor air quality. We may need some behavior change, we may need (people) to turn on their hoods when cooking."
Mr. Trumka tried to quell the firestorm that resulted from his announcement, indicating "To be clear, C.P.S.C. isn't coming for anyone's gas stoves," adding that any regulations would only apply to new products. At an October meeting of the commission, Mr. Trumka asked the staff to begin writing rules regarding gas stoves but could not get support from the other four members. Instead, the commission agreed to obtain input from the public.
The Inflation Reduction Act includes $4.5 billion for states to provide rebates to consumers for the purchase of electric appliances, including stoves. Consumers can get a rebate of up to $840 for an electric stove or other electric appliances, and up to $500 to help cover costs of converting from natural gas to electric. This is happening at a time when the grid is already stressed from increased intermittent renewable energy sources, mainly wind and solar power.
Natural Gas Becomes a Battleground for States
Natural gas use has become a hot topic over the last several years in many states with some U.S. cities banning natural gas from being used in new buildings. Berkeley did so in 2019, followed by San Francisco in 2020 and New York City in 2021. This followed an organizational meeting in 2019 sponsored by the Rocky Mountain Institute (RMI), the Energy Foundation and the World Resources Institute. "On July 18, the group met for a panel discussion called 'Natural Gas Lock In' which set its sights on natural gas home appliances like stoves, washers, and dryers." This campaign is against the use of natural gas promoted by activist groups as an email invitation to the event details: "We are asking lead energy policy advisors to attend from a dozen states with supportive, and in many cases, new governors and legislatures interested in accelerating the transition to a clean, low-carbon economy. You are invited because you are the, or one of the lead policy advisors to your governor on energy and climate policy," the agenda stated.
Despite this campaign, 21 state legislatures have put in place "preemption laws" which forbids cities from banning the use of natural gas. Most households in these 21 states, however, cook with electric stoves, not natural gas, according to a 2020 analysis from the Energy Information Administration. States with the highest percentage of households that use natural gas for cooking include California, Nevada, Illinois, New York and New Jersey.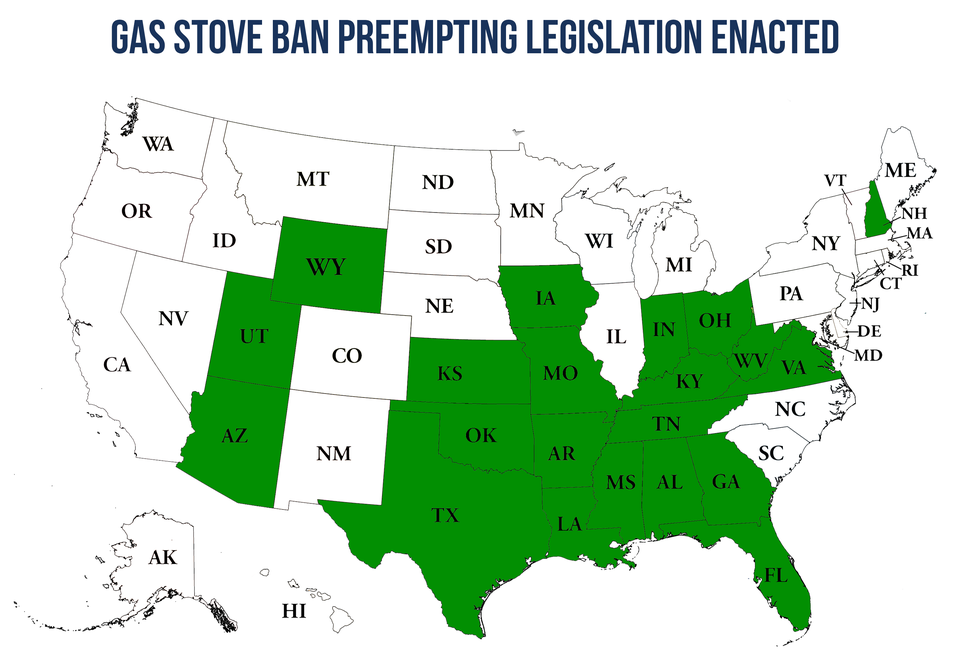 Recently, Governor Kathy Hochul proposed that the N.Y. legislature phase out the sale of fossil fuel heating equipment in existing residential buildings beginning in 2030 and require new residential and commercial buildings be all-electric by 2025 and 2030, respectively. If passed, New York would be the first state to ban natural gas heating and appliances in new buildings. Hochul called during her state-of-the-state address to ban the use of fossil fuels by 2025 for newly built smaller structures and 2028 for larger ones. New York would also prohibit the sale of any new fossil-fuel heating systems starting in 2030. The Real Estate Board of New York trade association did not endorse Hochul's proposal.
California is weighing its own statewide proposal that would take effect in 2030.
The Move to Electrification
The widespread shift to running power plants on natural gas instead of coal helped reduce carbon dioxide emissions in the generating sector during the last decade. But now, environmentalists are attacking natural gas. They want all energy use to be electric, produced by wind and solar power—intermittent and unreliable energy sources.
This push to electrify all energy demand ended up with blackouts in North Carolina during the recent Arctic blast as there was insufficient firm power to meet growing electricity demand. States are pushing their utilities to generate electricity with wind and solar power that have low capacity factors and require the sun to shine and the wind to blow, while they shutter their reliable coal plants. As a result, firm electricity supply is lacking. Now that many states want to switch from petroleum cars to electric vehicles, transition from natural gas to electric heating and cooking, and to shutter all fossil fuel generating plants, the United States will clearly be short of electricity supply. In California alone, the forced move to electric vehicles is estimated to double the state's electricity demand. Meanwhile, electricity prices are spiking for consumers to pay for an increasingly fickle and complicated electrical distribution system. California's average residential electricity prices are the fifth highest in the nation and 63 percent higher than the national average.
Conclusion
There is talk of banning natural gas in new buildings, including gas stoves. The gas stove proposed ban is causing much opposition, particularly from restaurants that indicate they cannot produce meals as quickly with electricity as with natural gas. They also mention the phenomenal cost from purchasing new equipment to upgrading the facility's electrical load. Clearly, with environmentalists wanting all energy demand to be electric, produced by mostly wind and solar power, the United States will be running out of electric supply facilities and at risk of becoming a third-world country, where power is insufficient as a normal part of the day's activities. Americans should be aware that this is a well-orchestrated campaign, driven by "green power" advocates, investors and the foundations who support them.
Send A Message To Lawmakers Demanding They Rein In Biden's Rouge Regulators:
---
*This article was adapted from content originally published by the Institute for Energy Research.