Biden Slow Walking Critical LNG Infrastructure
Biden's Department of Energy (DOE) has increased the time it takes to review a permit for exporting LNG from 7 weeks to a minimum of 11 months. The slowing of permit approval could mean that nearly-completed LNG projects are not able to supply European buyers in need of gas because they do not have the permit. The drastic slowing of LNG export permits represents the most significant limit thus far on an industry planning to add 50 percent more to U.S. export capacity by 2026. The average time for issuing an export license for supplying the super-chilled gas to non-Free Trade Agreement (non-FTA) countries, climbed under the Biden administration to over 330 days from 155 days under the Obama administration and 48 days under the Trump administration. Non-FTA countries are the biggest buyers of U.S. LNG, but the Biden administration's DOE has slowed decisions for economic, political and environmental reasons as Biden's allies in the climate activist business have rallied to oppose new LNG facilities. Without these permits, projects that supply non-FTA countries cannot move forward. By law, exports to FTA nations must be approved quickly and affirmatively.
Commonwealth LNG has been waiting for almost a year after receiving its environmental approval for a permit to export LNG to non-FTA countries. Its Cameron, Louisiana, project has plans to start construction in the third quarter of next year with preliminary deals for the sale of 5 million metric tons per annum, mainly to non-FTA countries. New Fortress Energy filed 11 months ago for a non-FTA authorization for its Altamira FLNG facility, which is near to starting production. But the 1.4 million metric ton project will be unable to sell its gas to non-FTA countries including the Netherlands, UK, France, Spain and Germany. This is despite Biden's promises to make LNG exports to Europe easier.
According to a DOE spokesperson, the agency considers more than environmental approvals in its non-FTA decisions. Many factors affect the amount of time DOE needs to review an application, including issues raised by "interveners" in any specific proceeding. DOE claims it approved non-FTA authorizations for projects representing almost 45 percent of the about 103 billion cubic feet per day production of domestic dry gas.
Background
In August 2014, DOE revised the process it uses to determine approval for a non-FTA permit application. Under the rule, DOE may act on a non-FTA request within 30 days after the Federal Energy Regulatory Commission (FERC) has issued a final environmental impact statement for the project. In practice, however, DOE has waited until after FERC has issued a final order, which usually adds a few months to the timeline.
According to an article in Real Clear Energy, Obama's Energy Department made nine major non-FTA decisions for eight projects, taking an average of 155 days to reach a decision after the FERC order was issued. During the Trump administration, the number of major LNG decisions made by DOE increased to 13 while the average time to make a decision dropped to 48 days. President Biden promised to "end fossil fuels," while President Trump promoted American energy dominance.
The Real Clear Energy article also noted that there are two major U.S. LNG projects that have been approved by FERC since Biden was inaugurated in 2021. One of those projects was recently authorized unanimously (Port Arthur Phase II), but the other (Commonwealth LNG) was given approval by FERC on November 18, 2022. It has been awaiting a DOE non-FTA decision for over 325 days, which is more than twice as long as the average during the Obama years and almost seven times longer than in the Trump administration.
The article also noted that while DOE has yet to act on a major U.S. LNG export application request, it approved five smaller requests for U.S. LNG export project capacity increases, primarily from operating facilities. Even the minor decisions have taken a very long time. The average time from FERC to DOE action was 330 days, and the longest application was pending for 678 days. President Biden's rhetoric about helping European allies seems to conflict with his inactions and delays.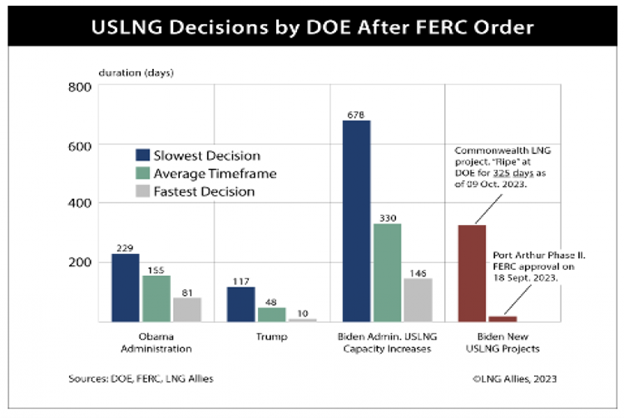 Conclusion
The House of Representatives twice passed legislation to simplify the U.S. LNG regulatory process by granting full authority to FERC to make U.S. LNG export decisions. U.S. LNG exports are making substantial contributions to U.S. trade balances and domestic employment and bolstering the energy security of our allies. The disruption of pipeline gas shipments to Europe following the Russian invasion of Ukraine hurt European economic growth and security. Without U.S. LNG, Europe's energy situation after the Russian invasion of Ukraine would be much more problematic. Ditte Juul Jørgensen, the European Commission's Director-General for Energy, noted that the EU will need U.S. gas for decades. DOE's slow permit approvals could result in delays for new U.S. LNG supplies and cost increases.